The new Apple MacBook Pro models released in early 2011 include the latest 2nd Generation Intel Core i family of processors, AMD graphics and a superfast thunderbolt connection. We've examined every inch, almost literally inside and out, for our MacBook Pro 15-inch early 2011 review and come to one conclusion. The new Sandy Bridge powered MacBook Pro is fast!
MacBook Pro 15″ (early 2011) Quick Specs:
The early 2011 MacBook Pro 15″ model comes with either a 2.0 or 2.2GHz quad-core 2nd Gen Intel Core i7 processor. The new Sandy Bridge processor integrates graphics into the same piece of silicon as the processor, resulting in greater power efficiency and speed. The MacBook Pro we have in for review has the "slower" 2.0GHz quad-core
Intel Core i7 processor.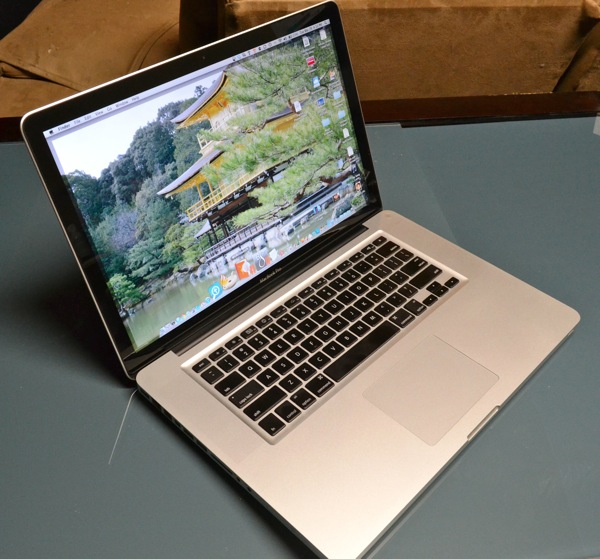 The MacBook Pro 15″ has 4GB of DDR3 RAM in 2-2GB sticks, upgradable to 8GB from Apple or up to 16GB if you do it yourself. It has a 500GB hard drive that unfortunately runs at the slower 5400rpm. Apple offers faster 7200rpm drives and SSDs as optional upgrades at the time purchase.
Apple switched from NVIDIA to AMD graphics. In the MacBook Pro we get the AMD Radeon HD 6490M processor that can switch off to use the integrated Intel HD 3000 integrated graphics. This happens when less graphics intensive tasks are being performed, like writing documents and basic web surfing. As a result, battery life is extended.
The resolution of the 15″ MacBook Prodisplay is 1440×900. The AMD Radeon can also power an external monitor with up to 2560×1600 resolution.
Additional MacBook Pro 15″ Specs include:
Wi-Fi (802.11a/b/g/n)
Bluetooth 2.1+EDR
Gigabit Ethernet
Thunderbolt/Mini Display port – more on Thunderbolt later
Who is the MacBook Pro 15″ Model For?
The MacBook Pro is a powerful system that can handle just about any task you want to take on. It is the workhorse of the Apple notebook lineup, and creative professionals will be happy with the powerful multimedia capabilities. The combination of speed and processing power makes creating video an enjoyable task. The screen is bright and beautiful so photographers can use it to edit their masterpieces.
We can't think of any creative types that would not be happy with this computer, unless they need more screen real-estate, but then there's the 17″ model. The 15″ is a great compromise between size and portability. The 13″ MacBook Pro (early 2011) is another option for those who need moe portability. For more, read our MacBook Pro 13″ review. We feel that the MacBook Pro 15″ model is a happy medium in many ways..
Mac gamers will be happy with the graphics and processor. Graphics are fluid and the display is true to color. We played Call of Duty 4: Modern Warfare on the MacBook Pro and found that the graphics were very good and the computer handled everything fluidly. It did tax the system , causing the fans to start whirring in the background and the aluminum case did get slightly warmer, but the MacBook Pro performed well. Playing a game like that with a trackpad is not much fun, so get an external mouse. If you do, you will enjoy this and many other games on the MacBook Pro.
MacBook Pro 15″ (early 2011) Gaming Demo:
With the upgrade to the Sandy Bridge processor, the MacBook Pro maintains good battery life given the power of the system. Having a large 15″ screen to enjoy writing and surfing is nice. Users can also watch movies while on a plane or in the car. A smaller, lighter system like the MacBook Air might give you better battery life and portability, but we enjoy the extra power and bigger display found on the 15″ MacBook Pro. Plus, you never know when you might want to create a movie masterpiece on a vacation.
Nearly everyone will be satisfied with the 15″ MacBook Pro. OS X lovers are already sold on Apple notebooks. Even Microsoft Windows users will like the system because of Boot Camp, VMare or Parallels, which let you run Windows on a Mac. It is powerful enough to run Windows in a virtual environment and still use the system to work in OS X alongside Windows. We tested it with Parallels 6 and two Windows programs that we use all the time. We'd rather have native OS X apps, but if you have to run Windows on a Mac, the Sandy Bridge MacBook Pro handles it well.
MacBook Pro 15-inch Review Hands On Video:
We split our MacBook Pro video review into multiple parts.You can see the general MacBook Pro hands on below, and more specific video reviews in the sections below.
MacBook Pro Build and Design:
The aluminum case of the MacBook Pro is sturdy. It feels like it is going to hold up even if it is punished a little bit. No one wants to drop a system, but we did. And it kept on going. The MacBook Pro hinge is stiff enough to hold up the display, but not too stiff to make it hard to open with one hand. We like the magnets thats ever so slightly snap it down, turning the display off and putting the system to sleep.
The MacBook Pro 15 is not a lightweight computer. Some people may prefer a smaller more portable system. That said, this computer is not hard to carry around in a computer bag. Even with the charger and accessories, we didn't get fatigued carrying for a long time.
One thing that most people won't bother doing is cracking the case open for upgrades. This is actually a simple process. We upgraded the hard drive and memory after running our baseline tests and found it to be straightforward. The entire bottom comes off and the memory and hard drive are user replaceable with a little care.
I've noticed that the aluminum case easily gets scratched or scuffed. Below, in the section about the keyboard, there is a video. At the tail end of the video I show a scratch I've already put on the area right of the trackpad where my watch band has apparently scuffed the case, though I don't remember doing it. The lid also has a few scratches. Again, I don't recall doing anything that would have scratched the lid.
I recommend finding a cover that will protect the case like one from [amazon_link id="B000KX28CA" target="_blank" container="" container_class="" ]Speck[/amazon_link]. Amazon has one similar to the the Speck SeeThru MacBook Air cover, but designed to fit the 15 inch MacBook Pro. I'd recommend getting one or something like it.
MacBook Pro 15″ Audio and Speakers:
The built-in speakers of the MacBook Pro are decent. The sound is a little tinny but not as bad as some systems. We tested an HP ProBook that had really great speakers and we wish Apple would find out which speakers are being used by HP and start using them in the MacBook Pro line.
The audio from game play and watching video will be enjoyable on this system. The speakers are loud enough that you don't have to be in a silent environment to hear them, even if they are just a little bit tinny.
When connecting external headphones, the sound quality increases dramatically. The ability to use AirPlay through iTunes is a plus if you have AirPlay enabled sound system/speakers or an Apple TV hooked up to a good sound system.
It is a little difficult to plug a pair of headphones into the jack on the side. The port is a tight fit. But this is an incredibly minor problem that some might even say is a plus, since the headphones won't slip out easily.
MacBook Pro 15″ Hard Drive:
The hard drive in the MacBook Pro is one of the few disappointments. The stock system comes with a slower 5400rpm drive. It is the bottleneck of the computer. If you buy a high end PC like this, you should get high end parts. Using a slower hard drive is just silly. For $100 you can get a 7200rpm upgrade. Do it unless you would like to upgrade on your own. For a little over $100 you can upgrade the hard drive to a faster hybrid hard drive like we did.
The upgrade to the Seagate Momentus XT sped up system boots times and programs load quicker. There was about a 5-10 percent battery life hit, but that is a good trade off for the extra speed.
Apple doesn't offer a hybrid hard drive upgrade from the manufacturer so you would have to do either do it yourself or pay someone else. It is easier than it looks. Follow our instructions in the video below:
It is a shame that we had to upgrade the drive to get the kind of speed we'd like to see. It is a good upgrade, but after the MacBook Air shipped with a built-in SSD as a baseline, we expected to see Apple go in this direction in their flagship notebooks. Until SSDs come down in price, they probably won't become part of the stock setup of the MacBook or MacBook Pro.
MacBook Pro 15″ Display:
The MacBook Pro 15″ model has three screen options. We went with the least expensive glossy display with a 1440×900 resolution. It is bright and easy to see in most settings. In bright situations, like outdoors or in a room with a lot of sunlight pouring through the windows directly on the screen, the screen's glare makes it hard to see what you are doing. We lower the screen brightness to about 50-60 percent to conserve battery life, but in these settings you can't.
An upgrade that is available is the anti-glare option with a 1680×1050 resolution. If you can afford it, get it. There is no reason to pick the middle option which is the higher resolution, but glossy display. There is only a $50 difference between the mid-level screen and the more expensive anti-glare screen. That extra $50 will make you happier, unless you've used both kinds of displays and really prefer glossy screens.
Despite our preference for an anti-glare screen, we are not disappointed with the display of the glossy screen in normal light. The viewing angle is extremely wide, useful for making presentations to a few people or watching video with a couple of friends, co-workers or clients.
Colors pop and seem faithful. We hook up an external monitor while in the office and we thought the monitor also had good color, but the difference is stark. The MacBook Pro screen is so much better. Whites are whiter and black objects are more black. There is good contrast and color fidelity. Few mobile displays are better, in regular light. The result is an excellent picture processing tool.
The video below touches on watching videos on the MacBook Pro and has a quick demo of the camera.
The camera in the MacBook Pro has been renamed from an iChat camera to a FaceTime camera.
The camera is decent. We don't use laptop webcams much, but in a few FaceTime tests it worked okay. It shoots 720p HD video but only takes 640×480 still images. If only it could make my ugly mug look more attractive, that would be a plus! Below is a sample taken with Photo Booth.
And here is a sample video from the Camera also taken in Photo Booth:
MacBook Pro 15″ Keyboard and Touchpad:
People seem to have strong opinions about island/chiclet style keyboards. Most people we talk to like them, but some really hate them. We fall in the first category, so we are very happy with the MacBook Pro keyboard.
The keys are stiffer than our MacBook Air. That is a good thing. There is a little "clickety-clack" sound while typing, but that is minor. Typing feels good. Spacing is good too.
It has been a challenge switching from a Windows keyboard to the Mac keyboard. There are some differences that require a change in habit. For example, many Windows keyboard have a key that mimics the right click of a mouse. Macs do not have this key. I used it a lot. The other key I miss is the Windows key. It would mimic clicking on the Start menu in Windows revealing the menu that holds a list of all the programs installed.
We like how all Macs have a standardized set of the shortcut keys across the top that double as function keys. Most people don't use the F-keys that often so Apple relegates the functions to secondary duty. The primary duty of the keys are things like volume up/down/mute, screen brightness, and OS X features like Expose or Widgets. There are also multimedia controls. The F5/F6 keys on the MacBook Pro control the brightness of the backlighting. We really like the backlit keyboard and it is nice to be able to adjust the brightness.
Some Windows keyboards change the F-keys to shortcut keys, but all Mac keyboards behave the same,with the one exception of the F5/F6 keys which are only for backlit keyboards. On rare occasions when you need an F-key, just use the Fn key in the lower left corner to engage the F-keys.
The multi-touch trackpad is great! I hate touchpads and always carry an external mouse. I like the one on the MacBook Pro so much I now leave my mouse in the bag or at home. It is spacious and responsive. We love the gestures OS X incorporates for doing things like scrolling, moving back and forth in a browser history, and pinching to zoom.
The trackpad is also a large button that can be clicked like you would a mouse button. We prefer tapping to select, so we almost immediately changed that option in System Preferences. But thankfully it is an option. When you do have to click you can tell that it is being clicked, with a loud sound and good tactile response. If you have to use a trackpad, the one on the MacBook Pro is the best we've used.
Below is our video review of the keyboard and touchpad. It also highlights a problem with scratching on the aluminum case near the trackpad:
MacBook Pro Quad Core – Core i7 Processor and Performance:
The MacBook Pro 15″ is a fast computer. It is one of the fastest notebooks we have ever used. It doesn't boot up as quickly as the MacBook Air, but it could if you added the SSD option. The quad-core Intel Core i7 processor handles video editing with aplomb. Almost nothing we threw at it slowed the machine down, except for one.
We use a program called Logos Bible Software (pictured above). It is a Bible study and research tool. The program is database intensive and runs on an overlay environment that draws the screen on top of OS X instead of using the built-in visual elements, almost like a virtualized environment. The company does this to standardize the look and feel between Windows and Mac. The problem is that it requires a lot of horsepower to run well. It requires video processing power to draw the screen. It requires memory because it loads a lot of data right at the start. And it requires a fast hard drive because it is searching through literally thousands of books that are often more than a thousand pages in length each. An application that requires that much power cripples a lot of systems. Because of how poorly written it is, it does cripple even the MacBook Pro at times. But this system runs this beast faster than the MacBook Air or iMac.
We also tested the system by editing large 14.2 megapixel raw digital photographs. No problem! RAW photo editing is a very processor intensive activity and the MacBook Pro handled it well with a number of things running in the background, including a browser, the above Logos application, a Word processor and an iMovie project being rendered. We fired up iTunes and iPhoto to add to the mix and it still had no problem.
See the video below in the "Heat and Noise" to see our video demonstration of just how fast the system is. When all of the above applications were running at once, the fans do whirl loudly.
MacBook Pro Benchmarks:
We did some quick Benchmarks just for comparison. The program we use is called Geek Bench and it mainly measures the things like the speed of the processor. Our MacBook Pro got a score of 8882 while the MacBook Air received a score of 2674.
The hard drive in the MacBook Pro should be a bit of a bottleneck. We did a simple test copying our DropBox folder to and from the hard drive on both the MacBook Air and the MacBook Pro. On the Air it took 7:42 to copy the folder which is 2.24GB to a 7200 rpm USB 2.0 hard drive. To copy it back to the Air it took just 1:19. The MacBook Air has a flash drive so it reads much slower than it writes (copy from v. copy to). By comparison the MacBook Pro copied the folder to the hard drive in 1:34 and copied it from the drive in 8:11. That is not a significant difference proving that Apple has really done a good job of putting together the guts of this fast machine despite the slower drive. After our upgrade to a faster hard drive the copy times on the MacBook Pro dropped by about 20%.
Battery benchmarks are in the section about battery life below.
MacBook Pro Heat and Noise:
No one likes to have their lap cooked by a computer. The good news is the MacBook Pro is not too hot. The aluminum bottom of the system can get warm at times, especially when the computer is put through a workout. With very intense work, like encoding a long video while also running a lot of other applications, the system can get hot. For simple tasks like typing an article, surfing the Internet or viewing a video, the MacBook Pro barely even warms up. The area around the processor is only slightly warmer than the rest of the system. Heat is not a real issue with this system.
Fan noise can get loud during processor intensive tasks. It is very noticeable while encoding video. It isn't so loud that it is annoying, but is noticeable.
Below, I demonstrate how loud the fan noise can get as the MacBook Pro is under a heavy load. I also show just how fast the system is with a lot of programs running.
MacBook Pro Battery Life
Apple claims that the MacBook Pro battery life is "up to 7 hours" and lately they have been pretty accurate in their advertised battery life. That is why we were a little disappointed in our results.
To test the battery life, we did all we could to drain the thing as fast as possible. We turned up the brightness full blast, turned on both Wi-Fi and Bluetooth and used them constantly, making sure we accessed the Internet a lot. We copied files. We watched a bunch of videos and did a lot of writing. And 3:45 later, the computer shut down with a dead battery. Considering most people will not use it this way, that's not bad. With a more reasonable test, the battery lasted closer to five hours with brightness turned down to about 60%. It was a real world usage with mostly Internet surfing, typing, and listing to music in the background. We saw all-morning battery life.
Our first couple of battery tests were actually abysmal. We ran the recommended battery calibration steps and that fixed the problem. Before the test the longest battery life achieved was around 4 hours. Afterwards the longest we've achieved was a little over 5 hours. That is decent, but still disappointing when compared to Apple's claims.
Apple power cable design is proof their attention to detail. The MagSafe Power connector and charger is a seemingly minor thing. But when you have your computer plugged in and you or someone else trips over the cord it can be a disaster for your expensive computer. The magnetic connector is designed to pop out in such situations. Longtime Apple customers take this for granted now. But as a recent switcher I appreciate it.
Here is a video about the power adapter:
Most computer manufacturers have two piece charging cables. Apple went further making the two piece design useful even without one of the pieces. The white power brick, which is smaller than most, has an attachment so the brick can be plugged directly into an outlet. This attachment can be removed so the thicker three-pronged end of the charging cable can be installed for a longer cable. We just left it at home and plugged the brick into it when we need juice in our home office.
The two-pronged wall adapter plug folds into the brick. The power brick has two hooks that flip out so that the very thin cable, that has the MagSafe connector on it, can be wrapped around the hooks. There is a little clip that allows you to attach the cable to keep it from coming apart in a computer bag or even a pocket. The clasp comes undone occasionally. But most of the time it works as designed.
These little details are what set Apple products apart. They are the kinds of things that make Apple customers really appreciate their hardware while people who have never used them don't even know they exist.
MacBook Pro Connectivity:
The MacBook Pro has all the basic ports, plus one interesting one. The new Thunderbolt port is a super fast connection that can transfer data, theoretically, about twenty times faster than USB 2.0 and ten times faster than a Firewire 800 port. We doubt we will see real-world speeds that fast. If it is just five times faster than either of these, that will be a big plus. Imagine backing up your entire hard drive in minutes instead of hours.
The problem with Thunderbolt is you can't test it yet. There are no accessories available right now. It's like having a Ferrari without any roads to drive it on. So, for now, it is just a mini-DVI port. That's one benefit of Thunderbolt, the port can carry data and the signals needed for sending video to an external display.
In the future one may be able to plug in a Thunderbolt hard drive, Blue-ray drive, and monitor all daisy-chained on the same connector. We will be using this computer mostly as a desktop replacement. It will be nice to have one cable to connect all of our peripherals. They will all be able to connect to one another and then you would just connect one of the accessories to the computer. All of them will be usable.
The other connections on the MacBook Pro are as follows:
USB 2.0 x 2
Firewire 800
SDXC card reader
1/8″ headphone/audio lin out jack
1/8″ mic/audio line in jack
Gigabit Ethernet
MagSafe power connector
Kensington lock
Mini-DVI port (shared with Thunderbolt port)
For wireless connectivity, the MacBook Pro has both Bluetooth and 802.11 a/b/g/n Wi-fi. Both perform as expected.
One complaint we have with Apple notebooks is the lack of a VGA port, which means you'll need an adapter. Apple is obsessed with dongles and adapters. To use their products in the real world you will need plenty of them. A mini-DVI to VGA or DVI adapter is necessary to connect the laptop to almost every projector or non-Apple display. So don't forget you will need to buy one or two of these to actually use your computer to make presentations.
We also would like to see a couple more USB ports and at least one USB 3.0 port. Thunderbolt is the future, but USB will be the present for at least another year and people will have USB 3.0 peripherals for years. Maybe there will be an adapter or dock to solve this issue.
Here is our MacBook Pro video port tour:
MacBook Pro Software:
OS X is a good operating system. Our purpose is not to review it, but we do like it. It is simple to use and doesn't need a lot of tweaking to make it work like you want it to work. If you do need or want to tweak settings, they are almost all in the System Preferences screen, which is convenient.
There are a few annoyances we'd like to see changed, including window management. Why can't we drag to resize my windows using all four edges? We understand that is coming in the next upgrade, but it should have been there all along. Also the red, yellow and green buttons to close, minimize and zoom windows are not intuitive. We don't have a problem with the close and minimize buttons, but why not a real maximize button? Instead the green plus button is a zoom that toggles between smaller size or a window that is using all the vertical space it can but seldom does it fill the screen horizontally. We had to add two add-on apps (Cinch and Deskovery) to get manageable windows in OS X. These basic functions are built into Windows 7 out of the box.
The extra applications that come with a Mac are a mixture of wow and what? First the wow!
For the kinds of creative tasks most people perform, iPhoto and iMovie are more than enough. They work well together. I'm a bit of an amateur photographer so iPhoto is a little bit limiting. For ninety percent of users it will handle their photo editing and organizing tasks sufficiently.
iMovie is deceptively powerful for a free throw-in. As a Windows user for more than 18 years I was deeply disappointed with Windows Live Movie Maker. iMovie is such a nice upgrade. The other iLife applications are GarageBand, iDVD and iWeb. We haven't used them a lot, but GarageBand is a useful music and audio tool. iDVD is acceptable for creating DVDs and iWeb is a useful WYSIWYG web site creation tool. iWeb has some nice templates and you can put up a quick web site without knowing a lot about HTML or web publishing.
For backup Time Machine is great! It is a truly set it and forget it option. It occasionally gets in the way since it runs every hour, but running it that often also means that backups don't take long. When a decent Thunderbolt hard drive is available, this will be faster. In our upgrade of the MacBook Pro hard drive, having Time Machine made the installation of our operating system, software and personal files so easy. It makes doing that kind of upgrade something we don't dread. If you lose your hard drive to a mechanical failure, you will at worst lose an hour of work, unless you don't run Time Machine regularly.
As part of our hard drive upgrade story, we showed you how to do the restoration from a Time Machine backup in this video:
Preview is one of those applications that you likely will use a lot, but never use to its fullest capabilities. If you look into all that it can do, then you will be pleasantly surprised. It useful for viewing files of many types, editing files of many times and more. We did a list of ten cool things you can do with the application and fell in love in the process.
A little application overlooked is Dictionary. It is not powerful or beautiful, but has once great feature. It is always a right click away. Highlight a word, right click it and choose "Look up in Dictionary" and you have a definition.
As good as those are, the other extras range from okay to terrible. iTunes is the worst media management application around, but if you run iOS devices you are stuck. It is clunky and has some head-scratching default settings. We long for day when buying music, videos, and apps is done in an online store instead of this mess of an application.
Here are the other applications which are mostly average or below average:
iChat is being replaced by FaceTime, but it is still usable
Mail is pretty average for email with little to make us switch from using Gmail
QuickTime works, but that's all you can say about it
PhotoBooth is fun for about a minute and then we never used it again
Safari is that browser we used to go and download Chrome and then only use it in the rare times that Chrome struggles with a page
iCal and Address Book are like Safari – only used when absolutely necessary
We don't have the skill to test or even pass an opinion on Xcode, however we did use it once to enable multi-gestures on the iPad 2
MacBook Pro Value:
As you can tell, we love the 15″ early 2011 MacBook Pro. But is it worth $1800 at the minimum? For those who want a powerful high-end computer that can do almost anything you might want on the road or at home, the answer is a resounding yes! Just a few short years ago every high-end computer cost more than two grand. We've become a little spoiled in the post-netbook world. The MacBook Pro is definitely more costly than most powerful Windows notebooks, but it is also a computer with excellent build quality, speed, and versatility.
To compare prices we went over to HP and configured the following system:
Windows 7 Ultimate
Intel Quad-core Core i7 2630QM processor
6GB of RAM (free upgrade from 4GB)
750 GB 5400rpm hard drive
Double layer DVD burner
High capacity 6 hour battery
15.6″ 1366×768 resolution glossy display (lower res than MacBook Pro with no option for a higher resolution screen)
b/g/g Wi-fi and Bluetooth
Added Photoshop/Premiere Elements to compete with iPhoto and iMovie
The cost was only $1,358.99. That is $400 less than the MacBook Pro, but there are a few reasons we still would rather have the MacBook Pro. First, the resolution of the screen is much better on the Mac. Second, a Mac can run both Windows and OS X. While we haven't tested the HP alongside the Mac, we have tested HP systems. We prefer the keyboard and trackpad on the Macs.
If you are a person who prefers Windows, then you have some really great options. But if you want to run both Windows and OS X with power, the MacBook Pro is your best option even at the higher price.
Another reason to go with an Apple is the support you get. A recent report found that Apple comes out on top in terms of user support. Having used a lot of computers from numerous manufacturers, the 15″ Apple MacBook Pro beats them all.
Below is our final Video Review of the 15″ MacBook Pro:
Pros:
Fast!
Handles multimedia creation and average gaming with ease
Great keyboard and trackpad
Bright beautiful screen with wide viewing angle and true color in most situations
Sound is good especially when using external quality headphones or speakers
OS X is a powerful operating system that is easy to use
Excellent add-on software like iLife, Time Machine, and Preview
Sturdy build
Potential of Thunderbolt accessories excites us
Stable
Handles heat well
Upgrading hard drive and memory is not hard for those who are daring enough to try
Decent battery life if you ignore Apple's 7-hour claim
Cons:
Glossy screen is difficult to view in very bright light
Cost
Battery life not as long as advertised
iTunes is terrible for media organization
Fan can get noisy
Stock hard drive is too slow
Not enough USB ports and no USB 3.0
MacBook Pro Gallery:
MacBook Pro 15.4″ Detailed Specs:
| | |
| --- | --- |
| Brand | Apple |
| Model | MacBook Pro 15″ (early 2011) |
| Processor | Intel® second gen Core™ i7 proc (2, 2.2 or 2.3GHz, 6MB shared L3, 1333MHz FSB) |
| Display | 15.4″ glossy (1440×900) optional 1680×1050 glossy or anti-glare; LED Backlit Display |
| Operating System | Mac OS X Snow Leopard 10.6 |
| Storage | 500GB 5400rpm hard drive; optional 500GB 7200, 750 5400rpm hard drives; optional 128GB, 256GB or 512GB SSD |
| Memory / RAM | 4GB; optional 8GB from Apple or up to 16GB self installed |
| RAM speed | 1333MHz |
| Memory Type | DDR3 |
| Optical Drive | 8X SuperDrive (DVD+/-R; DL/DVD+/-RW;CD-RW) |
| Graphics Card | Intel® Integrated 3000 HD Graphics and AMD Radeon HD 6490M graphics with 256MB of GDDR5 memory on 2.0GHz option or Radeon HD 6750M with 1GB on 2.2GHz option; fully switchable on the fly; supports up to 2560×1600 resolution external display |
| WLAN Card | 802.11 a/b/g/n Wi-Fi |
| Navigation | Full-size backlit keyboard with 78 (US) or 79 (ISO) keys, 12 function keys and 4 arrow keys in inverted T arrangement; Multi-touch trackpad with multiple gesture |
| WebCam | FaceTime High Definition camera |
| Microphone | Omnidirectional mic under left speaker grille |
| Dimensions | .95″ high x 14.35″ wide x 9.82″ deep or 2.41cmx36.4cmx24.9cm |
| Weights | 5.6lbs or 2.54kg |
| Ports | MagSafe power connector; Firewire 800; dual shared Thunderbolt and mini-DVI out; 2xUSB2.0; SDXC card reader; Audio line/headphone out; Audio line/mic in; Kensington lock; support for Apple iPhone headset with mic |
| Battery Life | 77.5 watt-hour lithium-polymer battery with up to 7 hrs (5.5 in real-word testing); 85W MagSafe Power Adapter |
| Software | iTunes, Time Machine, Quick Look, Spaces, Spotlight, Dashboard, Mail, iChat, Safari, Address Book, QuickTime, iCal, DVD Player, PhotoBooth, FrontRow, Xcode Developer Tools, iLife with iPhoto, iMovie, iDVD, iWeb, GarageBand |
Advertisement