The latest version of the Apple TV is a big change over the previous version, more for what it no longer has than for what it now has.
But the real question is; Can Apple TV 2.0 evolve from the realm of a Cupertino plaything, to a viable and worthy entertainment device? A device ready to sit atop your television set along with the likes of the Roku Box, Google TV and the many other streaming Internet video solutions now showing up or soon to be showing up in living rooms.
The simple is answer is, maybe one day, but not today.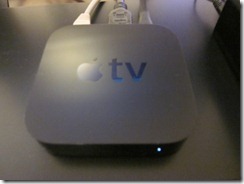 The Apple TV is a very small and easy to hook up box for streaming television, movies, and other Internet video. At $99 it has great value for the cost if a buyer wants to stream Netflix, YouTube video, content from an iTunes library, and content supplied by Apple like 99 cent HD TV show rentals and HD movies for rent or purchase.
Only Fox and ABC are part of the TV rental side of things leaving a huge void. Other TV chiefs don't want to rent their content for only a buck, the price of most TV show rentals. Jeff Zucker of NBC, for example, said it would devalue" their shows. You can still buy shows from other networks, but that will cost more.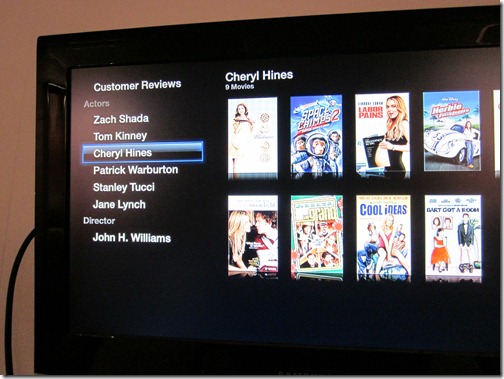 For movie watchers, Apple will rent the latest release and many older files for between $5 for new releases and usually about $4 for older titles. That price point feels a little high for rental, when one could go over to Amazon and download and own a movie like Iron Man 2 for only $15 or rent it for just $4. Of course you would have to have either a TV that is capable of connecting to their video service or the Apple TV competitor, the Roku Box. Also Apple's rental policy only gives customers 24 hours to view the show while Amazon provides 48 hours before the download is locked again.
Lets look at what Apple engineers got right. The on-screen interface is attractive and simple to use. It is mostly dark which makes the thumbnails and movie cover images show up nicely. The text was somewhat easy to read across the room on my 32-inch Samsung HDTV from about eight feet away. If I had sight problems it might get challenging to read things like the video descriptions.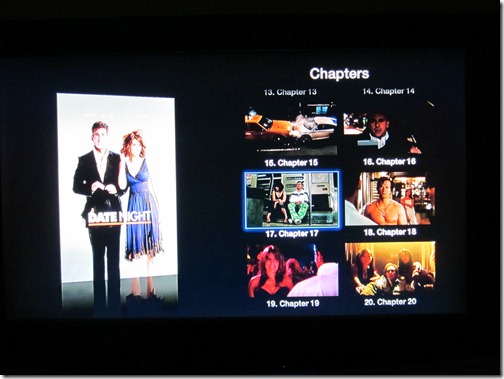 One thing I really like is the multiple sources of reviews for movies and shows. You not only get Rotten Tomatoes reviews for movies, but iTunes reviews as well. I love the Rotten Tomatoes site and rely on it a lot for picking movies. It is nice to have right there from within the Apple TV interface. The service takes a number of professional reviewers and adds them to customer reviews to offer a percentage score. In my experience, if a movie scores over 80% it is almost always a winner. If it scores below 50% I usually hate it.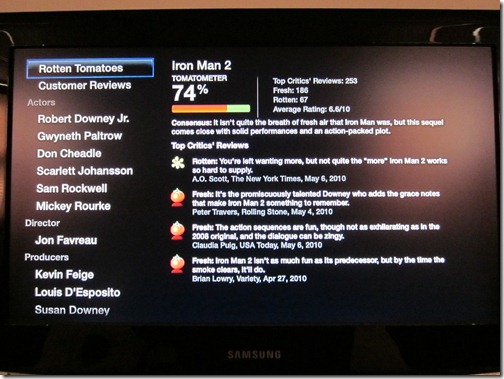 Hooking up the Apple TV to my  network was simple. Stream was rock solid when connected to a network via Ethernet. The only problem I had was dropped connections after coming out of sleep mode when the Apple TV was hooked up to my network via Wi-Fi. But after re-entering my login information Video played over both wired and wireless looked like it was running locally from attached storage even though no movies are stored on the Apple TV. There wasn't any slow down or picture problems. Only a couple of times in many hours of watching was there a minor problem with the video and audio being slightly out of sync. I stopped the show and restarted it and it improved a lot the first time, but the second time this happened it didn't. This was while connected via Ethernet. I am not sure if it was the Apple TV or Netflix that was the problem. I suspect it may have been Netflix since it never happened while playing content from my iTunes library, YouTube or rented shows or movies from Apple.
Speaking of Netflix, the Apple TV will display more than just Apple content. There is Netflix, which for just $8.95 per month, the Apple TV will serve up anything that can be watched over a computer with their Watch Instantly feature. The Apple TV Netflix interface is great better than the Roku experience. It is far better than my Samsung Blu-ray player which also serves up Netflix content.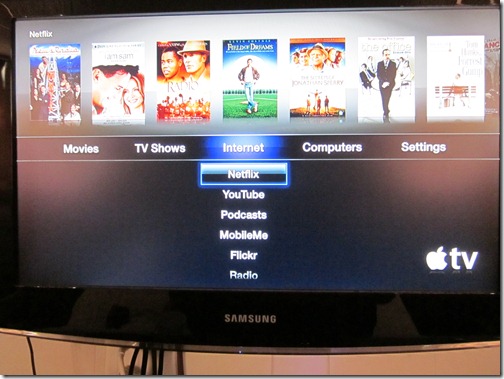 In addition to Netflix there is YouTube. If a user subscribes to a channel, those videos will show up in the YouTube interface. So, if you want to subscribe to our website videos, check out our channel on YouTube. Thanks to the Apple TV I have discovered some interesting content amidst all the ridiculous cat videos or children biting each other on the ear. Other content from the Internet menu item includes Podcasts, pictures or other content from a user's MobileMe or Flickr feed, and Internet Radio.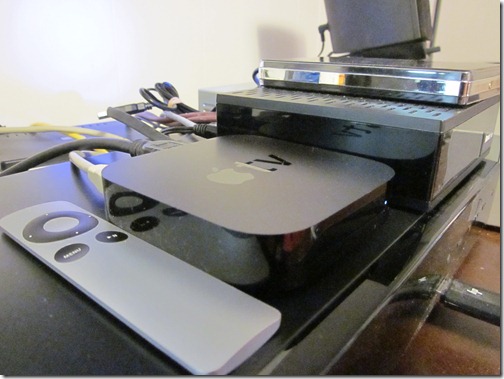 The Apple TV itself is amazingly small. There is an HDMI cable to hook up to a TV. The power cord is just that a cord no power brick to get in the way of other plugs. With its size, it could make a great portable entertainment device that one could take over to a friend's house or on the road with a Pico projector shining on the wall of a hotel room.
The remote is very small, but the buttons are all at one end so it feels good in the hand. Even someone with big paws like me was able to use it without any problem. It is very minimalist with only a circle directional button. The left and right sides of the circle are for rewind and fast forward. Up and down bring up other thins like chapter tick marks, etc. There is a menu button and a play/pause button. That's it.
Using the tiny remote to enter long user names or passwords is not easy. Most of the time login credentials only have to be entered once. One exception was when entering Wi-Fi credentials. There were connection issues, which I explain below. For each of the services like Netflix, YouTube, etc., login credentials will have to be entered. Initial setup is a little time-consuming, but the motion over the onscreen keyboard using the directional circle of the remote was quick and easy.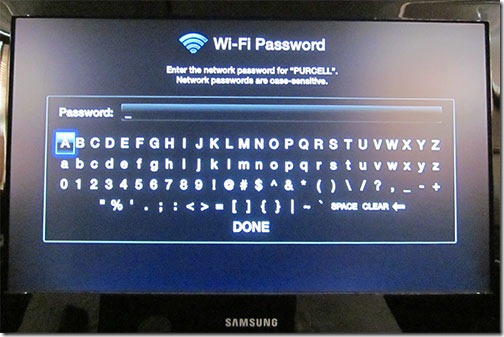 Finally, the way the Apple TV interfaces with iTunes is very simple. All I had to do was turn on Home Sharing from iTunes and go into the settings on the Apple TV and enter may account information. The movies, music and other videos I have in iTunes played without any problems whatsoever. Just like Internet streaming video it looked like the iTunes movies and TV shows I viewed were stored locally rather than streaming over the network.
Most of the time I used a wired connection, but when I unplugged the LAN cable and configured the Wi-Fi settings via my 802.11n network, video still streamed perfectly. It took a few more seconds to cache and then start the video. But it was not annoyingly long. However, there was one annoyance with using Wi-Fi. Each time the Apple TV went to sleep it would lose my Wi-Fi network login information requiring me to enter it each time I used the device.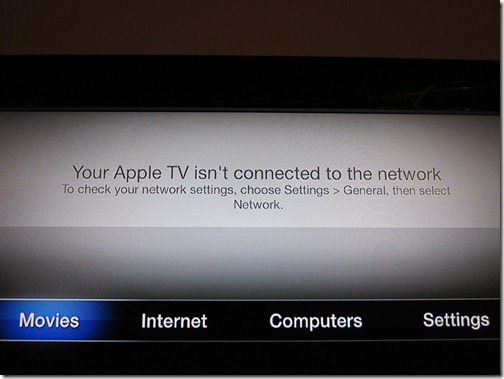 The Apple TV is not perfect. First, it only has an HDMI out port for connecting to the TV. If a TV does not have HDMI or is not HDCP compliant, then don't bother. It won't work. HDCP is a copy protection scheme built into some TVs but not all. Most recent models will work; mine did and it is about 2 years old.
Another issue is the content. First, you cannot buy movies or shows from the device. This is annoying. A way around it is to buy the movie or show on the computer using iTunes first. Then once it is downloaded, stream it from iTunes. This works fine and so I consider this a smaller issue than many are making of it. Still, one problem this introduces is iTunes must be running for this to work. Until I got the Apple TV I didn't keep iTunes running 24/7 because on the Windows side of things it is resource hog.
The second issue with content, as already mentioned, there are no shows available for rent from networks other than ABC and Fox. And Fox said this is just a trial, so they could be going away. But again, the fact that I can buy the content from iTunes makes this a smaller issue than I originally considered it. Sure, it costs more than three times the $.99 price per show, but like most people I prefer to own, rather than rent, content.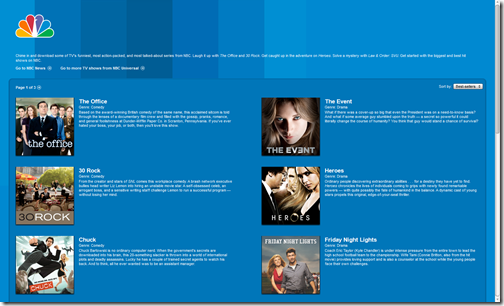 Eventually, users who also own an iPad will be able to download a movie on the iPad and stream it from the iPad to the Apple TV. This is not yet functionally, so that is an annoyance. And there is no way to judge how well this will eventually work until it is implemented in the public release of the iOS 4.2 update for the iPad next month.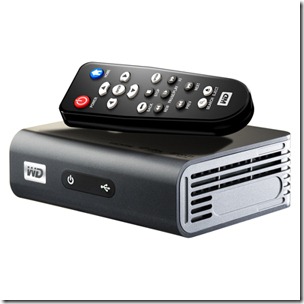 In a vacuum, the Apple TV 2.0 is a great entertainment solution. Just a few years ago, I would have killed for such an inexpensive, tiny, easy-to-set-up-and-use device. But in 2010 the Apple TV is not the only game in town.
For about two years I have used a Western Digital TV, which is a small box that hooks up a hard drive to a TV and plays any video, music or pictures from the hard drive. The Apple TV even has a USB port, so we have to wonder why Apple didn't include this ability? It can stream from iTunes, so there is a workaround.
Now that Western Digital has shipped a version of the WDTV that will also stream content, the Apple TV looks even more limited. The WD TV Live Plus is $50 more than the Apple TV, but that might be worth the price to get the extra features.
WDTV isn't even the best alternative to the Apple TV. The leader in this segment of tech devices is Roku. I have a previous generation Roku box and I love it. It streams Netflix, YouTube and Internet radio like the Apple TV and WDTV, but it has so many more channels. There is also a newer version that does 1080p video, something the Apple TV doesn't do.
The Roku box has HDMI and component out, and coming soon, it will add a channel for hulu Plus the streaming TV service. There are three new models starting at $60 and ranging up to $100. Only the most expensive model, which is the same price as the Apple TV and does so much more, will have the USB port (for connecting an external hard drive to watch videos, view pictures, and listen to music stored locally) and component video and optical audio out. The $80 and up models have wireless N networking and a button to quickly skip back for an instant replay, which is nice if another person walks into a room and talks over that important line of dialogue in the movie or show being watched. On all Roku boxes, for movie and TV show rentals there is a channel for Amazon on Demand. I sold my WDTV on eBay to get the previous generation Roku box and am very happy I did. I will likely add a new Roku box so that we can have one on each of our TVs.
The Apple TV has great potential. It was discovered that it runs a version of the iOS that powers the iPhone, iPod Touch and iPad. It also has 8GB of storage and a mini-USB port, both of which don't mean much now; but could point to new features down the road.
What might Apple have planned for these two features? I would suspect that like the original iPhone that shipped without the ability to load apps, an Apple TV update will add this feature and the 8GB storage will be used to store these apps. There are a few things that would take the Apple TV 2.0 from my second favorite mini digital media streaming device, behind Roku, to first.
The first is the ability to watch hulu Plus. There is already a great app for doing so which was features as our iPad App of the Week early this year. It's already coming to the Roku box. Apple TV needs this to compete.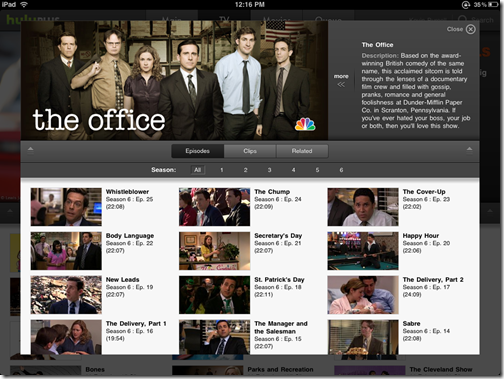 The second feature is the ability to install games. There is a large segment of the population that doesn't need the power of a Playstation 3 or XBOX. They just want to play casual games. The Apple TV with an iPad or other iOS device as a controller would be a killer feature vaulting the Apple TV way ahead of the Roku or anyone else coming in the future like Boxee or GoogleTV.
Apple may add these two features, but already people are working on doing so via unsupported means. I'm talking about jailbreaking. If hackers" find a way to jailbreak the Apple TV so that it will be able to install apps, then forget everything you just read. Watching hulu Plus or downloading purchased movies to a USB drive connected to the mini USB port and playing games using the iPad or other iOS devices as a controller will make Apple TV 2.0 a better device than the Roku, WDTV, GoogleTV or Boxee. It might make it a competitor to the XBOX 360 and Playstation 3 for people who don't want to play the highest powered games.
Is Apple TV 2.0 the best solution for a digital streaming media set-top box? My advice is wait till the GoogleTV devices are released and the Boxee Box is released to see how all of tehm stack up. But if you only have $100 and want something now, get the Roku, not the Apple TV.
Pros:
Plays streaming video/audio/pictures very well
Netflix & YouTube streaming
Connects with MobileMe and Flickr for pictures and video
Streams anything in your iTunes library from a computer
Video quality is great
Interface is neat and simple to use
Small footprint
Easy to set up
Runs iOS giving it potential if Apple will unlock it
Cons:
No Hulu
Limited TV content (only ABC and FOX)
Only rents content from Apple directly from device
Streaming from other iOS devices (iPad, iPhone, iPod Touch) not implemented yet
Wi-Fi login credentials kept getting lost requiring re-entry
No hard drive connection
No support for displays that are not HDCP compliant
No component video output
Tech Specs
Up to 720p video output
H.264, MPEG-4, M-JPEG video formats
AAC, MP3, Apple Lossless, AIFF, WAV audio formats
JPEG, GIF, TIFF picture formats
Wireless a/b/g/n
10/100 Etherent
HDMI output only for video
Optical Audio
Built-in IR receiver
6-watt power supply
.9-inches high, 3.9-inches wide, 3.9-inches deep, .6 lbs
Comes with aluminum remote, power cord, and documentations
Advertisement