iHome's iHMP5 2-in-1 headphones transform into powered portable speakers with a quick twist. These transforming headphones won't please those looking for high quality audio, but they are more versatile than your standard set of earbuds.
This headphone/speaker combo can be used to share music with friends or to use as external speakers for your audio devices.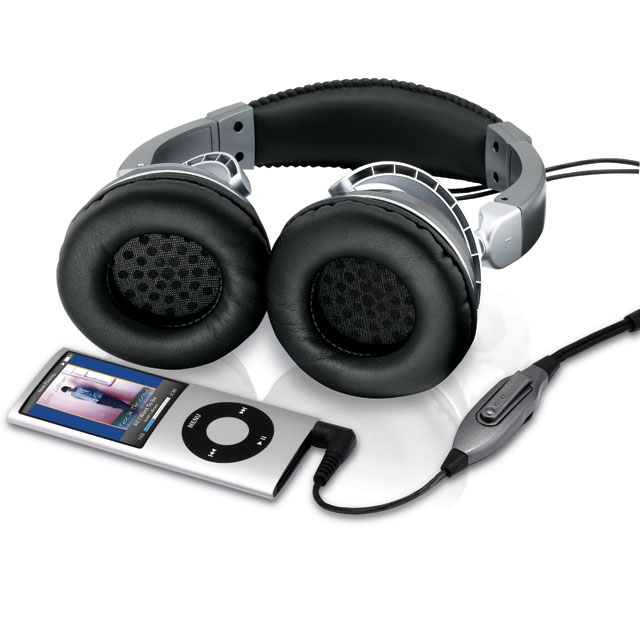 The iHMP5 looks a lot like most other over-the-ear headphones. It has an adjustable headband and padding around the ear cups. There's a clip-on volume dial on the cord that plugs into the audio source.
Music is plenty loud in headphone mode when listening to music, but far from crystal clear. Instruments sound pretty flat. Casual users on a budget will probably be happy with the sound quality, but anyone who's serious about their tunes should invest in a more expensive set of headphones.
To get into speaker mode you have to attach the bottoms of the ear cups to each other. Once they're attached the headphones become small powered speakers. The drivers are powered by a pair of AAA batteries hidden in one of the ear cups.
I tried listening to music in speaker mode with my iPhone 3Gs and netbooks. In speaker mode, the iMP5 was loud enough to hear music while taking a shower and eating breakfast.
My Tablet PC has a single, pathetic little speaker that's almost impossible to hear. With the iMP5 I was able to listen to a couple of tech Podcasts in speaker mode.
The iMP5 act fine as background speakers, but they aren't loud enough or clear enough to replace desktop speakers. They're probably best suited for people that like the novelty of the 2-in-1 solution.
If you like the idea of portable speakers and already have a good pair of headphones you should check out the iHM77 speakers, which sound better and are rechargeable.
The iHome iHMP5 is available now with an MSRP of $69.99. You can find them for $36.99 at MacMall.
Advertisement