Hard-core PC gamers used to literally carry around a desktop computer rig to gaming meet-ups because under-powered notebook computers wouldn't do. Companies like MSI mostly brought that practice to an end thanks to notebooks like the MSI GS40 Phantom, a beautiful gaming notebook with the power to run a lot of the latest and greatest PC games. This kind of power can handle all kinds of tasks and we'll look at whether it's a good option for gamers, power users or the average user who thirsts for power, speed and style as they work with Windows 10. The quick answer is a resounding yes. Find out why we picked it as a Notebooks.com Editor's Choice.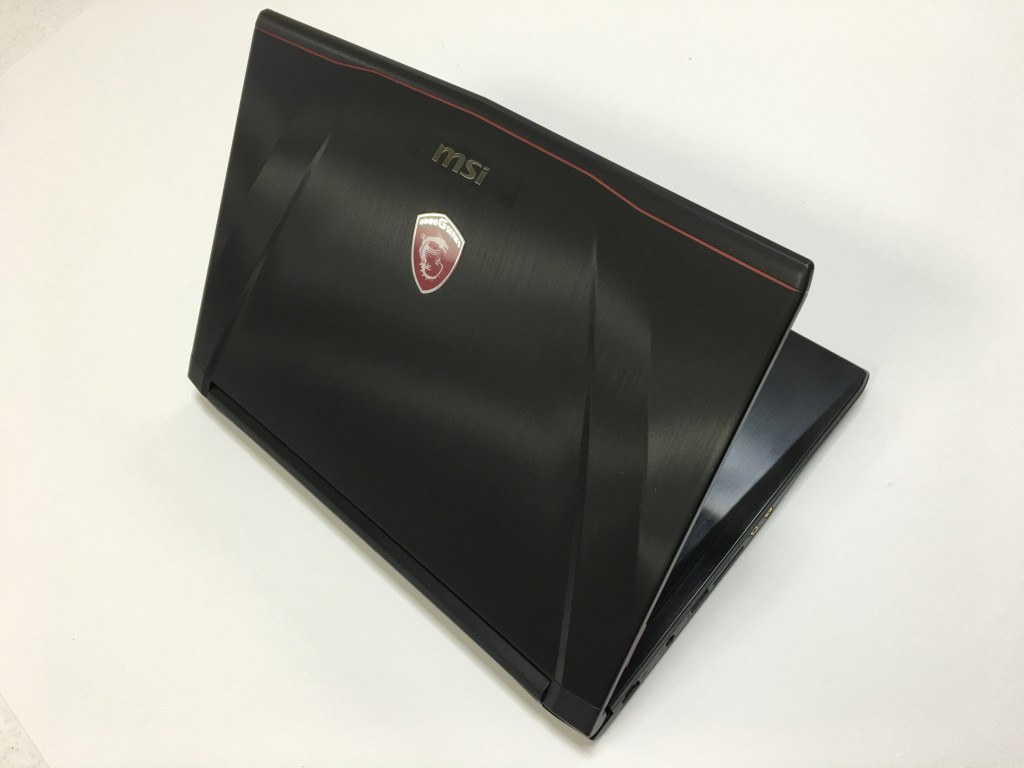 MSI GS40 Phantom Video Review
Here is our video review of the MSI GS40 Phantom gaming notebook.
MSI GS40 Phantom Design
A thick black notebook these days doesn't scream beautiful design, but the MSI GS40 Phantom still looks good. Even though it's not a thin wedge design, it feels somewhat light weighing 3.75lbs. That's beefy by modern standards but svelte compared to most powerful gaming laptops.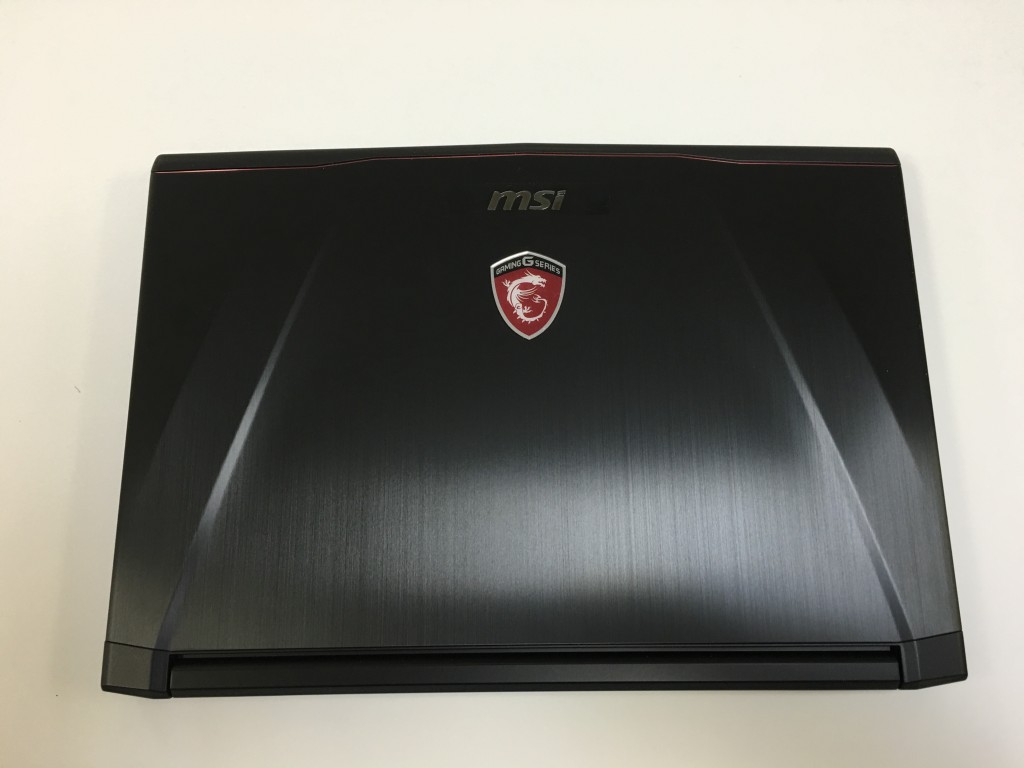 The machine sports attractive red trim and MSI Gaming G Series logo on the lid with molding that mimics the hood of a muscle car. Around the keyboard there's the same kind of molding and lines.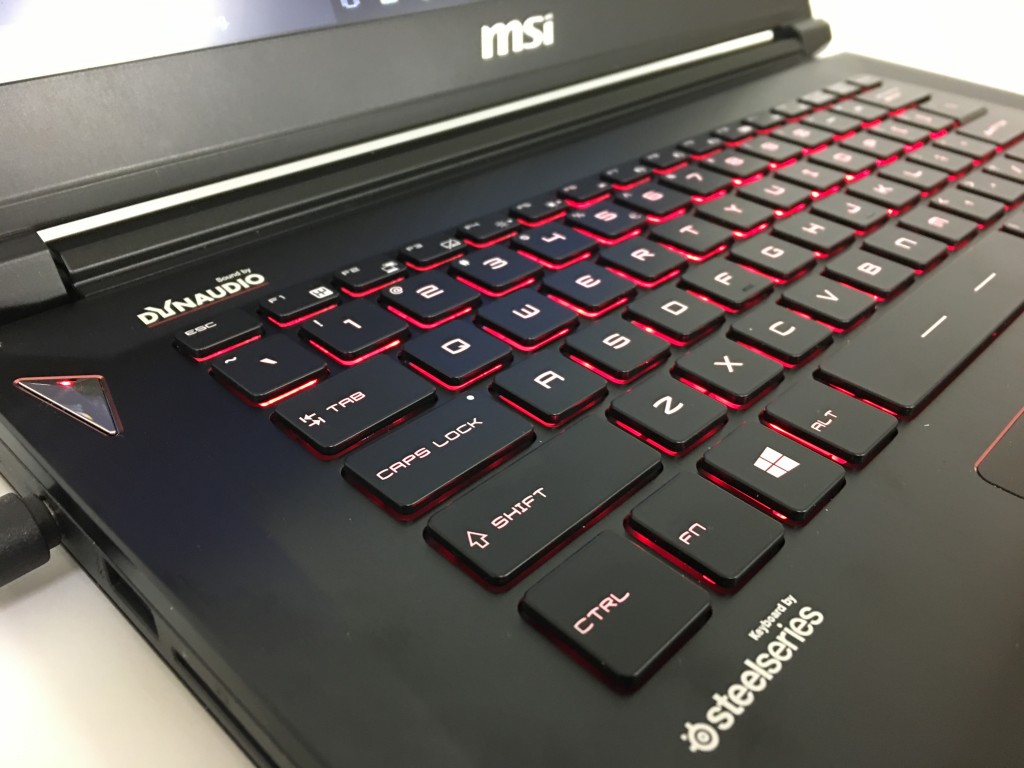 The SteelSeries branded keyboard's red backlight glows matching the indicator LED in the triangular-shaped power button. Trim around the power button and touchpad also match the backlight.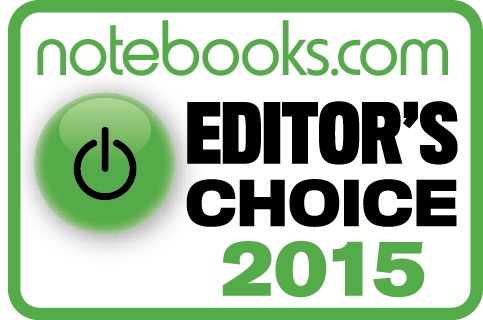 The bezel around the 1080p matte display is bigger than we'd like. Fortunately, the lid and display housing get held up firmly by a quality hinge.
MSI GS40 Phantom Ports
Along the front we see three red LED's indicating the status of the Wi-Fi, the computer's battery state, and hard drive access.
Over on the left edge we get ports for Gigabit Ethernet, the charging connector, a USB 3.0 port, full-sized SD card reader/writer, and 2 audio ports, with a mic port on the left and a headphone port on the right that supports ESS Sabre HiFi. See below for more on the high-end audio built into the Phantom.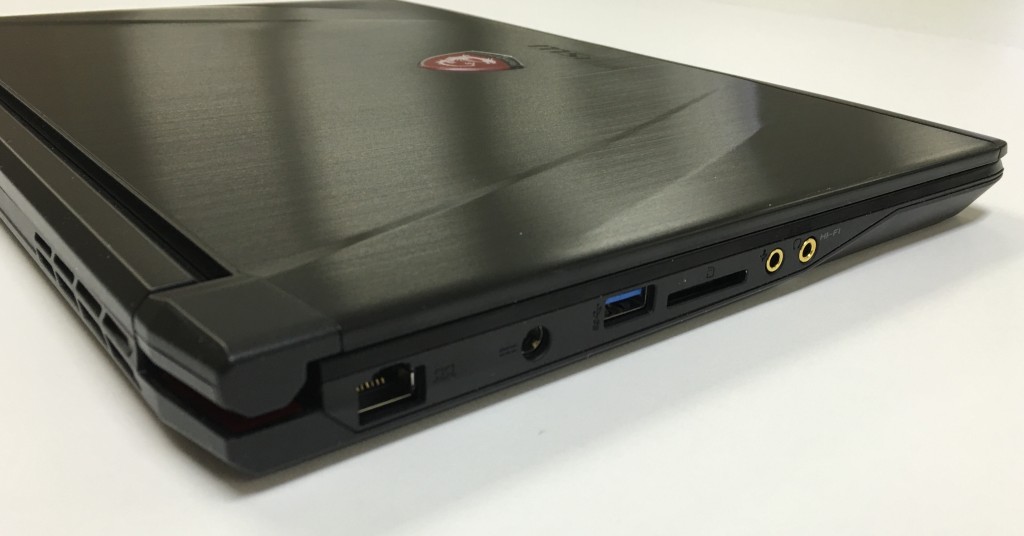 Over on the right we find an HDMI port, USB 3.0 port and a Type C USB port.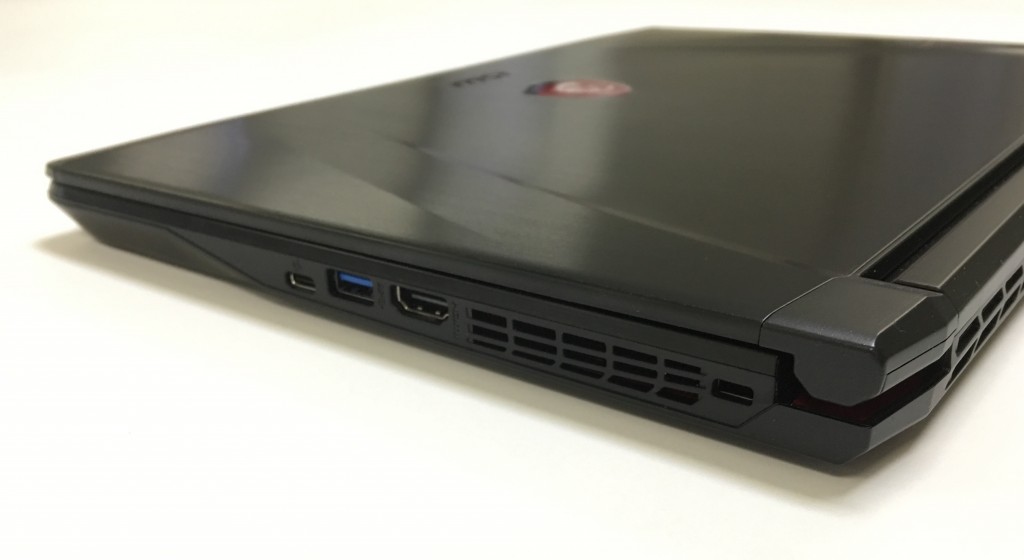 On the back edge, between the two exhaust vents, there's a single mini-Display port. This mini-Display port also doubles as a Thunderbolt port for connecting to an external display, hooking up a fast external drive or plugging into a docking station.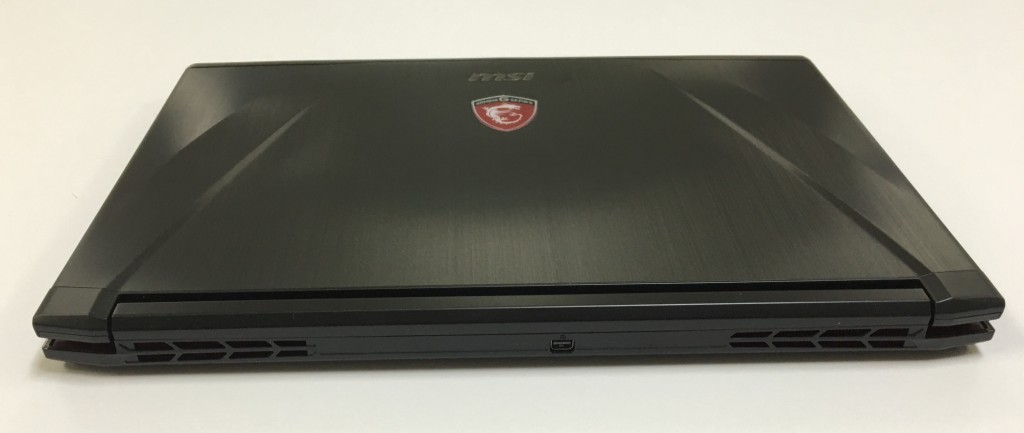 Some may not know about the Hi-Fi audio output port included on the laptop. It means the potential for excellent audio. We don't usually see this kind of audio from a laptop. ESS Sabre HiFi supports 24bit/192kbps sampling rate and lossless FLAC, a favorite of audiophiles. Users can hook up high-end headphones or external speakers to get what ESS Sabre calls "unmatched PC DAC" audio (from the ESS Sabre site). If none of this means anything to you, just read "awesome audio quality".
For those who prefer not to wear headphones, the Dynaudio Tech Speakers also produce good sound thanks to the Nahimic sound built into the computer. Games, movies and music all deliver some of the best notebook sound we've used. It's loud and crisp, for laptop speakers.
MSI GS40 Phantom High-end Hardware
The other hardware included supports the high-end reputation of MSI. Here's a list of the key specs:
Intel® Core™ i7-6700HQ Skylake processor with speeds of 2.6 – 3.5GHz w/ Turbo Boost on an Intel HM170 Chipset

16GB DDR4 2133MHz Memory
128GB SSD (PCIe Gen3x4) and a 1TB SATA HDD (7200RPM)
Killer E2400 Gaming LAN
Killer N1525 Combo 2*2 802.11ac Wi-Fi
Bluetooth 4.1
14-inch 1920×1080 matte display with NVIDIA GeForce GTX 970M
If someone's looking for a high-end gaming notebook, that list ticks all the boxes for what most gamers look for.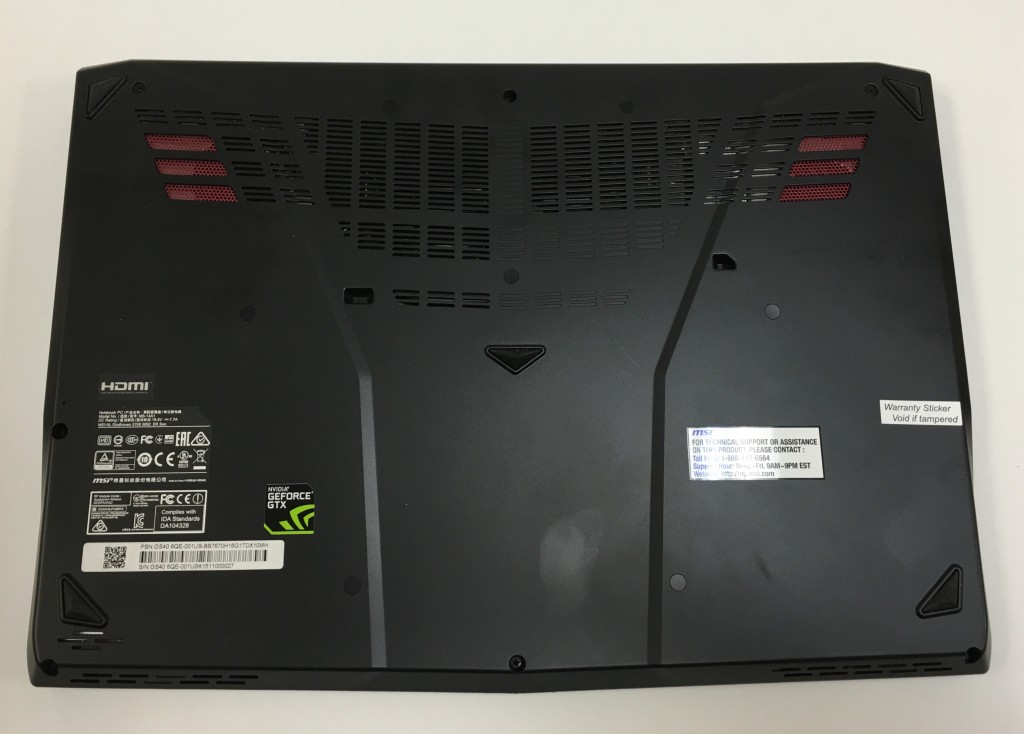 Killer branded networking gives online gamers fast speeds to defeat their opponents in a fragfest. It's only limited by the Internet speeds they connect through.
Specs mean little. What matters is performance. The Phantom does a great job of handling games, video encoding from Adobe Premiere and general computing. It boots quickly and seldom stalls or stutters doing anything. The few times I saw this kind of slowdown were related to my network, not the computer.
The MSI GS40 Phantom power comes at a price of $1,599 for the model tested. However, most power users won't mind paying that kind of price for a laptop of this quality.
MSI GS40 Phantom General Computing
Here's full disclosure. I'm not a gamer, but I do enjoy powerful hardware for general computing tasks. I loved using the MSI GS40 Phantom. It's got the same quality as my MacBook Pro and Surface Pro 4 the two best computers I've ever used.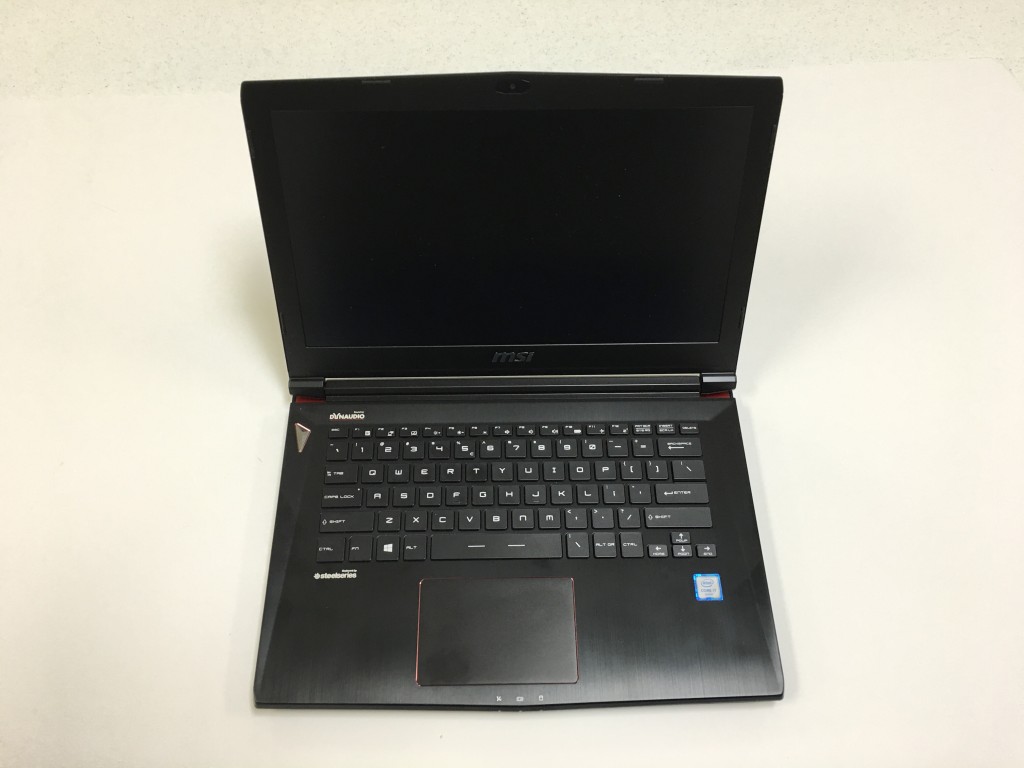 People who do a lot of typing will enjoy using the SteelSeries keyboard. It has the bounce and key travel that give typists enough response to know they've made contact with the key. The design places all the important keys where they should sit and the few exceptions don't take long to get used to. I could type quickly within about an hour of use.
On occasion the keyboard enters a single character repeatedly. This looks like thisssssssss when you type. Responsiveness like this works great in games but can present a challenge to writers. It doesn't happen a lot, so I'll look past it. This isn't a productivity tool first.
The touchpad's a little too responsive. People like me who hate touchpads can connect a good mouse. Gamers will likely hook up an awesome gaming mouse like those from Razer.
The display's matte finish helps reduce glare in bright rooms. It also looks a little darker, which means turning up the display's screen brightness. This reduces the subpar battery life. With brightness around 75%, the most workable level in most environments, the battery lasts about 4-5 hours doing typical computing and less while playing games. That's a little low compared to today's laptops, but it's respectable for a computer with this much power.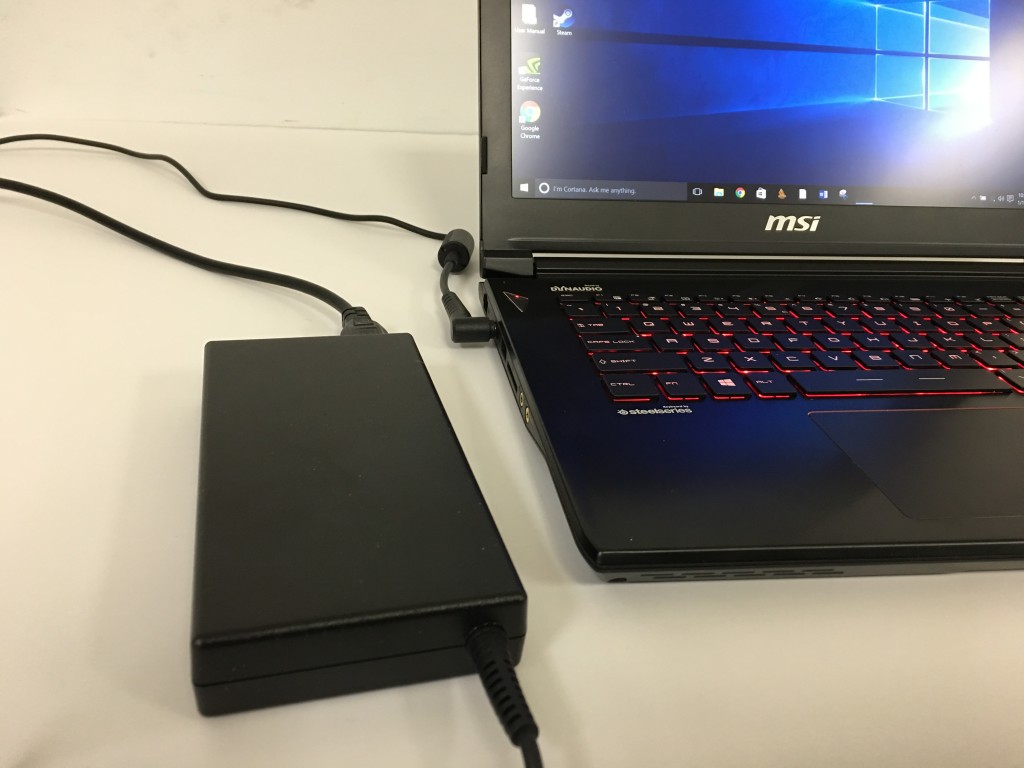 The Phantom ships with a huge power brick. You may need to carry it thanks to the sub-5-hour battery life which reduces mobility.
MSI GS40 Phantom Value and Recommendation
The MSI GS40 Phantom gaming laptop costs more ($1,599 directly from MSI or $50 less at Staples when they get it back in stock) than most of the Windows notebooks we review, but it also offers better hardware than the average Windows laptop. Gamers and people who want powerful hardware will enjoy the Phantom. It's stylish, fast, and made well. The display, keyboard and speed mean power users will also enjoy it for general computing tasks. Photo, video and music creation pros will love the power. It's not cheap, but it's also not over-priced.
If you want a high-end gaming laptop or need something powerful enough for your professional duty, then give the beautiful MSI GS40 Phantom computer a close look.
This slideshow requires JavaScript.
Advertisement