It seems everyone has a podcast or Internet video show. You can find everything from the latest tech news (Leo LePorte's Twit Live channel) to live shots of a hummingbird nest. Why not you? We'll show you the basic steps to setting up your own Ustream video show. While we focus on Ustream.tv, one of the most popular of these kinds of video sites, the basic principles can work on others like Justin.tv. Ustream.tv is focused on sharing live videos, while many popular video sites like Vimeo and YouTube are designed for recorded videos you've created, edited and uploaded after the moment has passed.
Reasons for Streaming
Why would you do this? I am a minister and our church uses Ustream to broadcast our worship services for people who cannot come to church on Sunday. We also save the broadcasts for others to watch later. You might want to broadcast live performances, lectures, events, or just host your own show on a subject near to your heart.
What you will need is a computer connected to the Internet, a web cam or video camera, and a reason to broadcast. The last one is the most important. There are hundreds of silly, boring shows up on the Internet. Take a look at what is already out there and find a niche to fill. It should be something you are very interested in already, like your hobbies or career. You may have an expertise that will benefit others.
Getting Started
To get started, head over to Ustream and sign up for an account. During the sign up process you can also provide credentials to Facebook so your friends will know when you are broadcasting. You can use your Google, Yahoo, or OpenID to login instead of setting up a brand new login. Once signed in, provide any of the personal details that you wish to share on the My Details" tab.

The other tabs have settings you will want to configure things like allowing comments, connecting with other web sites like Twitter, Yahoo, and Facebook, and managing your followers on Ustream as well as other shows you wish to follow. The most important thing to do next, after configuring all the settings on the various tabs, is click on the Your Shows" tab to set up your show. You can have multiple shows under one account. I have one for our church and a personal show that our family will use to stream family events for my extended family in the Midwest and California. That way they can see my sons opening gifts or playing sports. This is a great way to connect despite being so far away.
In the Your Shows" tab there is a place to Create New Show". For this article I created a new show called Notebooks.com Tutorial. Once you click Create", enter all the info in the fields in the center of the screen. It is important that you fill in this information as this is how people will find you on Ustream. You may also want to create a logo and upload it here.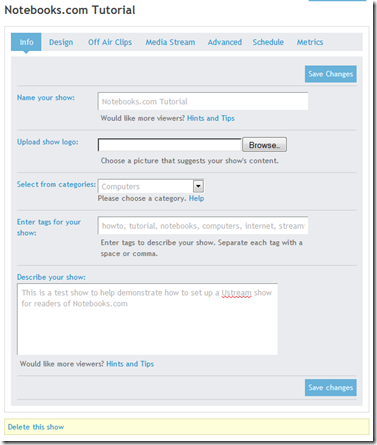 Next to this form is a list of links for sharing your show. You can embed it on your own web site or send it via email, Twitter or Facebook. The more you publicize the show the more successful it will become.
Getting Hardware Setup
Now you are set up and almost ready to go. The next thing we have to do is make sure your hardware is working. You will need a computer connected to the Internet and a webcam or video camera. Your Internet connection doesn't have to be the fastest fiber optic connection that money can by, but dial-up is unlikely to work. Most broadband connections will suffice. Our church has a computer in the auditorium connected to our cable Internet connection via Wi-Fi. It is not the best connection since the signal travels over 120 feet and through two very thick, brick walls. Yet it we have no problem streaming live.
The camera is also important. If your notebook computer doesn't have a webcam built in, you will want to get one. Obviously the better the quality, the better the picture. Another option is a video camera. But not just any camera will work. We have a Panasonic camera connected via firewire and it gives us a very good picture. The key is that your camera must be recognized by your computer. In Windows right click on My Computer" and select Manage". Choose Device Manager" and see if is listed under Imaging Devices". If you use OSX, Ustream says click the Apple icon in the top left of the screen, click 'About this Mac', click 'More Info', click on USB and see if 'iSight Camera' is listed." (Source: Ustream Help)
Once you are connected, you should be able to broadcast. Go back to the Ustream Dashboard and click on the Your Shows" tab and choose Broadcast Now". Or just click the big green Broadcast Now" button at the top of the page. If you have more than one show it will ask you which one to broadcast. A new window will popup and ask permission for Flash to access your camera and microphone. Click Allow". You will see a window like the one below.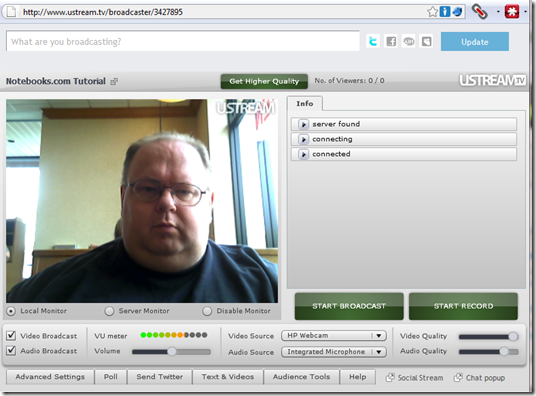 If everything is working, you should see the image from the camera in the window and the VU Meter below the image will show sound with the dots turning green. If they are yellow, it means the sound is getting loud and red means it is probably too loud. Adjust the volume using the slider below the meter. If you do not see what your camera is pointed at, you will need to tell Ustream which video source to use in the drop down box to the right of the meter. Make sure that both Video and Audio Broadcast is checked on the left. Adjust the video quality with the sliders at the right. If you do not hear anything, again select the audio source and make sure Audio Broadcast is checked. Adjust the volume slider and the Audio Quality slider. If everything looks and sounds as it should, then click the big, green Start Broadcast button. Your video and audio sources should now be broadcasting live over the Internet. Test it by opening another browser window and go the your show's Internet URL. Beware as you might get some feedback as the audio will look from the second window back through your mic. You can mute the second window to stop this from happening.
Sharing With Your Audience
If you want your show to be available after you are finished broadcasting live, click the large, green Start Record button. If you do this, once you finish you will be asked to name the show and be given links to share it with others. They will also be listed under the Your Videos" tab on the Dashboard page of Ustream.
You will want to tell others that you are on the air" by entering in the box at the top of the screen what you are broadcasting and clicking on either little buttons for each social networking site, or the blue Update" button to send it out to all that you have already connected to your show.
A Quality Show
In the upper, center of the popup window there is a button that says Get Higher Quality". This takes you to a page that shows you how to set up a higher quality video feed. To do this you have to install the Flash Media Live Encoder and the Ustream High Quality Encoder.
To make sure your show is of sufficient quality, besides having a good camera, sufficient Internet connection, and a computer with decent performance, you will also want to make sure that there is not a lot of extraneous noise. If possible broadcast from a closed room where others will not be interrupting. Also be sure there is plenty of bright light. Finally, you won't want a lot of distracting background paraphernalia.  As with any photography, a background that is in contrast with the subject is best. You don't want to be washed out and lost in the wall or curtain behind you. And be sure there is no back light aiming directly into the lens of the camera. For a simple setup having a light aimed at the front of your face or off to one side. You can get more advanced with lighting if you want to do a professional quality show. That is something the below video is definitely not. I was having problems with the integrated mic in my HP Pavilion notebook. But at least it gives you an idea of what kind of quality you can expect even using very base level quality equipment.
This should get your show on the Internet. If you hit a snag, a quick look at the Ustream Help Center will likely get you going. If you can't find help there you have two other options. The Ustream forums have willing and knowledgeable helpers ready to answer your questions. The Live Help channel is a good place to go as well. There you will find live streaming video with help along with a chat room where you can ask questions.
Streaming on the Go
If you want to stream video on the Internet, you don't just have to rely on a laptop or desktop computer. Ustream has a mobile streaming app for the iPhone, Android devices, and many Nokia devices. All three have an app for broadcasting on the go. If all you want to do is view Ustream shows, then you can use the viewer app on your iPhone or Android device. Finally, the Ustream recorder is only for the iPhone and all it does is record video to later upload to Ustream, YouTube, Twitter or Facebook.
Below is an example of a short video I shot using my iPhone over 3G.
Advertisement