For gaming on the go, the Razer Orochi Bluetooth laser mouse is as good as it gets ($79.99). If you are not a gamer, you will still love the size, weight and functionality for use as an every day mobile mouse.
Size and Weight
For gaming or just general use, the size and weight of a mouse is important. Too small and your hands are uncomfortable. Too large and it is hard to carry around in your computer bag. Too heavy or light and it is hard to get precise movement. The Razer Orochi is great on all counts. With my large hands it is hard to find a mobile mouse that fits well. This one has a nice shape and feels good in your hand even after long use. It is also ambidextrous so lefties aren't left out.
Functions
I'm a man of simple needs when it comes to mice. I like three buttons and a scroll wheel. The wheel on the Razer Orochi is a button wheel that also clicks as you scroll. It is functional as a third button. If you like thumb buttons, this one has four of them with two on each side and they are customizable. To put the mouse into Bluetooth paring mode so it can be connected to a PC, just hold down all four of the side buttons at once till it shows up in the computer's Bluetooth devices list.
I prefer smooth scrolling wheels in my mice, but I've gotten used to the clicking wheel on this mouse. It is perfect for scrolling through documents and long web pages. For gaming, a clicking wheel is actually better so you can precisely switch between weapons or whatever you are switching via the wheel in your game of choice.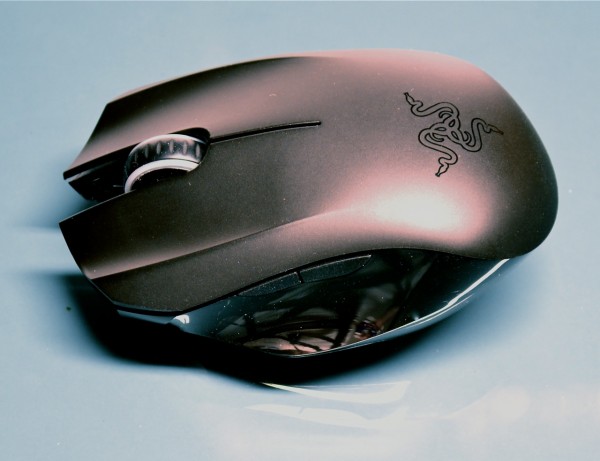 Look
You will either love or hate this mouse's looks. It is all black with a rubberized feel on the top. The Razer logo is barely noticeable where your palm rests, but it is there if you like it. It has both sharp corners on the front and smooth curves  on the sides and back where your palm touches it. The front scroll wheel reminds me of the Batmobile in the latest Batman movies. Not sure why, but it does. The Razer Orochi has a very industrial design and look that will appeal to gamers. Razer's mice are distinctive.
If you want a boring looking business mouse, look elsewhere. I love the mouse and when I showed it to my teenage sons they simultaneously gave me that satisfied look and said, "Cool!" With all that said, the thing collects dust more than any mouse I've ever used. Not sure what it is, but it begins to look gross and I am forever trying to clean it. There are so many nooks and crevices for gunk to get stuck in. Compressed air helps, but who wants to keep cleaning their mouse. My basement, where I use it a lot, is dustier than usual environments. The Razer collects more dirt and dust than other mice in the same environment.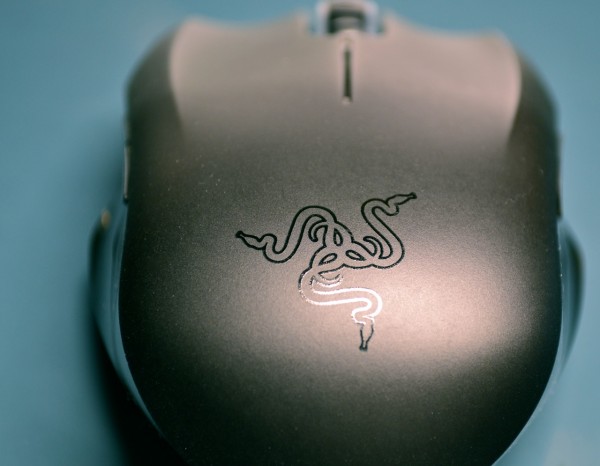 Connectivity
If a gaming mouse doesn't work smoothly, it is useless. Bluetooth inherently has troubles with connections, which is likely why we don't see more Bluetooth mice and also why we are now seeing a Wi-Fi mouse from HP. However, I've had almost no problems with the Razer Orochi dropping its connection. After initial installation through the included USB cable, you reconnect it by turning the on/off switch on the bottom to the on position. Pair it with your computer by holding down all four side buttons, as we said earlier, and you are ready. Turn it off to store it and then turn it back on to reconnect. Just start moving the mouse and after a second or two it will be recognized every time.
Even if you do have problems with it dropping connections or not behaving smoothly during games, it comes with a USB cable that will connect it to the computer so you can run tethered when you absolutely must have a connection during frag sessions or million dollar business presentations. To configure the mouse's functions you will have to hook it up via USB to get it to configure correctly in the driver software. After that you can run it via the USB connection or via Bluetooth. Notice below how the USB cable is rounded on the top to fit the contour of the scroll wheel.
Battery Life
I've had this mouse for two months and have yet to change the batteries. Enough said!
Well let's say a couple more things. The mouse runs on two AA batteries and comes with Energizer batteries. I haven't swapped them out yet. They are installed under the lid which pops off by prying it off using the slot on the back of the mouse.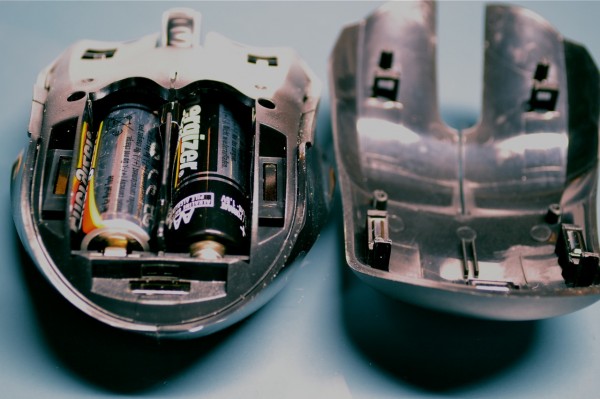 Driver Software
The driver software is very good. There are a lot of features especially for gamers. To configure the mouse, connect it to the computer via the USB cord. Set all the settings to your liking. It will update the memory of the mouse and save it so that you can use it with the settings even when it is not connected via USB.
You will notice the sliders along the left of the image above. This sets the sensitivy of the mouse to make it more or less precise. This can be adjusted on the fly using the default function of the two right side buttons. Also notice that I configured the scroll wheel to also behave as a double-click button. You can choose from many options by changing the drop down list for each button.
There is also an option to turn on or off the scroll wheel light. I turned mine on, but I am guess this will eat away at the battery faster so I am planning to turn it off soon.
Razer Orochi Bluetooth Gaming Mouse Video Review
Value
The Razer Orochi Bluetooth Gaming Mouse is a top of the line mouse that is comfortable and works great. I absolutely love this mouse. It is the best mobile mouse I've ever used and one of the mice of any category. At $79.99 you may balk because that is a lot for a mobile mouse. But Amazon has it for about $15 less. Trust me. At either price it is worth it. It is so good that we are going to include it in our Father's Day Gift guide coming soon, and I am tempted to get a second one so I can leave one on my desk and carry one in my computer bag.
Pros
Perfect size/weight
Feels good in the hand
Looks cool
Consistent Bluetooth connectivity
Feature rich driver software for both Mac and Windows
Fits both left and right-handed people
Long battery life
Clicking scroll wheel is just the right tension for both gaming and office scrolling
Accurate mousing
Cons
Collects dust and dirt in the many crevices worse than most mice
Gallery
Advertisement