I've got a confession.  A little over a month after I swore off netbooks for one computer, my MacBook Pro, I found a rare deal that couldn't be passed.
I happened to hear a little bird on Twitter, the Dell Factory Outlet, who regularly sends out coupons for many of their numerous refurbished, scratch and dent, and previously ordered products.  As I have written before, the advantages of buying factory refurbished items can often save you hundreds of dollars.  I rarely purchase an electronic item from a major manufacturer that isn't refurbished.  Refurbished products are factory inspected, fully tested, and come with equal warranties to new products.
The 15% off coupon that was released on Twitter was for the Dell Mini 10/10v series netbooks.  After doing a little research, I found that the 15% off coupon dropped the regularly priced $249 Mini 10v to a ridiculously priced $211.  The unit I purchased is cast from the traditional netbook mold.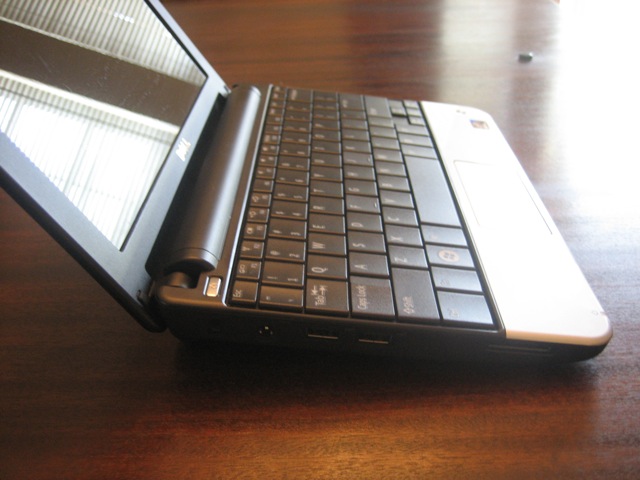 Dell Mini 10v Specs:
1.6 GHz Intel Atom N270 Processor
160 GB Hard Disk
1 GB RAM
1.3 Megapixel Webcam
10.1″ LED backlit glossy screen
92% full size keyboard
802.11 b/g/n Wi-Fi capabilities
Multi-card Reader
The Good
Keyboard:
The keyboard of this netbook is one of the best I've used.  I can easily and quickly touch-type.  It simply does not feel like typing on a stereotypical netbook keyboard.  Unlike some netbooks, the keys are appropriately placed for my hands.  The flex of the keyboard is minimal, although some might feel that the keys have a longer travel than a similar Asus Eee PC 1000H series netbook.  The keys are wider than those found on the chiclet-styled Asus netbooks.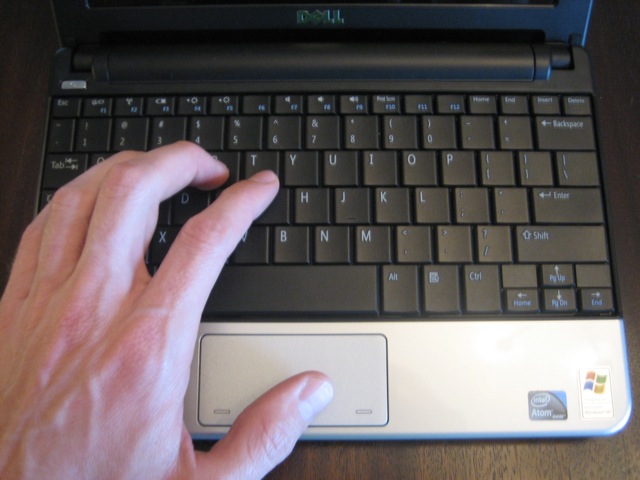 Screen Size:
I believe that anything less than a 10.1″ screen is a deal breaker when it comes to a netbook.  My first Eee PC was the 701 which featured a miniscule 7″ screen.  There is plenty of screen real estate to work with Microsoft Office documents, watching videos, or even creating a small PowerPoint presentation.  Going from the Mini to my MacBook Pro at the end of the day does feel as though I'm working with a 32″ monitor, but the Mini 10v has enough size to get the job done.
Battery Life:
I am easily able to get 6 hours out of a full charge with the Mini 10v's 6-cell battery.  I prefer the 6-cell battery not only for its longer provided computing time, but because it slants the keyboard at a comfortable angle as well.  It also makes a nice handle when moving it around from desk to desk.  While the Mini 10v is fan-less and this may slightly promote increased battery life, it definitely makes for a very quiet computing experience.
Power Adapter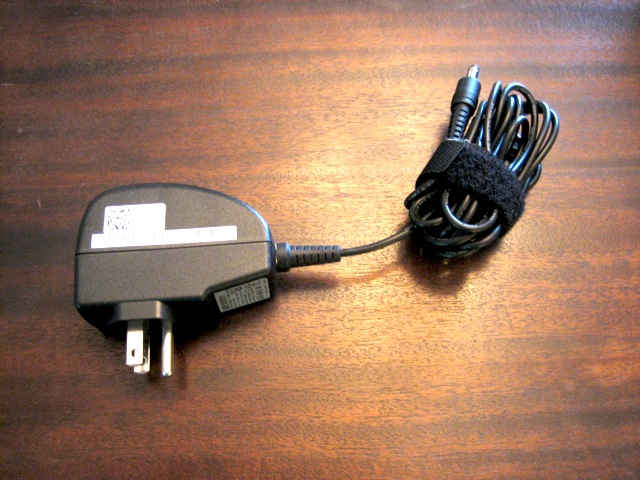 :
The power adapter of the Mini 10v is one unit; there is no brick between two wires.  I love the design as it's easy to grab and go.  It conserves space in my bag and is easy to wrap if I'm in a hurry.  The adapter is a little on the large size when compared to a cell phone power adapter, but the over all portability makes it perfect for a netbook.
Video Out: VGA
One of the major differences between the Dell Mini 10 and the Mini 10v is that the 10v has a VGA out, while the Dell Mini 10 has an HDMI port.  The VGA port is more functional for what I will be using the Mini 10v for, primarily for classroom presentations.  Most LCD projectors still rely on VGA as the default video connection.  My HDTV also contains VGA in so I'm still able to connect it to my HDTV to watch videos.
The Bad
Trackpad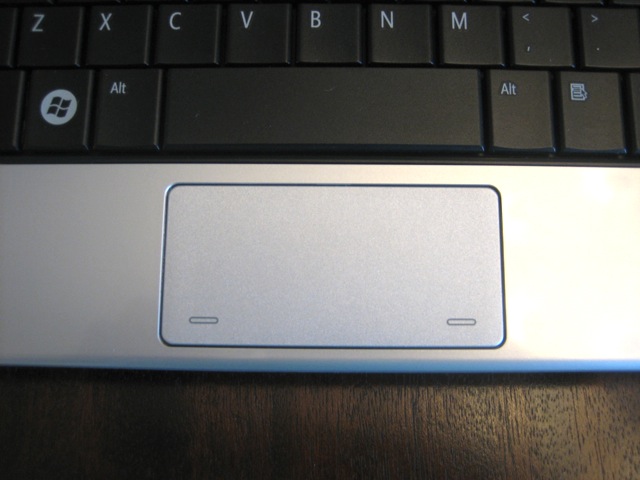 :
The trackpad on the Dell Mini 10/10v is goofy to say the least.  The entire trackpad mimics that of the new MacBook Pro in that the entire pad is touch sensitive, including the buttons.  The Mini 10v does have two specific regions for the left and right click, but even they are touch-sensitive.  Problems sometime arise when trying to click as the cursor can jump off target.  It takes some getting used to, but it continues to be slightly annoying.
Glossy Screen & Case:
The 1024×600 screen of the Dell Mini 10v doesn't seem as crisp as other devices that I've used.  Again, it's certainly no deal breaker, but the colors don't pop as I've experienced with the Asus 1000HE.  I imagine that the color settings can be modified, but the default setup feels a little bland.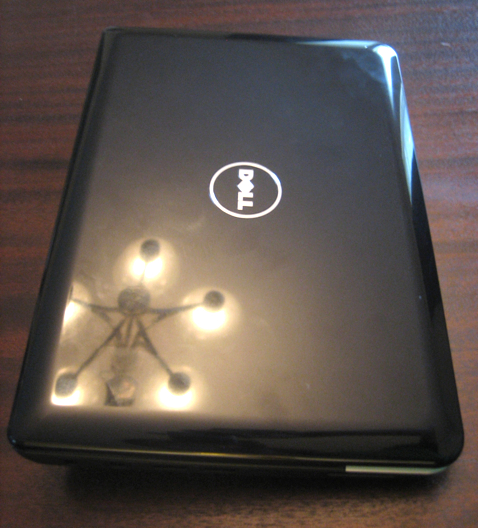 I'm also not a huge fan of glossy screens, especially since these devices often find themselves being used outdoors.  The screen is very reflective as seen in the pictures.  I often have to move the screen up or down so that there isn't a huge glare.
The case itself is very glossy.  The top of the lid can be a fingerprint magnet, although it does not seem as bad as the Asus Eee PC 1000HE.  A simple swipe with a cleaning cloth and the problem is resolved.
It's a Netbook:
Keep in mind that the Dell Mini 10v is not a full-fledged, powerhouse notebook.  It has the same limitations in processing power and functionality as other netbooks, but it's perfect for basic tasks.  You're not going to be doing any video editing, heavy Photoshop creating, or intense gaming, but the 10v will easily handle a few YouTube videos, Hulu, and your social networking.  My parents were so impressed with my Mini 10v that they purchased one a week later without the 15% coupon.  A netbook such as this meets all of their computer needs and doesn't put a dent in the wallet.  Their 3-cell version was around $259.
Of the several netbooks I've owned, I am most satisfied with the Dell Mini 10v.  Perhaps the only thing missing on this netbook that I'd like to have is Bluetooth, but at $211 the lack of Bluetooth wasn't enough to prevent me from purchasing.  Unlike the others that found their way to eBay, I'm certain that the 10v will have a long life in my household for years to come.  I don't rescind my previous argument that the MacBook Pro is all I need.  Netbooks are still underpowered, largely overpriced, and quickly obsolete, but who wouldn't grab one of these for $211?
Additional Pictures:
Follow Matthew on Twitter.
Advertisement