The new Alienware M17x has been revamped for 2011 with a new processor, a new look and other new technology that form an out of this world experience. As far as gaming notebooks go, there is rarely a time when we could turn up the settings even further to make a game look better, but that is the case with the M17x.
We put the M17x through the paces with today's top games, like Call of Duty Black Ops with settings cranked to the max, and found ourselves with power to spare. While it didn't improve our gaming skills, getting killed in Call of Duty never looked so beautiful.
Pros

No shortage of power
Beautiful HD screen
Configurable colors
Wireless HD
New, trimmer look

Cons

Expensive
Little bass for dedicated subwoofer
WASD keys are mushy
Quick Specs
Inside the sleek black exterior you'll find a blazing fast Intel Core i7 2.2Ghz Sandy Bridge quad core processor, 8GB RAM and 1.35TB of Storage in RAID0. From a graphics standpoint, our unit was configured with an AMD Radeon HD 6970M GPU with 1GB RAM.
The notebook has a Blu-Ray drive and a 17″ display with 1080P resolution so that you can game in full HD. The notebook also includes Intel Wireless Display and the WirelessHD for multiple wireless display options.
Who is the Alienware M17x For?
The Alienware M17x is a notebook for gamers and power users, but mostly gamers. If you want a notebook that won't leave you wanting when it comes to gaming, this is one of the notebooks you need at the top of your list.
The notebook is portable enough that you can take it to a LAN party, but this isn't meant to go out on a daily basis. If you like to play console games too, you'll appreciate the HDMI-in port that allows you to use the display just like you would your HDTV. If you need loads of power for demanding programs, Alienware is also a popular choice, but you should also consider mobile workstations.
Hands On Video
Build and Design
The Alienware M17x keeps the same distinct look you are used to, which means defined edges and a very strong look. This time around though, the M17x looks more refined. There are still plenty of lights and vents galore, but the finish feels a little better on your hands and the notebook is a bit trimmer, perhaps as svelte as you can expect on a 17″ gaming notebook.
The M17x feels very solid in your hands, and that's not because it is a hefty notebook. The hinges are sturdy and overall build quality is impressive.
The design is something you'll either love or hate. The defined edges and corners are exactly what you would expect on an Alienware machine, and mix well with the vent lights and backlit keyboard.
You can use the Alienware FX studio to change the color of the backlighting and any LED-lit areas. The studio allows you to use pretty much any color you can create by dragging the color sliders around. You can even have the keyboard zones set for different colors for looks or for fast locating while gaming. Sadly you can't pick the color of individual keys, or of the WASD keys.
Features
The Alienware M17x has a laundry list of features, but the biggest feature is the fact that this notebook is ready for gaming. During my time with the notebook, there wasn't a time where I needed to to turn down settings or noticed lag. This is thanks to a speedy processor, powerful GPU and plenty of RAM. If you can afford it, pick up the Wireless HD upgrade, which will allow you to wirelessly use your HDTV as a bigger display when you are at home.
Display
The Alienware M17x  has a great looking 17.3″ display with a full 1080P resolution. This means you'll have a full HD gaming experience no matter where you are. You can also use the HDMI-in to turn this display into your connection for a console or for another computer if you need a second display.
This upgrade is a must in my book, not only for gaming, but also for using the notebook to get work done. At 1080P, you can work on two documents side by side, or watch a movie on one side while you work on the other side.
When gaming, the display is wonderful. Colors are nice and rich, with no noticeable ghosting or lag during my time with the notebook. Playing Call of Duty Black Ops on this HD display was a joy, as was using the HDMI in to play other games from an Xbox 360.
Keyboard and Touchpad
This isn't a keyboard I would pick for work, but if you need to tap out a few term papers or wrap up the occasional work project you will be alright. The keys feel good, with a soft finish and offer a large surface to hit while you are gaming. The only real disappointment I have with the keyboard is the amount of give in the WASD key area. As you saw n the hands on video above, the M17x keyboard bows heavily in this area. An area you would expect to be top notch in a gaming notebook.
The mousepad on the mousepad performs well enough for random gaming sessions, web browsing and daily use. That said, I would still pack an external mouse in your bag for gaming sessions, but in all it was a decent, and spacious, touchpad.
Processor and Performance
There's not much to say about the Alienware M17x performance. The quad core Core i7 processor and Radeon HD 6970 GPU make for an amazing team. Unlike some powerful combos, the M17x handles your day to day tasks just as well as it does the power intense gaming and movie creation tasks.
As you'll see below, the M17x is suited well for gamers, but is also a good fit for end users who need access to portable processing power. After testing out Adobe CS 5.5 on the unit I was not left wanting. Sony Vegas Movie Studio also made quick work of several video projects.
Multimedia and Gaming
The M17x is the first gaming notebook I have used, where I had to turn all of the settings up when I entered a game. From Portal 2 to Call of Duty Black Ops and Just Cause 2, the games performed brilliantly on high settings. The details looked sharp and there was no slow down while playing. Sadly, this does not translate into making me a better gamer, but getting killed in Call of Duty never looked so good.
If you want to play the latest games out there, without worrying about your settings or slow down, the M17x will get you there.
If you need a larger screen to game on, just turn on Wireless HD. This optional upgrade allows you to play games lag free on a wireless external display. You can check out the video below for a demonstration of the WirelessHD system and adapter in use.
When it comes to watching movies or TV on the M17x, you can use the built in display, or use the Wireless HDMI setup shown above. This proved a great way to get past the pesky Hulu Plus restrictions on shows you can watch on your Xbox 360 or mobile device.
Audio and Speakers
The speakers in this large notebook are by Klipsch, and include a dedicated subwoofer. The system offers a 5.1 surround experience, which can help you place the location of others while gaming, and can handle digital 7.1 sorround sound over HDMI or SPDIF.
The speakers handle in game audio well, and the virtual surround was easy enough to hear while walking about a level with flames in Portal 2. I personally have trouble placing and reacting to the noises in a fast paced game like Call of Duty, but if your reactions are faster this could give you an edge.
Music sounds good, but there was a surprising lack of bass given the dedicated subwoofer. Overall audio quality for music is OK, but don't think the subwoofer will deliver pounding bass.
Watching movies is a enjoyable, even with much background noise in a scene the dialogue was easy to understand.
Heat and Noise
This notebook can get hot during gaming sessions, but you should expect this from a 17″ Quad Core gaming notebook that isn't meant to sit on your lap anyway.
Noise wasn't loud enough to disturb gaming sessions, and shouldn't be an issue during your average web browsing.
Battery Life
Obviously the Alienware M17x has a healthy appetite for power, but the ability to switch to the integrated Intel GPU will earn you some decent on the go battery life. Using the Laptop Magazine Battery Testing tool, which simulates web browsing, the M17x lasted four hours and 11 minutes.
Gaming will cut into this, as will watching videos, but if you need battery-powered web browsing, you can get through half a day. Impressive given the poor battery life of single GPU systems we have used before.
Connectivity
The Alienware M17X has a handy collection of ports, including a few you don't normally find on a notebook.

Left: Kensington, Ethernet, VGA, HDMI, Displayport, USB 3.0, USB 3.0, SP DIF, Mic, Headphone, Headphone

Right: Blu-Ray Drive, SD card Reader, USB 2.0, USB 2.0, eSata USB Combo, HDMI In

The front of the notebook has no ports, and the rear only has a power port.

The 2.0MP webcam proved capable for Skype calls, delivering a good video chat experience and accurate colors on images.
Value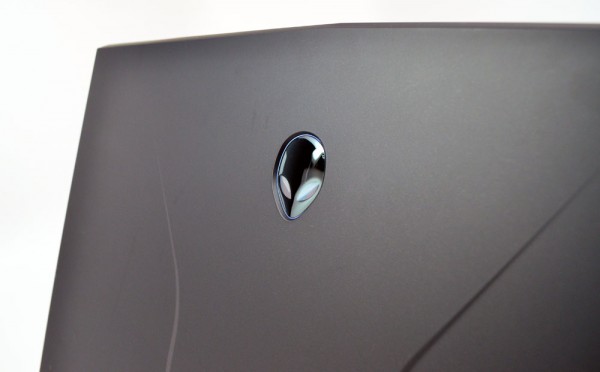 The Alienware M17x notebooks start at $1,499, which is an attractive price for a gaming notebook. The unit we reviewed, with the display and WiHD upgrades, as well as RAID hard drives, 8GB RAM and a high-end video card actually clocks in around $2,500.
If you are looking for a dedicated gaming machine, and you have the money to spend, you certainly get a lot of bang or your money. If you are a casual gamer, you may want to look at the entry-level specs, which are still pretty impressive, or look at the M11x and M14x, which have lower starting prices and similar options.
Conclusion
When it comes to unbridled power and striking looks, the Alienware M17x delivers. You won't be left wanting a bit more power while gaming, and the ability to get on Facebook and surf the web for four hours while on the go is also a nice touch.
The experience is complete thanks to the 1080P HD screen upgrade and the ability to game and entertain on the big screen with Wireless HD. WiHD may be an expensive add-on, but it's central to the enjoyment I had with this powerful gaming notebook.
Alienware M17x Gallery
Advertisement