The booq Mamba Shift L backpack is a jet black bag from booq that is a slim, well constructed and comfortable bag for carrying your gear around town, or across the country.
The booq Mamba Shift L is designed to hold a 13″ -17″ Mac and up to a 16.4″ PC. The Mamba Shift L has a dedicated notebook slot at the rear which is padded on all sides to hold our notebook. This compartment provides a good deal of protection and we have used it with a notebook as small as the MacBook Air up to several 15.6″ business notebooks. One thing that is nice about the Mamba L is that this section holds the notebook tight and close, which makes for a comfortable carrying.
The inside of the Mamba Shift L has a pocket right next to the notebook back which is a perfect fit for a small tablet or a collection of papers. This slot is also just right to hold the 13″ MacBook Air if you need to also carry a larger notebook in the notebook compartment.
The inside has a mesh pocket that is a good fit for the MacBook power adapter and other random items. Below that you'll find three small pockets that can hold a mini tripod, collection of cables and a MiFi card. We wish the pockets were a bit bigger, or at least had a tighter fit so that one of them would hold a point and shoot camera nicer.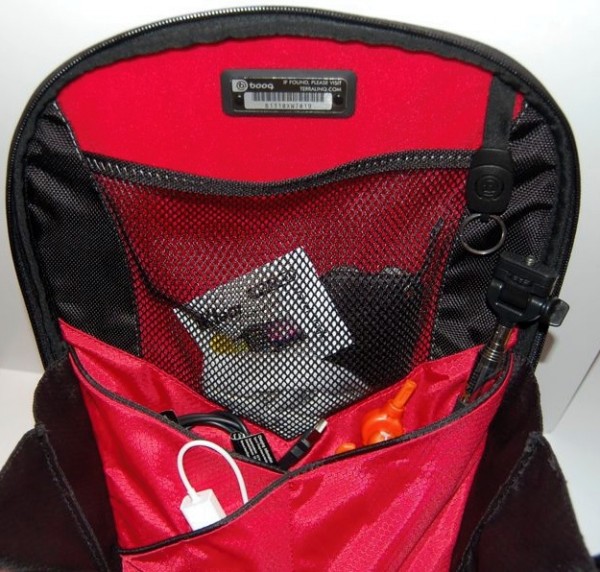 There are a few elastic pouches at the bottom of the notebook which will hold several small accessories and a larger pouch with a elastic closure fro bigger items. You can also put the small pouch that comes with the Mamba Shift L in there. We found that it is a perfect place to store thumb drives and miscellaneous adapters that we need to keep together.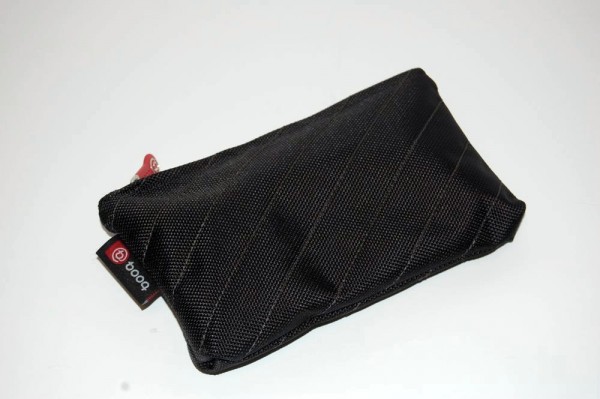 The Mamba Shift L is slim, but it still has enough room that you could fit a change of clothes in the main compartment if you wanted to use it for a day trip without the need for an extra carry one. We wouldn't want tot try and fit much more than that though.
On the outside, you have access to a large pocket that holds quite a bit. If you still read a paper books, you can probably fit a paperback in this pocket. The sides of the bag have small slot-style pockets that could hold an umbrella or something else small, if they were a bit bigger you could fit a bottle of water.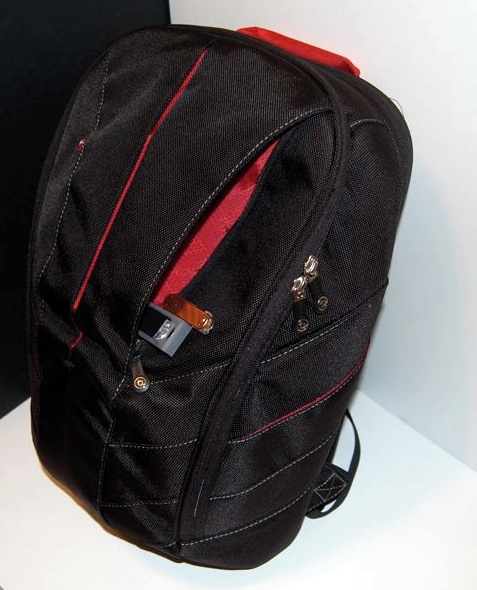 The shoulder straps each have a slot that can hold a smartphone or a MP3 player. If you don't like to carry your smartphone here, they also make a good place to store business cards.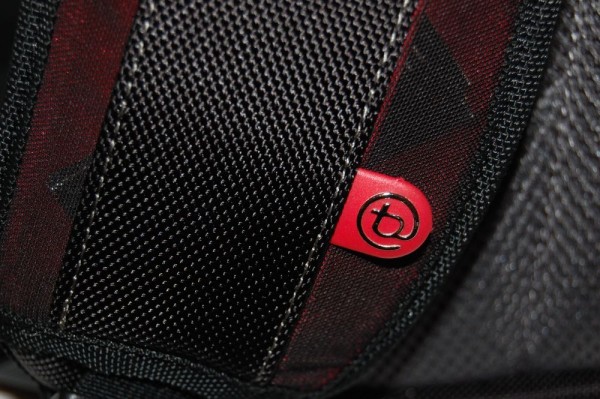 Even with a 15.6″ business class notebook, the MacBook Air, iPad and a collection of accessories the padded back and shoulder straps are able to provide a very comfortable carrying experience. We like that the shape of the straps feels natural, and the padding has held up after a little over a month of daily use without any decline which is a good sign.
One final feature we like is the inclusion of Booq's Terralinq service which allows you to register your bag with booq so that if it is lost it can be reunited with you. This service is free and included with the purchase of the bag.
The overall construction of the bag is top notch, with good stitching, durable fabric and quality zippers that feel like they will hold up over the long term. The booq Mamba Shift L is a well designed and well made backpack that is a a good choice for users that want a slim bag that still has a lot of storage.
booq Mamba Shift L Gallery
Advertisement