The Chromebook that started that current craze gets a much-needed and well received update, making the Samsung Chromebook 2 one of the best 13-inch Chromebooks money can buy. The Samsung Chromebook 2's predecessor came out a couple of years ago and put Chromebooks on the radar of consumers thanks to an attractive design, nice price, simple user-interface and good performance. Samsung then went back to their design team and they came up with another stylish laptop that now also comes in a larger 13.3-inch model.
The Samsung Chromebook 2 (XE503C32-K01US) won't win a benchmark or specs war against the competition, but real-world performance matters more and this machine holds up well. It's a great choice for anyone looking for a stylish computer. The Chromebook 2 doesn't come with the power or design quality of a MacBook Air or high-end gaming Windows laptop. It also doesn't come with the high-end price, which attracts people to Chromebooks. They'll stay around for the ChromeOS simplicity and refinement.
With a bunch of budget Windows computers showing up, like the HP Stream, for $200 does the Samsung Chromebook 2 still make sense? We'll try to answer that question for you.
Pros

Sleek attractive design
Crisp 1080p screen
Excellent keyboard
Spacious and responsive trackpad
Thin and sleek

Cons

Exynos 5 processor slower than Intel Haswell
No full-size SD card slot
Expensive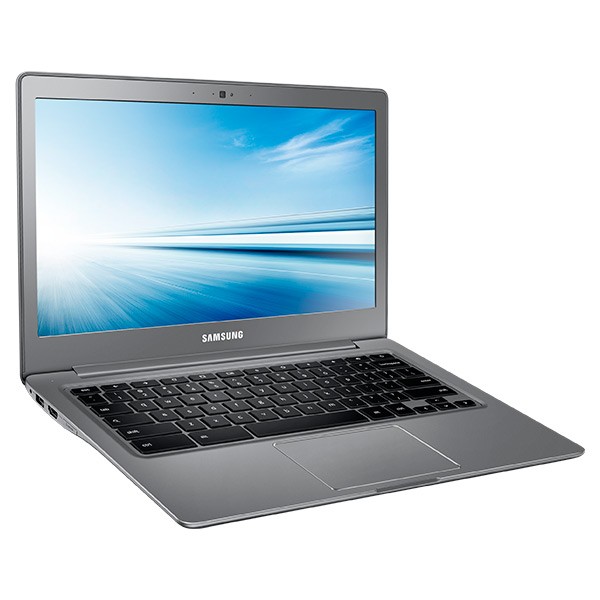 Samsung Chromebook 2 13.3″ | $399.99 | Chromebook

The Competition
Samsung Chromebook 2 Video Review
Here's our video review.
Who is the Samsung Chromebook 2 for?
Samsung designed the Chromebook 2 for people with simple needs, but stylish tastes. Anyone who wishes they could afford a MacBook Air, but doesn't need the power and won't pay the cash, should give the Samsung a look.
The Samsung Chromebook 2 excels for writers thanks to the great keyboard and trackpad as well as crisp 1080p screen. If a buyer wants something to do a lot of writing, but also wants to stream HD video, then the Samsung Chromebook 2 should fit nicely.
Design
The Samsung Chromebook 2 comes with one of the most attractive and sleek designs on a Chromebook thanks to the faux leather cover with dark Luminous Titan gray, almost black look. Unlike some other Chromebooks, the Samsung doesn't feel like a low-end build. The only other 13-inch or bigger Chromebook we've tested that offers a more premium build quality is the HP Chromebook 14, that was our longtime favorite among Chromebooks. The Samsung Chromebook 2 doesn't weigh as much as the HP and includes a higher resolution screen and longer battery life.
The .65 inch thick design reminds us of the MacBook Air. Despite the plastic construction, this $400 machine feels premium, but without the premium price of Apple's 13-inch computer. We're not saying anyone should expect the aluminum MacBook Air's build quality. However, it compares to other Chromebooks like the Air compares to other ultra-portable high-end laptops.
The Samsung Chromebook 2 comes with a micro-SD card slot, instead of a full-size SD card reader, so photographers and videographers who use a point-and-shoot will need to either carry their USB cable around or switch over to micro-SD cards with adapters if they want to use the Samsung for simple edits and uploading to the Internet. At $400 it should offer a regular card reader.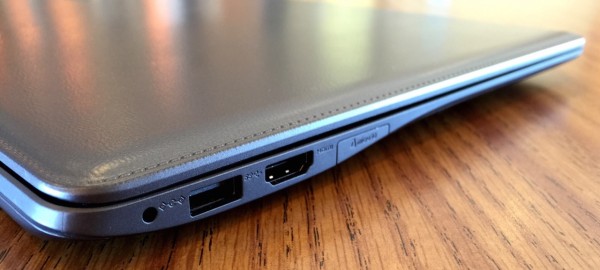 Keyboard and Touchpad
The excellent keyboard makes the Samsung Chromebook 2 one of the best 13-inch plus machines for writers or students. The island style keyboard feels comfortable and responsive. Touch typists will love typing on it for short or long writing sessions.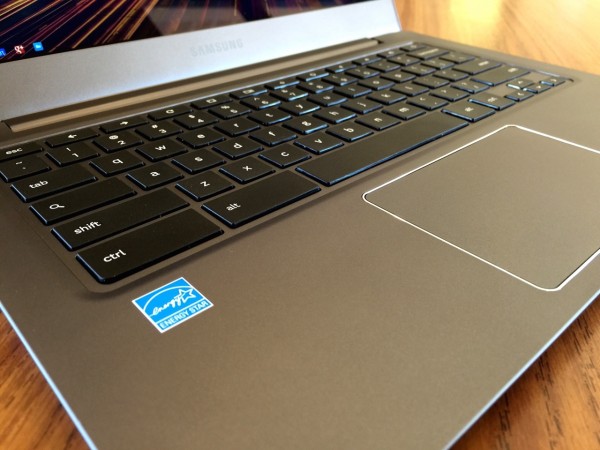 Samsung's spacious touchpad also feels responsive. It's accented with a faux aluminum trim around it.
Display
There's only one awesome Chromebook display available. That's on the $1300 Chromebook Pixel. Google introduced it in February 2013, which means it also comes with technology three generations old. The next best display comes on the original HP Chromebook 11, but it's not 1080p and it's harder to find after HP updated it and replaced the superior display with a mediocre one. That's why the Samsung Chromebook 2 may offer the best Chromebook display for people who want current gen specs without high-end prices.
The company put a nice 1920×1080 LED screen, which accounts for the expensive $400 price-point. It measures 250 nits of brightness, a little low compared to all notebook computers, but average for a Chromebook. Because of the dim display, the user will need to run it at 60% brightness in most normal lighting situations and higher in a bright room or outdoors. That drains the battery faster than we like.
Performance and Graphics
As noted above, the Chromebook 2 won't win any benchmark or specs contests. Octane, a popular ChromeOS benchmark because it runs in a browser, returned a score of 7112. That's a little low compared to other faster machines that use an Intel Haswell processor, like the previous generation HP Chromebook 14. It often hits 10,000 or higher. My fast Lenovo Windows desktop runs at nearly 28,000.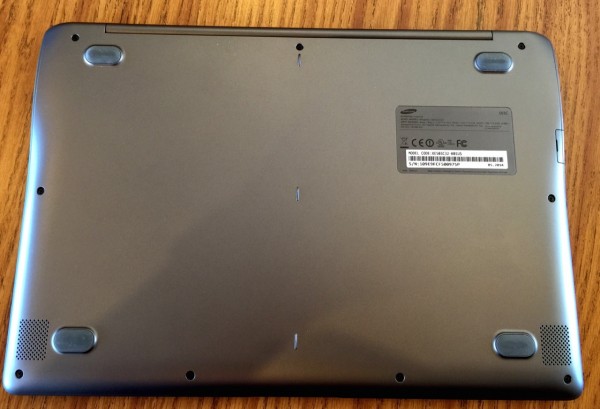 Benchmarks don't mean anything compared to real-world experience and the Samsung Chromebook 2 handled everything we threw at it without any serious issues. Going from the HP Chromebook 14 and the Acer C720 to the Samsung Chromebook 2 didn't feel like a step down. The higher resolution screen offsets the slight performance hit compared to the HP. Also, those of us with big hands will prefer the larger keyboard over the Acer.
The battery life on the Samsung Chromebook 2 hits the mid to low-end for modern Chromebooks at around 7 hours running at 50-60% brightness. For most people, that's plenty of battery life to get through a work day, a few classes in college, or couple evenings of couch browsing.
The Bottom Line
Buyers will enjoy the Samsung Chromebook 2 if they don't mind the price. At $399.99 from Samsung and most online or physical stores, it's one of the most expensive Chromebooks available. If Samsung put in an Intel Haswell processor, we'd not even mention the price on our list of Cons above. The Samsung Exynos 5 Octacore processor doesn't run as fast as the Intel Haswell processors that most manufacturers were using in the previous generation of Chromebooks.
For some reason other manufacturers started designing Chromebooks using the older and slower Intel Bay Trail processor instead of the newer and faster Intel Haswell chip. That slowed down their performance, making Samsung's chip seem like less of a liability.
The higher resolution screen and sleek design combined with a great keyboard and trackpad makes the Samsung Chromebook 2 a fine choice for most people in the market for a Chromebook. We don't hesitate to recommend it to writers, students, business users who want a good machine to get work done but also need it for off-hours entertainment. Someone could describe many of the current generation of Chromebooks that way, but most of those don't look as attractive or include as good a screen.
People who need 10-12 hours of battery life or who run with more than half a dozen browser tabs or apps open at a time, should consider another Chromebook.
A couple of places sell the Samsung Chromebook 2 at a discount. Amazon offers it for $378 while the Newegg store on eBay sells it a refurbished model for $340.
Gallery
Specs
| | |
| --- | --- |
| OS | ChromeOS |
| Display (size/res) | 13.3-inches, 1920 x 1080 LED |
| CPU | Samsung Exynos 5 Octa 5800 2.0GHz Quad A15 / 1.3GHz Quad A7 w/2MB Cache |
| RAM | 4GB DDR3L |
| Graphics | Integrated with Samsung Exynos Processor |
| Storage | 16GB SSD |
| Optical Drive | None |
| Wireless | Wi-Fi 802.11ac; Bluetooth 4.0 |
| Ports | 1 USB 3.0, 1 USB 2.0, 1 HDMI, 1 Micro-SD card, headphone/mic, Kensington lock |
| Size | 12.72″ x 8.80″ x 0.65″ |
| Weight | 3.06 pounds |
Advertisement