The HP Slatebook 14 seems like a great idea. It's an Android powered laptop with nice hardware for a budget price. Buyers will get a high-resolution 1080p screen, an excellent keyboard, usable trackpad and can install the Android apps they're used to running on their Android phones or tablets. So, what's not to like? Unfortunately, a number of problems means this Android laptop will disappoint most buyers.
HP took the great hardware they put in the HP Chromebook 14 and added a snazzy black and school-bus-yellow paint scheme. They also threw in some decent beats Audio speakers and pumped up the screen's resolution to 1920×1080. Add a touchscreen and it sounds like everything that made us love the HP Chromebook 14, plus a few tricks to make it better. If only they had kept ChromeOS instead of crippling it with Android 4.3 Jelly Bean and then this would have become our favorite Chromebook. Instead, it looks like the brand new Acer Chromebook 13 will get that prize.
Pros

1080P HD resolution
14-inch size great for productivity work
Excellent keyboard
Responsive trackpad
Attractive paint scheme
Better than average beats audio
Sturdy construction
Plenty of ports

Cons

Too much screen glare
Outdated Android 4.3 Jelly Bean
Only 2GB of RAM
Micro-SD card instead of a full-sized SD card slot
Terrible Wi-Fi connection issues
Hard to play Android games that don't use keyboard but touch
HP Slatebook 14 | $429 | Ultrabook

The Competition
HP Slatebook 14 Video Review
Watch our HP Slatebook 14 review video to see how the computer stacks up compared to the HP Chromebook 14 and to learn its strengths and weaknesses.
Who is the HP Slatebook 14 for?
The HP Slatebook 14 does a few things right. Some Android fans will like the form factor for productivity reasons. Readers who use an Android tablet and Bluetooth keyboard, but feel limited with a small 7-10-inch screen, might find this machine works well for them. For those who enjoy Android, but only on their phone or only on a tablet that they hold in their hands, this machine will prove frustrating.
Design
The black and yellow paint job looks cool. The sleek design reminds us of a low-budget MacBook Air. HP included a harder plastic compared to the softer material used in the HP Chromebook 14. The look and feel inspires thoughts of quality, unlike most computer in the $400 price-range.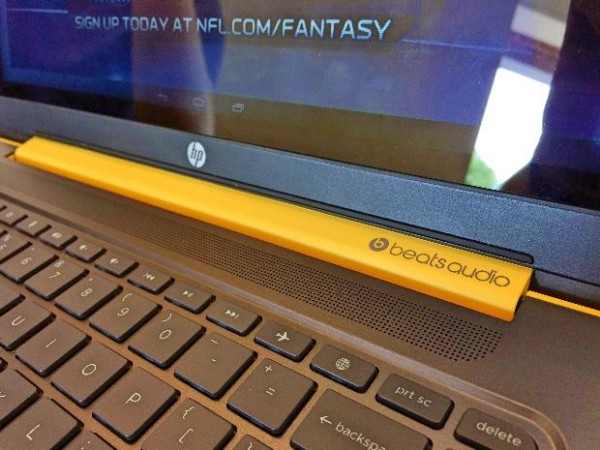 The notebook's hinge will last, but it's also hard to open one-handed. The speakers sit behind the keyboard and between the ports on either side. HP includes HDMI, USB 3.0 and a pair of USB 2.0 ports.
Instead of a full-sized SD-card, they only include a micro-SD card. That makes it harder for photographers to use the machine to upload their snapshots while away from their primary computer.
Keyboard and Touchpad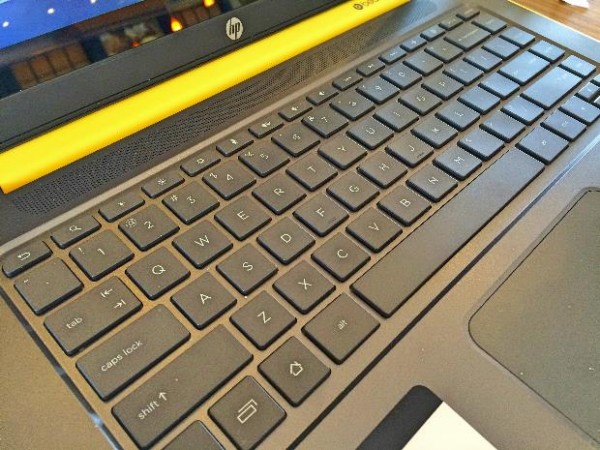 The HP Slatebook 14 keyboard makes for fast and comfortable touch typing. People who do a lot of writing, but don't need a powerful word processor, will enjoy writing on the laptop. There's a useful row of shortcut keys across the top of the keyboard. The keyboard also includes Home, End, Pg Up, Pg Down, Delete and Backspace keys.
The touchpad's not as good as the HP Chromebook 14 touchpad, though it's the same size and feels very responsive. Out of the box, it's too responsive, however, registering accidental clicks. There's a setting to turn down the responsiveness and that fixed the issue.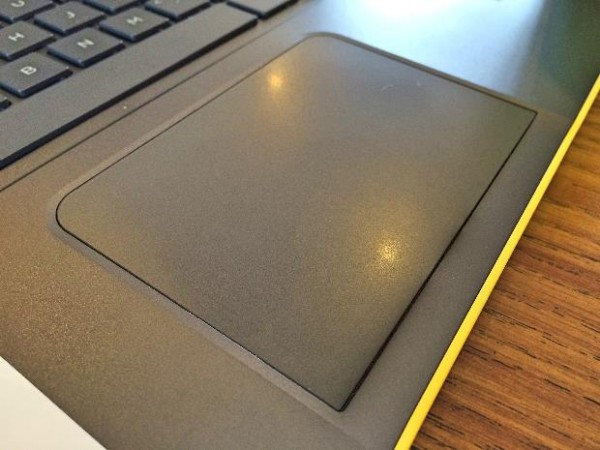 Clicking the touchpad feels mushy compared to better pointing devices.
Display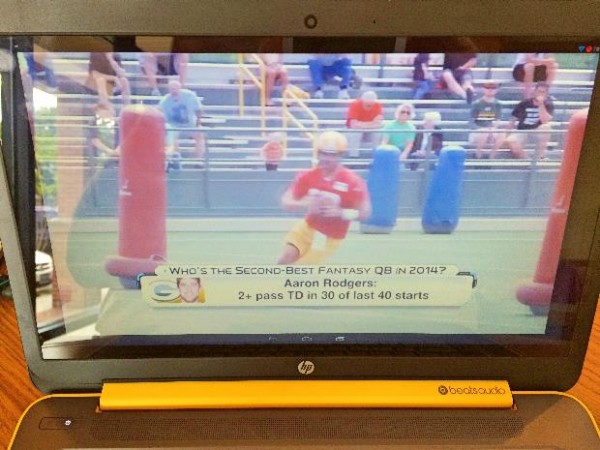 We get good and bad with the display. HP boosted the resolution to a nice 1920×1080, making HD video look good and text crisp. However, the glare on this reflective display made it unusable in bright light and harder to use in medium lighting situations. Sometimes I had to adjust the screen to an uncomfortable level just to see it while sitting in a coffee shop with large bright windows.
Features
The system features some interesting details that seem compelling, like:
1080p display
Android on a laptop
Better than average audio
Great keyboard and decent touchpad
Due to the cons listed above and discussed here, those nice features aren't as compelling in practice.
The computer includes two USB 2.0 ports plus the charging port next to the power indicator light on the left side.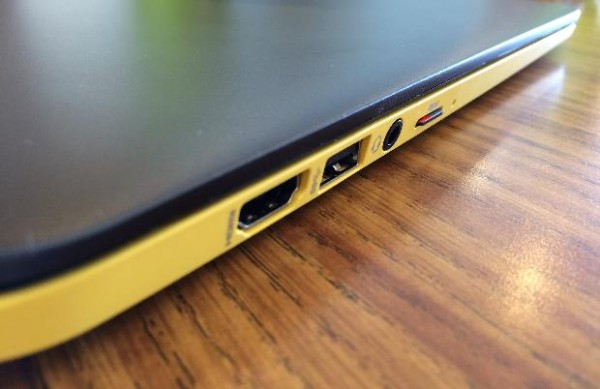 The right side offers an HDMI port, a USB 3.0 port, a combo headphone/mic jack, a micro-SD card, instead of a full-size SD card and the built-in microphone. There's no Kensington port for security.
Performance and Graphics
The HP Slatebook runs on an NVIDIA Tegra 4 processor. That's a decent processor used in a lot of Android tablets. It gives the user smooth and fluid performance for playing games and watching movies. Unfortunately, the keyboard gets in the way of most gameplay since the games on Android assume the use of a touchscreen. The user can't comfortably pick up the touch display.
For productivity tasks, the machine runs perfectly fine. Office users won't experience any problems at all writing simple documents, running basic spreadsheets and the average presentation, when hooked up via HDMI.
HP included only 16GB of SSD storage and the machine boots slowly compared to other computers running SSD drives.
Battery Life
The HP Slatebook 14 promises "up to 9 hours" and we got close using it for simple tasks. Video streaming lowered that by a few hours, but the computer on average lasts 6-7 hours with typical usage.
The Bottom Line
Don't buy the HP Slatebook 14. It's rare that I can make such a definitive recommendation. There's usually at least some segment of our readers that will like hardware that's doesn't measure up to expectations. With the poor Wi-fi on this device, very few people will enjoy using it.
If HP fixes the Wi-Fi and updates to either Kitkat or Android L, then the other problems will not bother us that much and they'd have a nice machine. Improve the glare problem and add another GB of RAM, and this machine gets exciting.
While some productivity users who love Android can work through the problems, no Android gamers will want this machine.
Gallery
This slideshow requires JavaScript.
Specs
| | |
| --- | --- |
| OS | Android 4.3 Jelly Bean |
| Display (size/res) | 14-inches, 1920 x 1080 |
| CPU | NVIDIA Tegra 4 |
| RAM | 2GB |
| Graphics | Integrated with NVIDIA Tegra 4 Processor |
| Storage | 16GB SSD |
| Optical Drive | None |
| Wireless | Wi-Fi 802.11 a/g/n; Bluetooth 4.0 |
| Ports | 1 USB 3.0, 2 USB 2.0, 1 HDMI, micro-SD card, headphone/mic |
| Size | 13.54 x 9.45 x 0.63 in |
| Weight | 2.71 pounds |
Advertisement