Microsoft has built a very useful interactive laptop guide for those who aren't tech experts and want to learn the basics before shopping for a notebook. The flash based guide takes 10 minutes or so to run through and covers the basics: Processor, RAM, Hard Drive, Video Card, and OS (or you can skip this section and jump right into recommendations). The whole thing is well narrated, and you can skip the overview of any of these components which you are already familiar with.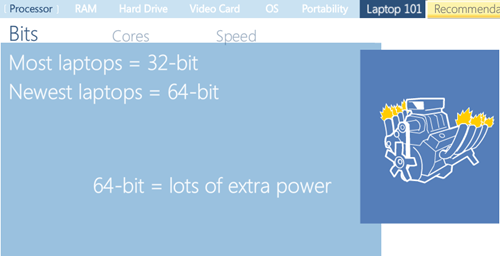 Once you go through the basics, the guide will ask you what sort of things you want to do with your laptop, how portable you need to be, what your budget is, etc. Based on how you answer these questions, it will create a simple chart of specifications which you can even print out so you have something to refer to if you are going to shop in a physical store. Otherwise you'll be forwarded to a page which shows notebook purchasing recommendations based on the information you provided. Microsoft claims that there is no paid product placement in their recommendations, so you are getting laptop recommendations purely based on what will work for your specified usage.
I've gone through the whole guide and will say that this is an excellent place to start if you are looking to purchase or shop for a new computer, give it a try!
Advertisement