Microsoft offered up an update for Microsoft Office 2011 for Mac that patches some security holes in the office suite. According to the MS website:
"This update fixes critical issues and also helps to improve security. It includes fixes for vulnerabilities that an attacker can use to overwrite the contents of your computer's memory with malicious code. For more information about this update, please visit the Microsoft Web site."
Office 2011 includes Mac versions of Word, Excel, PowerPoint and Outlook. The new version will be 14.1.4 and updates Office 2011 Service Pack 1. It comes in at a whopping 377.7 MB, so be patient if you're on a slow connection.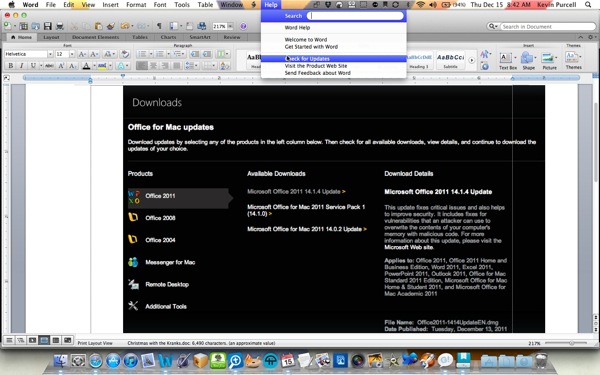 To get the update, just open one of your Office 2011 programs and click on Help and then Check for Updates or you can go to the Microsoft Office 2011 for Mac website. An auto updater will download first and then the critical patch will be downloaded by the auto updater.
Advertisement