On March 2 Apple is expected to announce the iPad 2 at a special press event in San Francisco. What might surprise many is a report from Apple Insider that says the new version could very well be available almost immediately after the announcement. If true, all the rumors about what might be included in Apple's next generation of its popular tablet could be either confirmed or dispelled by the end of this week.
The Apple Insider rumor is based on information from "people familiar with the matter".  They claim that behind the scenes preparations for a major product launch are now taking place. With last week's special invitation to the press event clearly tipping Apple's hand with the graphics all showing that the event will clearly be about the iPad, what other major product could be in the works for this week. The new MacBook Pros have already begun shipping. It is too soon for a new iPhone.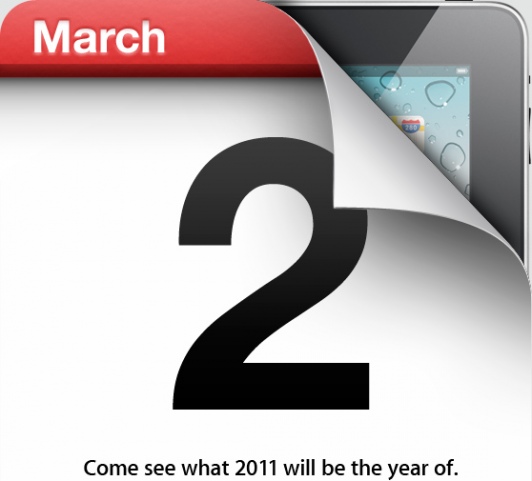 The sources quoted in the story have a record of being "consistently" accurate about the information they have given regarding Apple matters, according to Apple Insider. However, this is in direct opposition to other rumors that have stated that Apple is having trouble in its production of the new iPad which could delay its release. Last week Kara Swisher from All Things Digital said the reported delay was false according to her sources. We will know by the end of the day Wednesday.
Another piece of evidence supporting immediate release is the news from 9 to 5 Mac that Apple is no longer supplying retailers with older iPads and supplies at retailers may be gone within a few days.
One reason that Apple might want to get the new iPad out quickly is the release of new android tablets like the Motorola Xoom and other Android tablets either already released or coming soon.
Both Notebooks.com and Gottabemobile.com will have all the information just as soon as possible it is available. And be sure that once the new iPad is finally released, we will be reviewing it and helping you get the most out of the new device.
Advertisement