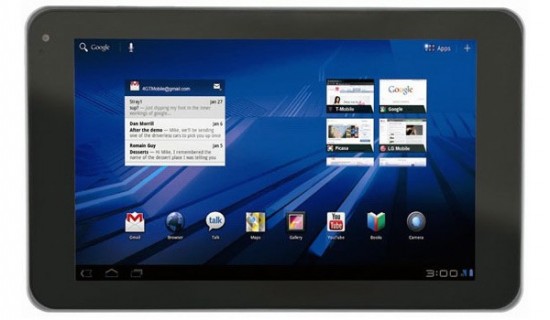 While the Motorola Xoom will be the first Android 3.0 Honeycomb tablet, it will be quickly joined by other hardware rivals, such as the Optimus Pad, made by LG. The LG Optimus Pad will be available for pre-order in mid-March and will go on sale at the end of next month.
The LG Optimus Pad is also known as the G-Slate in the U.S.–that device will be offered via carrier T-Mobile USA.
Like its Xoom rival, the Optimus Pad will be powered by a dual-core NVIDIA Tegra 2 processor, which has two ARM Cortex A9 cores working in conjunction with each core clocked at 1.0 GHz. The device is 3D-capable and will support dual 5-megapixel cameras on the rear, along with a 2-megapixel front-facing camera for video chat. It will be powered by Android 3.0 Honeycomb, which according to Google is the first edition of Android that's been designed and optimized for the tablet user experience to take advantage of the larger screens when compared to smartphones. The LG Optimus Pad will have a slightly smaller screen area than Xoom, with an 8.9-inch display rather than the latter's 10.1-inch display.
JKK Mobile had the opportunity to play wit the Optimus Pad, and the site's hands-on video with the device has been re-posted below:
Via: Netbook News
Advertisement