For the most part getting a smartphone has always meant high up front costs and an expensive data plan. While the data plan pricing of carriers has come down some over the past year, most of them still can't compare in price to Virgin Mobile's Beyond Talk Plan which provides Unlimited texts, data and web for $25 a month including 300 minutes, up to unlimited on all counts for $60 a month.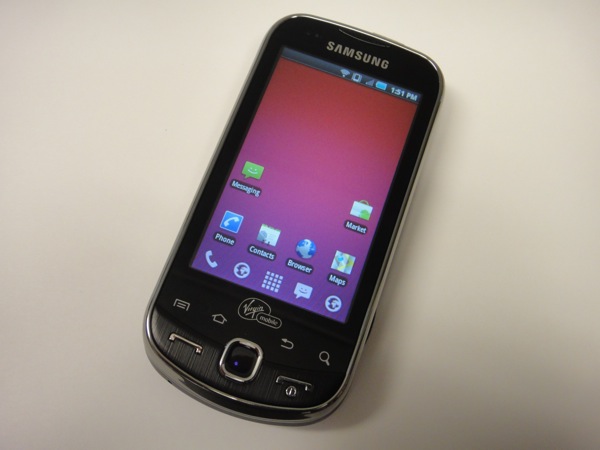 A great price on minutes and web isn't worth anything if you can't use a good phone to connect with, which is why we were excited to see that Virgin Mobile was offering the Samsung Intercept, an Android powered smartphone. The Intercept is available of r$249 without a contract.
The Samsung Intercept came out in mid summer 2010 on Sprint and recently made the move to Virgin Mobile. While it isn't sporting the fastest processors, it does provide a stellar android experience at an affordable price.
Quick Specs:The Samsung Intercept has a 3.2" screen, slide out keyboard and a 3.2MP camera. It also has dedicated phone buttons for fast access to making calls. The phone comes with a 2GB microSD card and 256MB RAM/512MB ROM of built in memory. The Intercept is running Android 2.1. The phone works on Virgin Mobile's 3G network (operated by Sprint) and has a battery life rating of 254 hours standby time and 6.4 hours of talk time.
Samsung Intercept from Virgin Mobile Hands On Video:
Build Quality:One thing that struck us off the bat was how sturdy the Samsung Intercept felt in our hand. While it wasn't rugged feeling and did feel like plastic, the phone felt like it would hold up to use well. The slide out keyboard provides an audible "thwack" as it opens, operating smoothly during our month long test.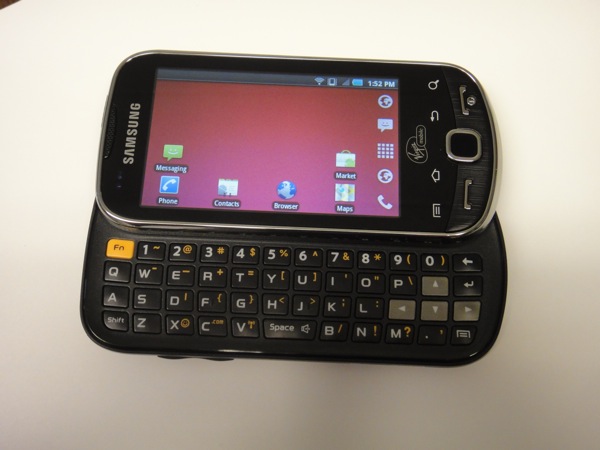 Keyboard:The hard keyboard on the Samsung Intercept is an OK physical keyboard, but it is very flat with little ability to detect the keys. When you do find the keys, they do offer decent feedback for such a slim keyboard. If it doesn't suit you, there's always the standard android soft-keyboard or you can install a replacement from the App Store.
Call Quality: Another area that is often overlooked by some of us smartphone addicts who depend on these devices for data more than we do for talking is call quality. In our testing the Samsung Intercept on Virgin Mobile provided very good call quality in most settings. When outdoors and in my home town the service was great and the calls where crisp and clear on both ends. About 20 miles away in an area with poor Sprint coverage, we had no trouble outdoors, but sounded crackly to the caller indoors. This is more of a reflection on the service available in that location than on the phone itself — but since you are buying a phone and service, we suggest you check out your Virgin Mobile Coverage.
Web and Data usage: As we stated, a great price on data isn't worth a kilobyte if you can't use it. Well, no worries here. The Web and Email experience on the Intercept was great, though there were times we wished for a slightly larger screen. If you are familiar with the Android web browser experience there's not much surprise, other than the fact that you are getting unlimited access at a great deal.
The email and text applications are standard as well, which we want. We connected to Gmail, corporate Exchange email and sent text messages without any troubles on the phone.
Battery Life:We didn't time the battery life on the Intercept like we might on a laptop, but we found that after a day's worth of use we still had battery life left when we reached our doorstep. When we forgot the phone on the counter for a day, we were happy to see that the phone was still alive the next day, despite not being charged up overnight. If you find that you run down the battery too quickly you can replace the battery on the go.
Android OS: We were happy to see that Virgin Mobile left Android 2.1 pretty much stock. There is a swipe up to unlock feature which is a bit odd compared to the swipe right and swipe down unlocks found on most phones, but something most users can adjust to swiftly. We were able to do some customization, installing Launcher Pro 2 for a more friendly home screen interface.
Apps:The Samsung Intercept has access to the standard Android Marketplace and was able to handle pretty much any app we threw at it. During our tests of Maps it acquired a GPS signal on par with our HTC Eris and Motorola Droid. Angry Birds also loaded up fine and allowed us to go on a pig crushing adventure. Again, the screen size made the game feel a little small compared to the experience on the Motorola Droid, but the game ran smoothly.
Size and Connections: The Intercept is a pretty small phone measuring 4.43" x 2.19" x .59" and offers a standard array of connections.

Right: 3.5mm Headphone, camera button

Left: Volume control, MicroSD slot
Top: Charging port (MicroUSB)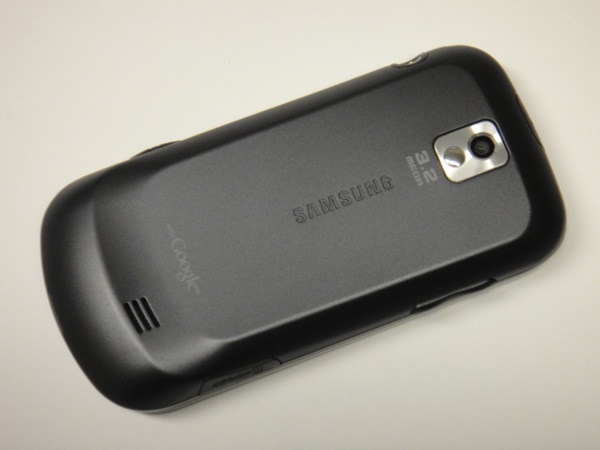 Back: Camera, Speaker
Conclusion: The Samsung Intercept may not be the fastest, or newest, Android phone on the market but it does offer users looking fro a robust Android experience on a budget an excellent option. If you are a power user, you may want to wait until Virgin Mobile snags something a bit more high end, but if you are an average user who wants a smartphone that allows you to check your email, surf the web, get navigation and listen to music without a high monthly fee — the Intercept is definitely worth checking out.
Samsung Intercept Specs:
800 MHz Processor
Android 2.1 Operating System
Google Maps™
Google Navigation
Opera Mini™
Corporate Email
Expandable Memory (up to 32 GB)
Text Messaging
Picture Messaging
Games & Graphics
Mobile Search
Bluetooth®
Speakerphone
The Samsung Intercept is available from Virgin Mobile and many other retails for around $249 without a contract. Monthly charges range from $25 to $60 a month depending on the plan you choose; all include unlimited web, email and text.
Advertisement