If you own a netbook, then you likely have one with an Intel Atom processor. It may not be the only processor available in a netbook, but Intel is dominant in the form factor.
AMD hopes to put a dent in Intel's domination by introducing the AMD HD Netbook Platform at the Netbook Summit in San Francisco. The new netbook platform …
…enables netbooks that actually deliver on their promise: real portability, affordability, usability and long battery life. Not to mention outstanding performance. (Nigel Dessau, senior vice president and chief marketing officer at AMD from a blog post)
AMD corporate vice president and Client Division CTO, Joe Macri delivered the address introducing the platform at the summit.
Up till now AMD believed netbooks were not viable as satisfying mobile computers. Dessau supports this view by highlighting the percentage of netbooks that are returned and the poor satisfaction surveys of users of netbooks. He stated that buyers were drawn in by the price but then felt like they did not get what they were hoping for an acceptable level of performance for a low price.
We believed there were too many compromises for the user, particularly the visual experience. Given these shortcomings, it was clear that netbooks were going to have to evolve to survive as a category. (Dessau)
What has changed for AMD? One thing is size. The early netbooks were actually smaller than 10 inches. The tiny screen and keyboard made them unsatisfying. However, netbooks have grown in size with some now sporting 11-inch or bigger displays and full-size keyboards. It is also now possible to put powerful processors graphics chips into a small case without the heat and battery life issue of previous generations.
The result of this new evolution is an HD netbook platform that AMD hopes will not only give customers what they want but will help AMD compete in the netbook market.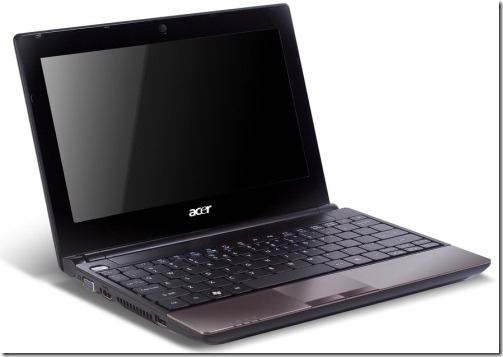 Acer Aspire One 521
Acer is one of the first manufacturers to climb aboard the platform with the Acer Aspire 521, 721 and 1551 netbooks announced at Cannes last week. The 521 is a 10.1-inch netbook while the 721 and 1551 are both 11.6 inch models.
The 521 cannot technically be called an HD netbook, if HD stands for high definition. It only has a 1024×600 resolution display. It does have an AMD V105 single core processor though running at 1.2 GHz. But there is one report that says it struggles while playing HD content from YouTube. The German site, Notebook Journal, tested it and found that it could handle standard def at full screen and 720p content viewed in a window. But if you play a flash video at full screen it was not able to handle it smoothly. The report acknowledged that the problems may be user error, but until there are more tests of HD video on the netbook, one cannot be sure it will be able handle streaming HD video in full screen.
Acer put a dual-core AMD Athlon Neo K325 processor in the Acer Aspire One 721 and gave it an 11.6-inch screen. The resolution is 1366×768 making it a 720p compatible HD display. It also has a Radeon HD 4225 graphics processor with an HDMI out port.
With the Acer Aspire One 1551 you get an AMD Turion II Neo dual core processor. And it is also truly HD with its Radeon HD 4225 graphics powering the 11.6-inch display with 1366 x 768 resolution. It also has an HDMI port. The video below is of the Packard Bell dot.a netbook, which is a rebranded version of the Acer 1551 model.
Advertisement