People looking for an ultra thin and ultra-portable convertible laptop should take a close look at the Acer Spin 7. The 14-inch full HD screen fits inside a 13-inch chassis. It's one of the thinnest notebook computers available in the Windows 10 marketplace. People often looked at it and remarked about the less than half-inch thickness of the computer wanting to get a look at the side profile.
GottaBeMobile.com called the Lenovo Yoga 910 laptop "near perfection". However, it just edges out the Acer Spin 7. The hardware design on the Spin 7 isn't as beautiful as the Yoga 910. The Spin 7 feels lighter and measures thinner than the Yoga. Buyers would likely find either machine a worthwhile option with similar pricing and power.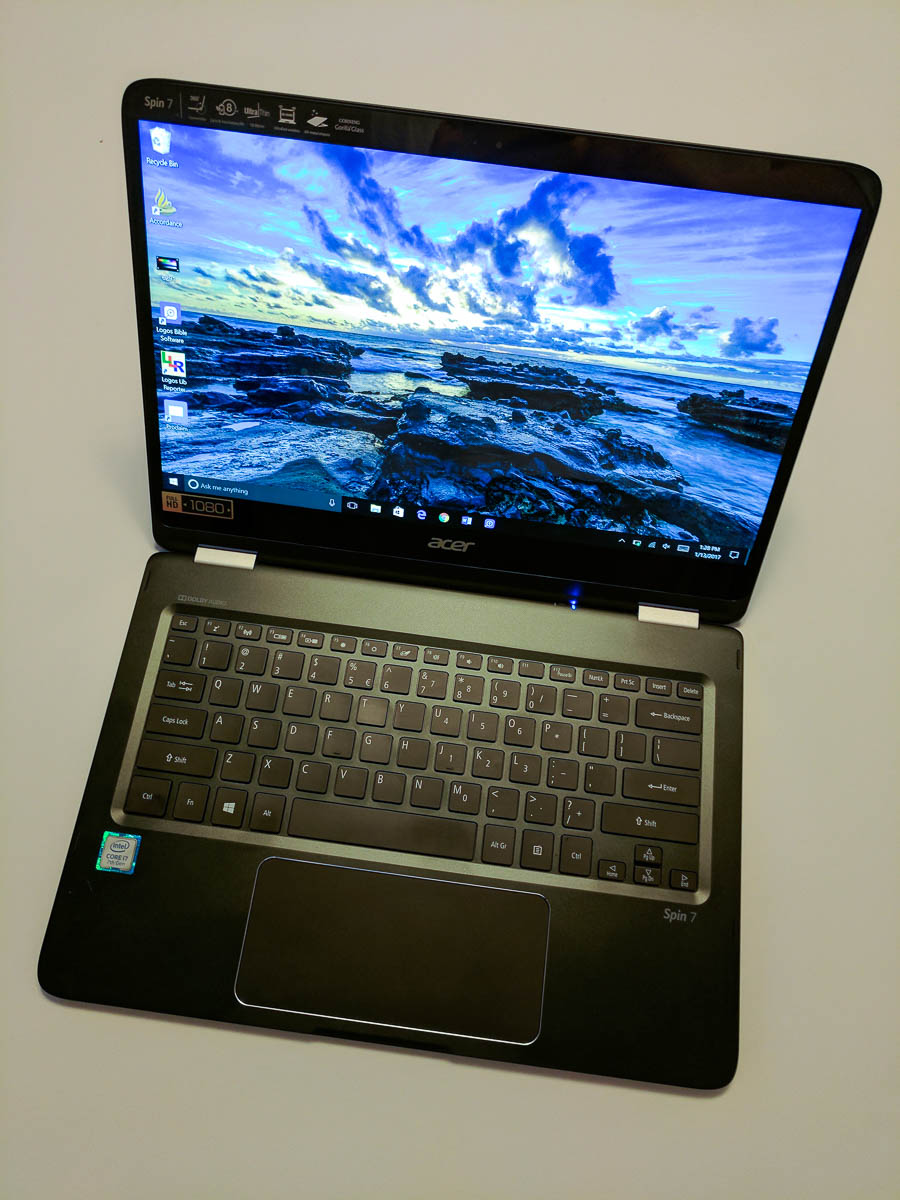 Acer Spin 7: Design
Housed in a black all aluminum chassis that measures like most 13-inch machines, the Acer Spin 7 feels more like a smaller ultra-portable than a 14-inch system. People familiar with the MacBook Air design will probably see similarities between these two machines, except the Acer Spin 7 is black. It's less than a half-inch thick and weighs 2.6 lbs.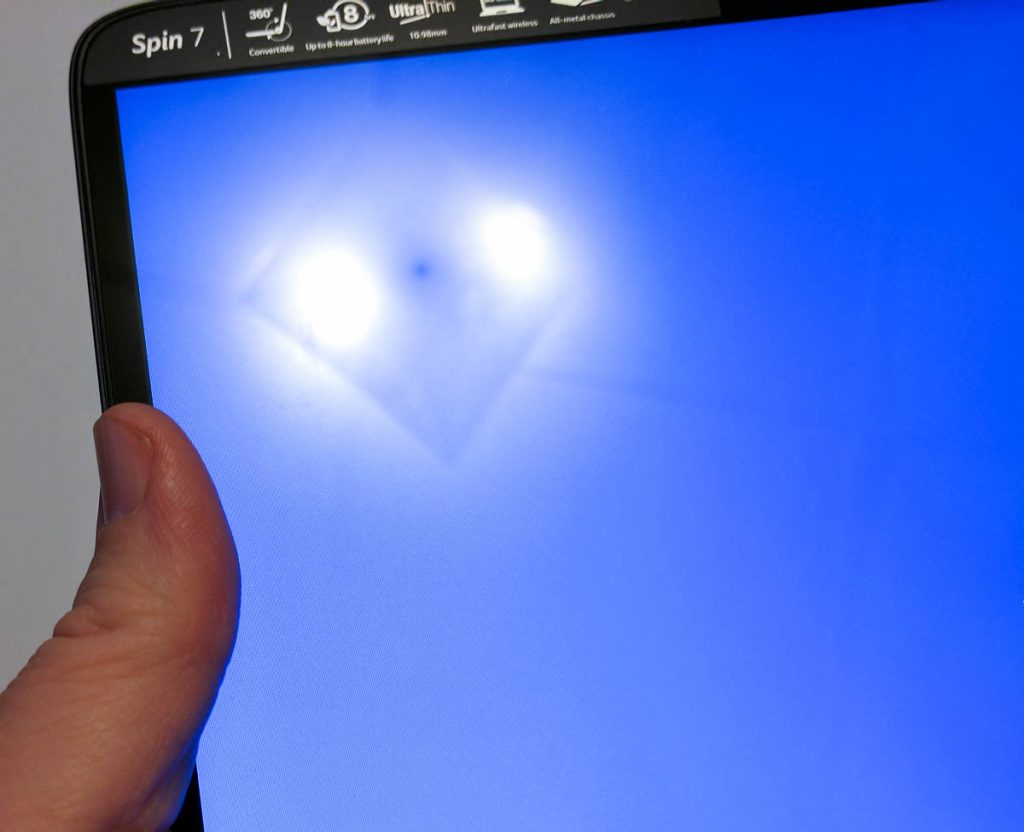 The bezel around the 14-inch screen takes up almost no space. It's hard to hold the convertible in tablet mode and keep from taping the edges of the screen on the left or right.
The convertible design gives you multiple modes including Tablet Mode, Laptop Mode, Stand Mode and Tent Mode.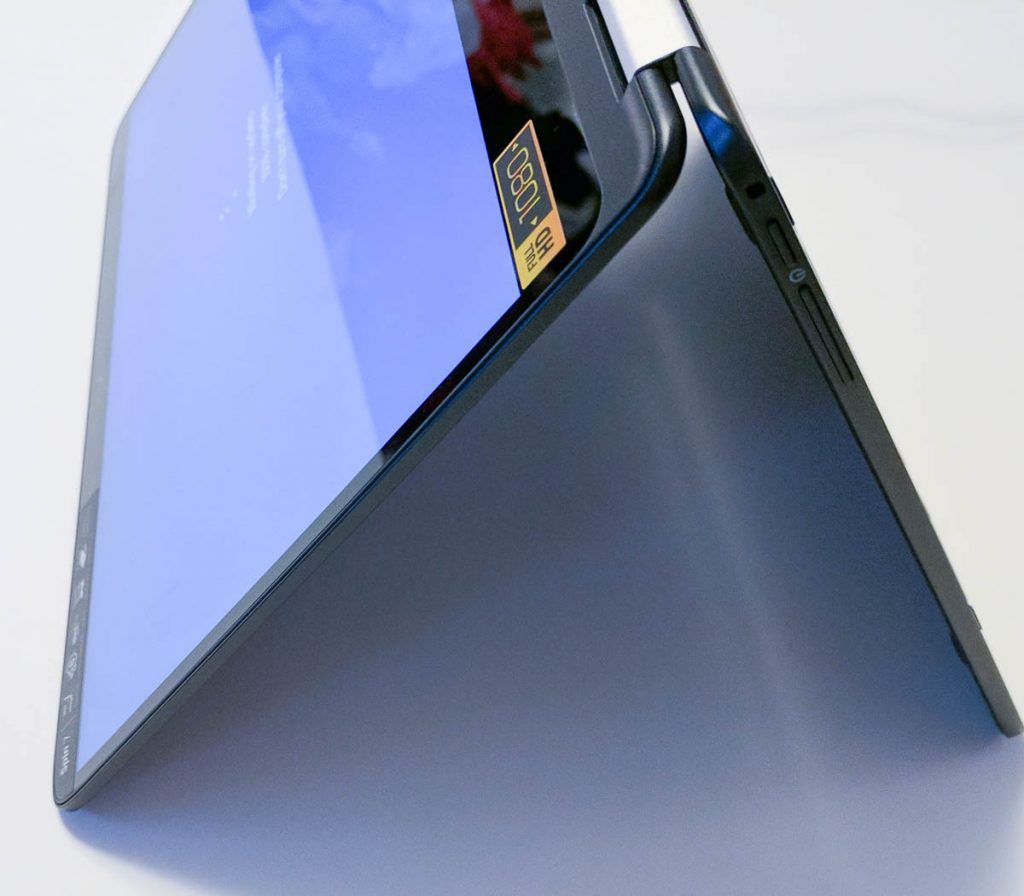 Two silver hinges hold the keyboard to the screen. The computer sits in laptop mode and even though the hinges feel firm, they still give just enough to make the screen wobble a little while typing hard or tapping on the screen.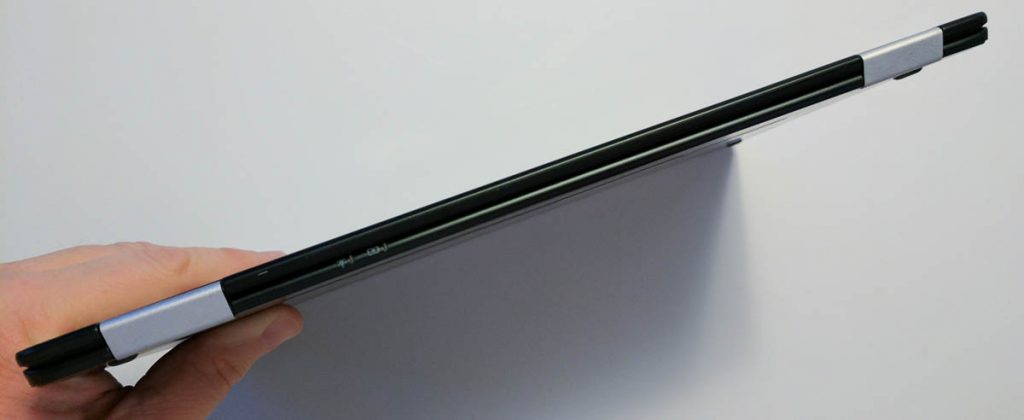 The machine looks nice and feels sturdy and solid. Acer didn't design this to military grade standards, but it ships with a Gorilla Glass screen making it more durable than most ultra thin machines like it.
Acer Spin 7: Display and Audio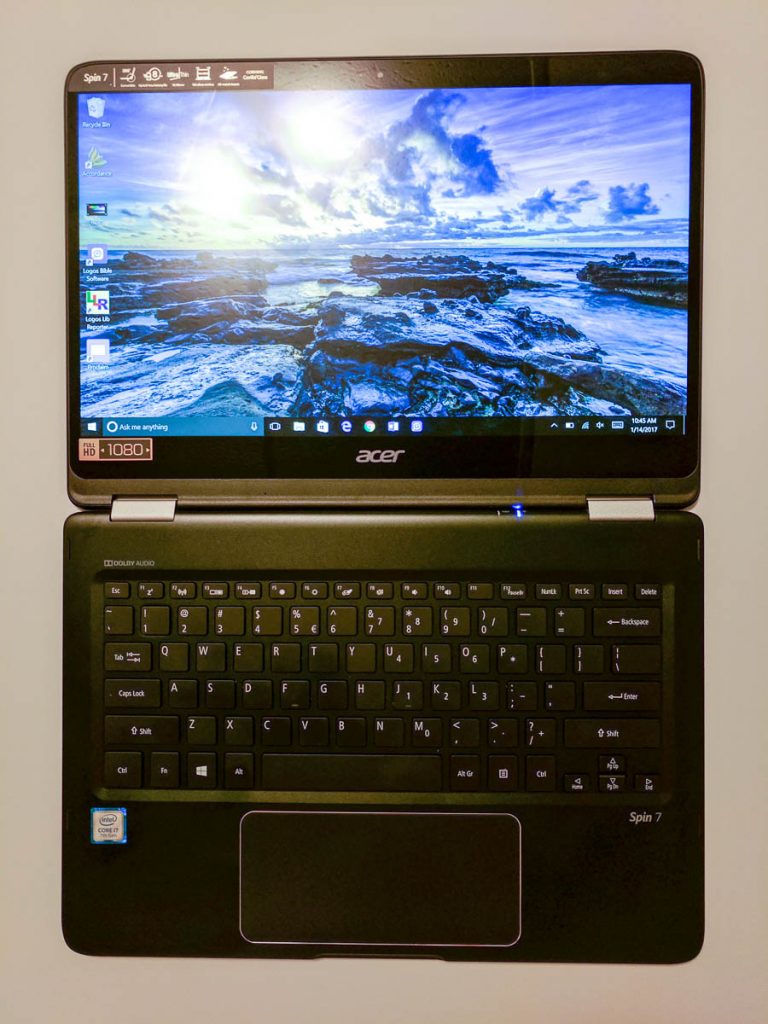 The 14-inch screen on the Acer Spin 7 comes with a full 1920 x 1080 resolution screen. I regularly used it at about 50% brightness without any problems, which extends battery life. Bump that up to 75% in bright environments or even 100% if necessary and it makes the screen look good in most situations.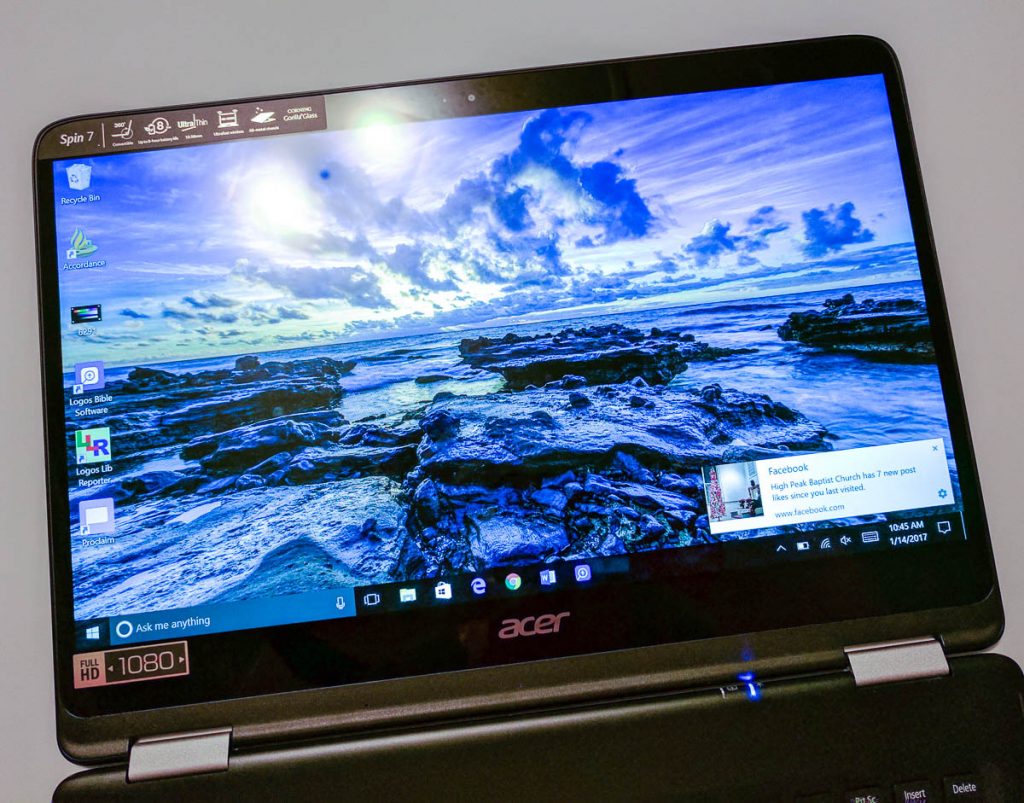 Text on the screen seems crisp enough for work. Colors look good and the range from black to white seems full, giving you dark blacks and bright whites. Images and videos look nice on this attractive IPS panel. The screen gives users a wide viewing angle. Three to four people could easily view content on the screen. Users could easily watch movies with friends or share presentations with two or three others.
Acer's TrueHarmony branded speakers powered by Dolby Audio sound good for small laptop speakers. That means they'll do when you want to watch a movie, play a casual game or listen to some music for background entertainment. However, musicians and audiophiles will definitely want to invest in a great pair of headphones. Most other users will enjoy using the Acer Spin 7 for entertainment.
Acer Spin 7: Keyboard and Trackpad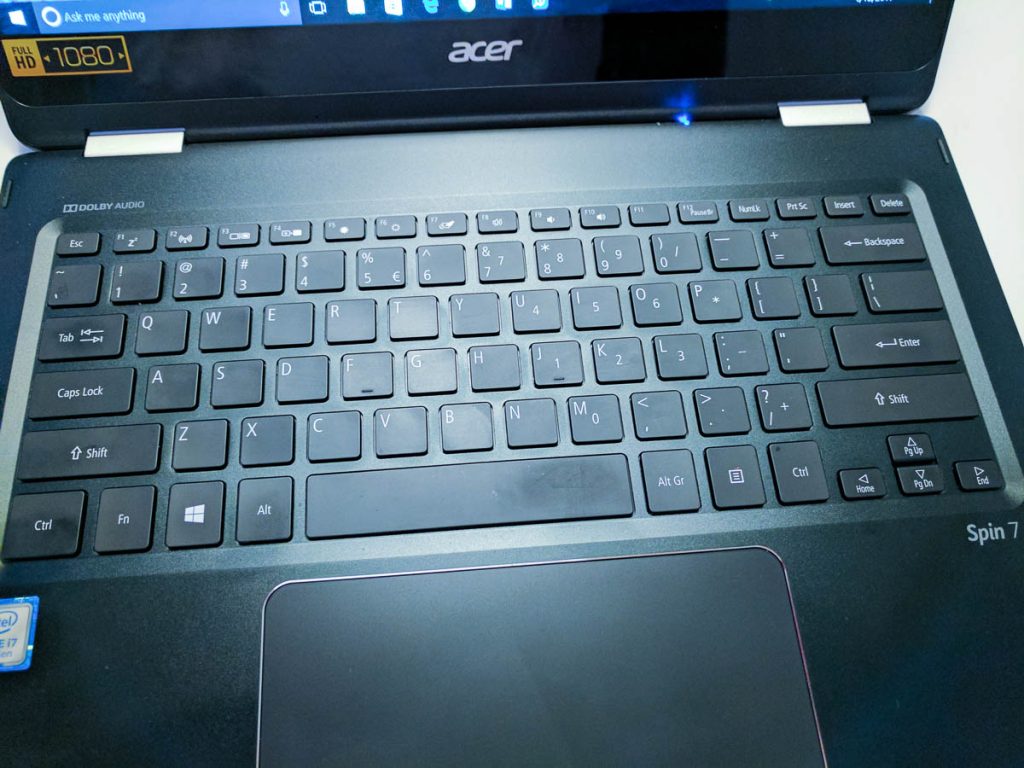 Acer doesn't enjoy the best history when it comes to keyboards and trackpads, but they serve up a decent experience on the Acer Spin 7. You can type quickly and comfortably on this spacious island style keyboard. None of the keys feel out-of-place and it's easy to use for accurate and fast touch typing despite some give in the middle of the keyboard that's easy to get used to.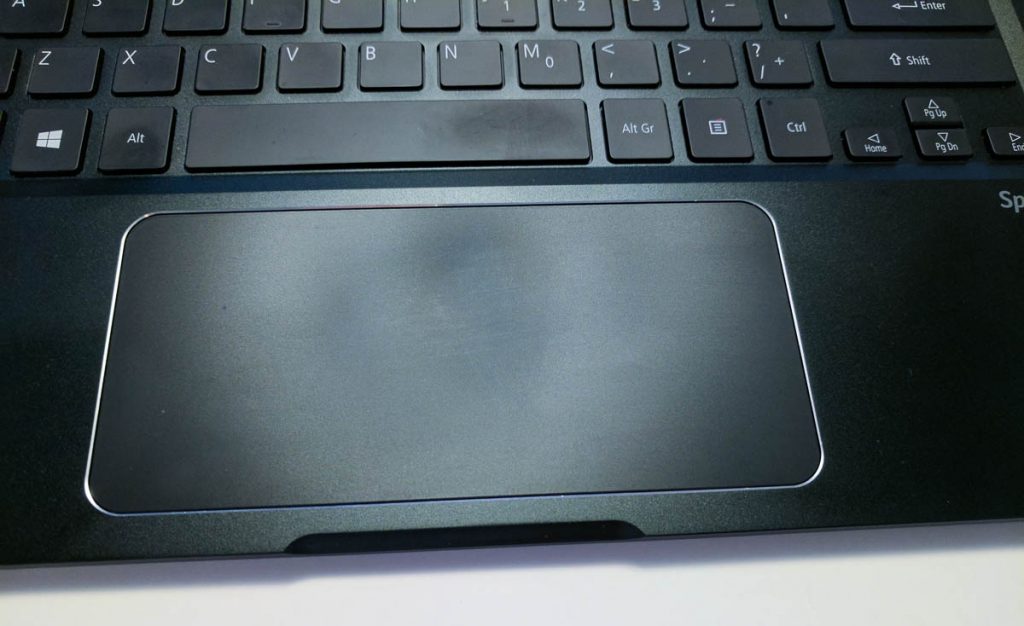 The enormous trackpad gets in the way for lazy touch typists who rest their palms on the palm rest. That's because it's larger than most trackpads. It's huge!
The trackpad's left edge sits just below the ALT key left of the space bar and extends all the way to the second key just right of the space bar. Windows trackpads are improving, but this feels like overkill and I couldn't avoid accidentally touching it with my right hand while typing. That's a shame because, otherwise, it's a nice trackpad with multi-touch gestures and accurate pointing support. If you type properly, you'll love it.
Acer Spin 7: Ports and Connectivity

Two USB-C ports sit towards the back of the right edge along with a mic/headphone combo port. That's all the ports you get on the Acer Spin 7. The computer supports video connection to an external monitor, data transfer at high speeds and will charge your phone or tablet.
The computer's Skype for Business Certification gets support from 2×2 MU-MIMO 802.11ac Wi-Fi technology. There's also a Bluetooth 4.1 radio for the best wireless peripheral connections.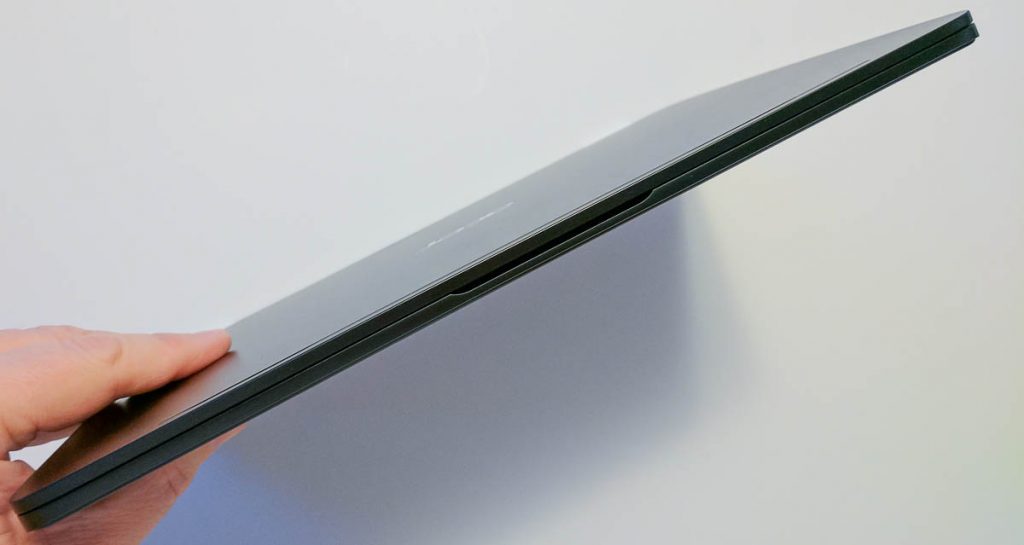 The front and back edges don't give us any ports or buttons.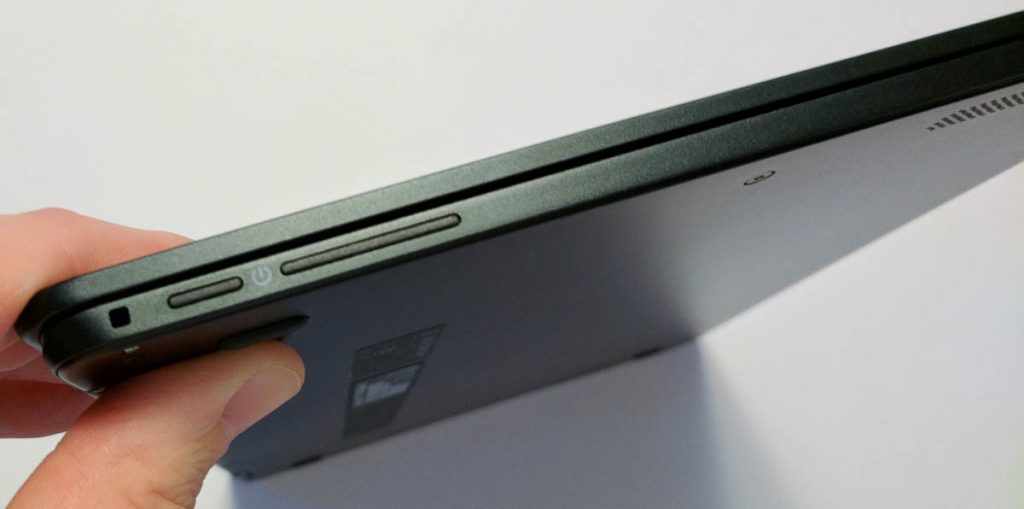 Over on the left side you'll find a pair of volume up/down buttons and the power button.
Acer Spin 7: Performance and Battery Life
The computer uses a 7th generation Intel Core i7-7Y75 Processor, which runs at 1.3GHz and up to 3.6GHz with Turbo Boost Technology. Add 8GB of RAM and a 256 GB SSD for fast reliable storage. The machine boots and reboots quickly.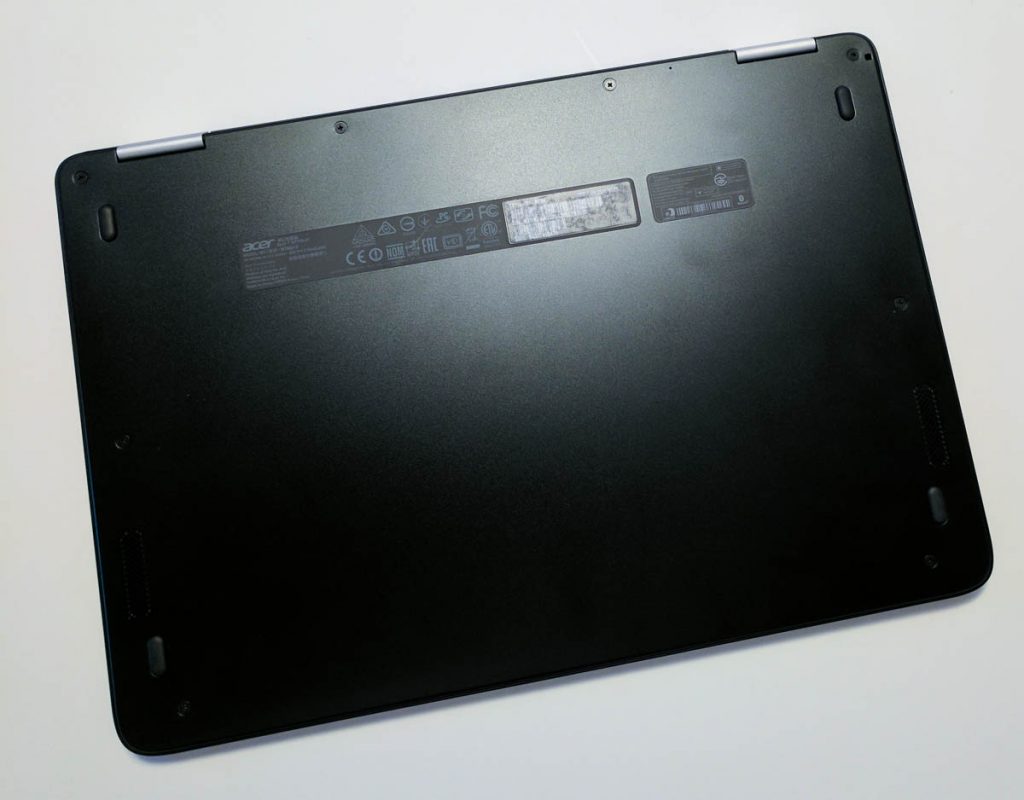 Most business or education users will enjoy the speed of this machine. Thanks to the fast processor, casual film or photo editors can get their work done quickly, too. It's not a power user's system and gamers will want to look for something with a better graphics system. This comes with integrated Intel HD Graphics 615. Despite that, casual gaming is fun on the Acer Spin 7 thanks to the spacious 14-inch bright screen.
Acer advertises the battery life as 8-10 hours depending on usage, but it's more like 6.5 to 8 hours. I use my laptop for about 3-4 hours a day and I got three days worth of use. On the third day, I had to charge it up after about 2 hours. That means about 7.5 to 8 hours of use most the time. Thanks to the bright screen, I could lower the brightness to about 50-60% most of the time, which put the battery life closer to 8 hours for general tasks.
Acer Spin 7: Software
Acer didn't put a lot of junk on the Acer Spin 7. It comes with Windows 10 Home 64-bit and a few Acer branded utilities.
Acer Care Center – keeps on eye on how the system is running and performs general maintenance like updating drivers and apps, helping when the machine is bogged down with poor performance and keeps on eye on battery hogging programs.
Acer Documents – a link to Acer related PDF files.
Acer Quick Access – a launcher for a few Acer utilities like Acer BluelightShield, a tool that supposedly helps reduce eye strain by changing the color temperature of the display from cooler to warmer.
Acer Recovery Management – allows you to make a recovery disk to restore the computer if you need to erase the hard drive or restore the computer to factory specs.
Dolby Audio & HD Audio Manager – utilities that control the sound of the system's built-in audio features.
In addition to these small apps, Windows 10 comes pre-loaded with some junk apps that you may not like or may enjoy using. The good news, there's not a lot of crapware pre-installed.
Recommendation
Business users and most consumers will enjoy the Acer Spin 7. It's a high-end Windows 10 ultra-portable with a larger screen than most computers this size, weight and thickness. It's got decent performance for a work/entertainment laptop thanks to a fast 7th generation processor, 8GB of RAM and decent battery life. Add a great 14-inch display to this 13-inch chassis design and that's a winning combination.
The $1,280 price (at TigerDirect Business) may scare away people not used to paying for quality Windows computers, but it's worth it. The Lenovo Yoga 910 has a better design with an option for a larger SSD. The Yoga's still the Windows Ultra-portable to beat in this size and price range. If you want thinner computer with a dark design, look at the Acer Spin 7. It's almost as good as the Yoga 910 and compares nicely in price and power.
Advertisement