Acer announced three interesting new units all with small form factors but each packing some individuality.
Acer Aspire One 533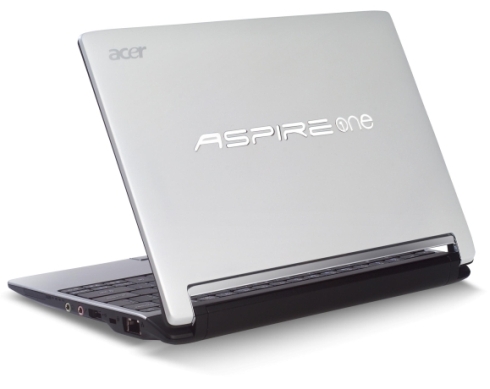 First up, the Acer Aspire One 533 is a 10.1 inch netbook. Sounds kind of h0-hum so far. Some of these specs we've seen before. A 1.66GHz Intel Atom N455 Processor is average. 1024×600 resolution is okay. A 250 GB hard drive? We've seen that before. It also has Wi-Fi and a 3G option. The netbook is portable or it wouldn't be a netbook. It gives you up to 10 hours of battery life and has some nice color options including black, red, and white.
But, while not earth shattering there are a few nice options that make this slightly more than average. If you want, you can get a higher resolution display at 1280×720 offering and HD display and a HDMI port to connect to an external HD display. Also there is a faster processor with a 1.83GHz Intel Atom N470. And this one comes with Bluetooth 3.o instead of the typical 2.1. 3.0 is a faster protocol than the typical 2.1.
For a netbook, the 533 offers a little extra when compared to the rest. No official word on pricing and available according to the report at Liliputing.
Acer Aspire One 753
For their second act, Acer has the Aspire One 753 coming out too. This one has an 11.6-inch display and also has HD capability at 1366×768 resolution powered by Intel graphics and 128 MB of dedicated graphics memory and DX10 support. It too has HDMI out. This offers a nicer movie watching experience, either on the system or connected to another display. And with DX10 support you might be able to do a little gaming.
The 753 will be powered by an Intel Celeron U3400 ULV processor and 4GB of DDR3 memory. Throw in a roomy 640GB hard drive and Wi-Fi plus the option to add Bluetooth and a 3G radio.
Acer Aspire One D260
Finally, Acer is announcing the Acer Aspire One D260. The hardware specs are average for a netbook. You get a 10.1-inch screen with a 1024×600 resolution and integrated Intel GMA 3150 graphics. The processor is an Intel Atom N450 running at 1.66GHz or an optional N455. There is also 1GB of memory and 250 GB of hard drive space. Wi-Fi is included and there is an option to add Bluetooth 3.0.
But here is where the D260 stops being a middling device. It is going to come with an option to have Google Android OS installed in a dual-boot environment alongside Windows 7. They did this before with the AO D250 last year, but that is a nice differentiating feature.
Advertisement