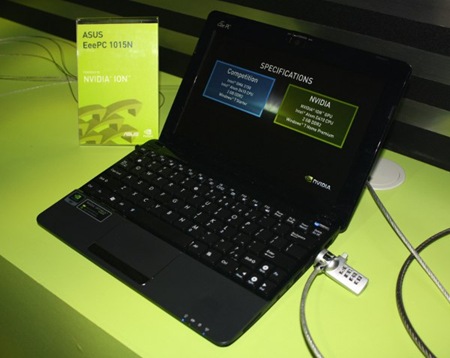 Straight from this years Computex 2010 in Taiwan, NVidia is showing off the Eee PC 1015N which promises to have some of the latest in netbook tech.
The first of which is Nvidia's Optimus technology which will switch between the higher performance Nvidia graphics (presumably ION 2 in this netbook) and the lower performance, and less power hungry, integrated graphics. The switching is automatically controlled which serves to give you a boost in graphical processing power with ION 2 when you need it, and switch back to integrated graphics when you don't in order to save battery life.
In addition to the relatively powerful ION 2 graphics in the Eee 1015N, the unit will use the latest 1.5GHz Atom N550 dual-core CPU which will offer better performance than previous Atom processors.
The less ground breaking specs are a 10" screen at 1024×600, 1GB of RAM, a 250GB HDD, Windows 7 Starter Edition, 6-cell battery and HDMI out. Notebook Italia has a nice hands-on video showing the 1015N playing smooth HD video:
Availability is unknown at this point, but the netbook is expected to be priced around $480.
Thanks to Lilputing for the heads up.
Advertisement