The ASUS Eee PC 1215N, dual core netbook, is now available for pre-order in the UK at Amazon.co.uk and an official ship date of September 7th. This new pre-order information coincides with the US pre-order which started last month and had an ETA of shipping on August 31st. While there has been no official U.S. release date for the 1215N signs are pointing to a late August or Early September release.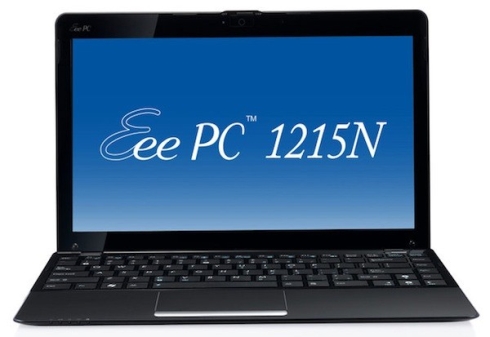 The ASUS Eee PC 1215N is a surprisingly feature packed netbook that comes in at just under $500 while including an Intel Atom D525 1.8GHz Dual Core processor, NVIDIA ION2, NVIDIA Optimus, USB 3.0 and Bluetooth. The Eee PC 1215N also comes with Windows 7 Home Premium instead of the Starter edition found on many netbooks.
Given the low price and numerous features the ASUS Eee PC 1215N has the potential to set a new standard in the high end netbook/ultralight laptop range; that is if the battery can stand up to the Dual Core Atom processor that is typically found in nettops.
For more on the ASUS Eee PC 1215N, check out this hands on video and review by Nicole Scott of NetbookNews.com from back in May; before the processor was upgraded to the current Intel Atom D525.
The 1215N may also be able t tackle your mobile gaming fix. This according to Netbooklive.com's ASUS Eee PC 1215N review which provides a complete rundown of the netbook including the video below, a detailed look at the 1215N and reports batter life of 4-5 hours.
Asus Eee PC 1215N specs:
12.1-inch LED backlit display (1366×768 resolution)
2GB DDR3 RAM
320GB HDD
NVIDIA ION 2 with Optimus technology
802.11b/g/n WiFi
Bluetooth 3.0
1.3-megapixel webcam
2 USB 3.0 ports
USB 2.0 Sleep'n'Charge port (also found on Toshiba T200 series)
HDMI port
VGA out
SD/MMC card reader
6-cell battery
Windows 7 Home Premium
Advertisement