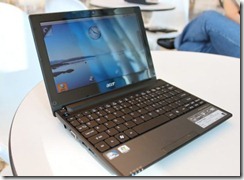 A couple of notebook computer news outlets have been able to get their hands on the new Acer Aspire One D255, a netbook that is powered by the new 1.5GHz dual-core Atom N550 processor and dual-booting Windows 7 Starter and the Android 1.6 operating system.
Laptop Magazine said The Acer AOD255 is very ordinary looking netbook with a glossy black lid, a chiclet style keyboard, tiny touchpad that is barely distinguishable to the eye from the rest of the palm rest and a single mouse button. While there's nothing new on outside; it's what's on the inside that sets the D255 apart in the crowded netbook marketplace.
The Aspire One D255 boots into Windows 7 Starter by default and there is an icon on the desktop that gives the user access to the configuration manager for Android. After booting into Android, Laptop Mag's first impressions were not good; due in big part to the lack of apps and no access to the Android marketplace.
The folks at Netbooknews, offered a few more details on the D255's specs. It comes with Intel GMA 3150 integrated graphics, 1GB of DDR3 Ram and a 250GB hard drive as well as Bluetooth. A 6-cell battery will power the D255 and while there is no official word on how long, Sascha Pallenberg of Netbooknews, estimates that the netbook should get about 5 hours (see video below).
Chippy of Carrypad also tweeted a few details of their tests of the D255 telling followers that according to his tests, the AOD255 is about middle of the pack when it comes to netbooks; adding that it will handle 720p video from Youtube.
Here is Sascha Pallenberg's hands on video from Intel Developers Conference in San Francisco.
Advertisement