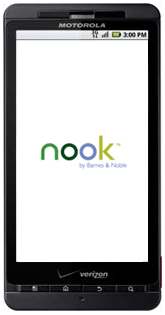 Already available many other mobile platforms, Barnes and Noble's eReader application has finally come to Android devices. The free eReader application, branded as NOOK for Android, grants Android users access to more than one million digital titles. It also offers the unique ability to share eBooks with friends.
Barnes and Noble entered the eReader market with its NOOK. After providing versions of its eReader software for Apple iOS 4 devices, the iPad, Blackberries, PCs, and Macs, the company has finally released a version for devices running Google's Android operating system. As this application is called NOOK for Android, other Barnes & Noble eReader software will follow suit in future updates to reflect the NOOK brand.
NOOK for Android brings many of the features found on the company's dedicated eReader, the NOOK, to devices running Android OS 1.6 and higher. Users can shop Barnes & Noble's eBook library, using either the NOOK or their Android device, as books sync between all of the user's devices. Users can customize text with many font styles and sizes. Other NOOK for Android features include:
Easy-to-use navigation bar
Landscape and portrait modes
Graphical page turns
Access to your personal B&N digital library
Pick up where you left off
A feature that the NOOK for Android app has that the Amazon Kindle and Apple iBook apps lack is the ability to lend eBooks to friends. LendMe technology allows users to share eligible eBooks with friends for up to 14 days. The friend can view the eBook on a NOOK eReader, Android device,  iPad, iPhone, iPod Touch, PC, or Mac with B&N eReader software.
NOOK for Android is currently available for all devices running Android OS 1.6 or higher. For information on Barnes & Noble eReader software for other devices, click here.
How To Install:
Click the "Market" icon on your Android device.
Select the search icon and enter "NOOK" in the search bar. Select the "NOOK for Android" app.
Select "Install" on the app download page.
Once the app is installed, you'll be prompted to sign in with your BN.com account
Via Engadget
Advertisement