Apple has been running their annual student-oriented free 'iPod Touch with the purchase of a Macbook' promo for seemingly as long as the iPod Touch has been around. It's targeted toward students heading back to college and seems to be a huge success each year. I personally know several people to have taken advantage of the offer (my roommate, for one). Unfortunately, they wouldn't call it a promo if it was run year round. So like all good things, the offer must come to an end — on September 8th.
In order to take advantage of this deal before it is no longer available (until next year anyway) you pretty much just need to have a qualifying university email address. Unfortunately the process of actually claiming your prize is a bit roundabout, in all honesty, I expected more from Apple, but what should I expect from marketing games?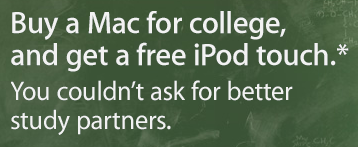 What you need to do first of all, is order an iPod Touch and an Apple computer (it seems that all of their most recent computers are eligible) by September 8th (or walk in to an Apple store and ask them about the offer). The iPod Touch and the computer need to be on the same receipt and ordered at the same time in order to qualify for the program. Once you receive your receipt, you'll be able to apply for a rebate on Apple's website. That's right, they don't actually give you the iPod Touch for free, they give you the equivalent of an 8GB 2nd gen iPod Touch in the form of a cash rebate. While this method is certainly devised to make sure that the fewest possible number of people actually get around to fulfilling all of the requirements needed to claim their prize (as all rebates are) at least [it appears as though] you can apply this $229 rebate to a 16GB or 32GB iPod Touch if you are already in the market for one. Anyway… you'll need an Apple ID at the time that you apply for the rebate, and the rebate needs to be claimed by October 8th (sic). Oh and if you are sick of the fine print, shield your eyes, I've got more: After taking a look at my roommates iPod Touch that he got through this deal, it doesn't have the latest software on it (3.0+) so you'll need to pony up an additional $10 for the update right out of the box. So whereas a brand new 8GB iPod Touch (including 3.0 software) would run you $229 (which is how much they give you for the rebate), the one that they'll give you through the promo essentially costs $239 because of the optional (but strongly suggested) software update that will need to be applied.
And in case you were wondering… the offer can't be applied to an iPhone. Why? I have no idea.
Phew… anyway, good luck getting all of that done by September 8th if you are looking for a new Mac and want an iPod Touch 'free'* (see above!)
Advertisement