It's finally here, well almost here, on Good Friday hundreds of thousands of gadget lovers and Apple fans will reach dangerously high excitement levels, rivaled only by that of a 7 year old who knows that Santa is bringing their first game console, as they try to sleep while waiting just one more day for their iPads to arrive.
If you haven't purchased your iPad yet, or are just eagerly awaiting that tell-tale deliveryman knock on Saturday, we've rounded up the best iPad reviews to entertain and inform. These reviews come from industry juggernauts like Walt Mossberg, David Pogue, Andy Ihnatko and others who have had access to the new iPad for a week or two and are weighing in on how well it works, how the battery life holds up and how the iPad may fit into your life.
The iPad is available for all to purchase on Saturday April 3rd, and if you haven't pre-ordered you will need to head to your local Best Buy store where a limited number are available.
The iPad comes in 2 distinct models, the Wifi Only version and the Wifi+3G version which incorporates a high speed cellular connection to AT&T's network. Each of these versions comes in 16, 32 and 64 GB sizes; but you'll only be able to purchase the Wifi model on Saturday.
Apple iPad Wifi Only Model Pricing:
16GB $499
32 GB $599
64 GB- $699
Apple iPad Wifi+3G Model Pricing:
16GB $629
32 GB $729
64 GB- $829
The 3G model will work with AT&T's network in the U.S. and consumers will be able to purchase the data plans on a month-to-month basis so there's no long term contract or paying for a 3G connection when you're sitting at home for extended periods. When you want to use the data connection it is $14.99 for 250MB or $29.99 for an unlimited package.
If you want to know more about the Apple iPad software, including iWork, and iPad accessories please check out our previous coverage.
Apple iPad specs (Full Spec sheet):
.5″ thin
1.5 pounds
9.7″ Full Capacitive multi-touch display
1GHz Apple A4 processor
16-64GB Flash Storage
Bluetooth 2.1 +EDR
Wifi 802.11n
Accelerometer & Compass
Speaker, Microphone and Dock Connector
10 hour battery life 1 month standby
If you want to see the iPad in more detail, be sure to check out the iPad Guided Tours.
Now that you know what makes up the iPad — on to the early iPad reviews!
Apple iPad Review: Laptop Killer? Pretty Close – Walter S Mossberg Wall Street Journal
In his review Mossberg covers many of the questions users will have about the iPad including battery life, which Walt found lasted 11.5 hours while using Wifi and playing video, and like the other reviews Walt helps you figure out where the Apple iPad might fit into your daily life.
On emailing with the iPad:
"I found email easy and productive to use, and had no trouble typing accurately and quickly on the iPad's wide on-screen keyboard. In fact, I found the iPad virtual keyboard more comfortable and accurate to use than the cramped keyboards and touchpads on many netbooks, though some fast touch typists might disagree. Apple's $39 iPad case, which bends to set up a nice angle for typing, helps." – Mossberg
On the Upcoming Wall Street Journal iPad App:
"I was able to try a pre-release version of The Wall Street Journal's new iPad app (which I had nothing to do with designing), and found it gorgeous and highly functional—by far the best implementation of the newspaper I have ever seen on a screen. Unlike the Journal's Web site, or its smart-phone apps, the iPad version blends much more of the look and feel of the print paper into the electronic environment. Other newspapers and magazines have announced plans for their own, dramatically more realistic iPad apps." – Mossberg
Looking at the iPad From Two Angles – David Pogue New York Times
David Pogue finds a way to separate the spec hungry tech-lovers from the average user with this two part review that aims to please all readers, but ultimately leaves you wanting to know more.
On the iPad's Limitations:
"At least Apple had the decency to give the iPad a really fast processor. Things open fast, scroll fast, load fast. Surfing the Web is a heck of a lot better than on the tiny iPhone screen — first, because it's so fast, and second, because you don't have to do nearly as much zooming and panning.
But as any Slashdot reader can tell you, the iPad can't play Flash video. Apple has this thing against Flash, the Web's most popular video format; says it's buggy, it's not secure and depletes the battery. Well, fine, but meanwhile, thousands of Web sites show up with empty white squares on the iPad — places where videos or animations are supposed to play." – Pogue
On the iPad as a consumer device for consuming:
"And the techies are right about another thing: the iPad is not a laptop. It's not nearly as good for creating stuff. On the other hand, it's infinitely more convenient for consuming it — books, music, video, photos, Web, e-mail and so on. For most people, manipulating these digital materials directly by touching them is a completely new experience — and a deeply satisfying one." – Pogue
The use of the iPad to consume media may become even bigger with rumors of Hulu, Netflix and more web video coming to the iPad.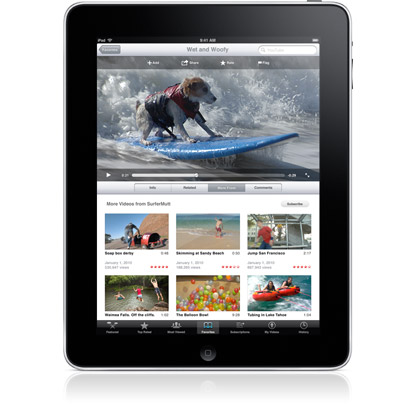 Sure, the iPad is cool but is it a real computer? – Andy Ihnatko Chicago Sun Times
In this almost 3,000 word review, Andy Ihnatko manages to not only cover the most pressing questions that would be iPad owners have, but also to share the best use case scenarios for the iPad I've seen; and no they aren't in the classroom. A word of caution, if you're on the fence this review could send you running to Apple for an iPad.
To kick things off, here's Andy's iPad Unboxing video:
On Replacing your Computer and Travel:
"After a week with the iPad, I'm convinced that it can do damned-near anything I'd use a notebook for. I'm leaving tomorrow for a few days in New York and I plan on leaving my notebook behind. I'm using the iPad as my sole computer." – Ihnatko
The great news for creators is that when coupled with a bluetooth keyboard Ihnatko finds that the iPad is much more accessible for content creation, and is more portable than the dock/keyboard accessory. If you're interested in how the iWork software handles on the iPad, he addresses some of the usability.
iPad vs. Netbook:
"When compared with a netbook on the netbook's terms, the iPad is a mixed bag. Even the cheapest $499 model is close to twice the cost of a decent netbook. The iPad has a terrific library of software, but a netbook can run most of the same software you're running on your Windows desktop. And its open file system is reassuring." – Ihnatko
That said, given the power of the iPad and the prospect of third party apps in the future, Ihnatko suggests that buying an iPad, "might be the smartest extra $150 you ever spent."
Ihnatko also looks into whether the iPad could replace a full fledged notebook, or even act as a standalone computer for a certain demographic. This is one of the most intriguing points to the review as I have had similar discussions with a good friend about this exact topic. Time till tell, but the prospect of directing aunts, uncles and grandpa to the iPad as a sole machine may soon be a reality.
Apple iPad (Wi-Fi) – Tim Gideon PC Magazine
PC Magazine awards the Apple iPad a "Very Good" rating and I have to give their review an "Excellent" rating for covering the Apple iPad in incredible detail. This review covers everything from design and pricing to iBooks, web browsing and audio performance; all before attempting to help you decide if you should buy the iPad.
PC Magazines' Apple iPad video Review:
On typing with the On-Screen Keyboard:
"First, a word about the on-screen keyboard, since the lack of a physical keyboard is probably the biggest difference between the iPad and, say, a laptop or a netbook (aside from those missing USB ports). As someone who's all thumbs when it comes to iPhone's tiny on-screen keyboard, I wondered if the iPad's larger keyboard would help me master this touch screen typing thing. In a word: Yes. I'm writing this review on the iPad's horizontal keyboard, in which the keys are large and nicely spaced. (The vertical keyboard is a little tighter, but still definitely useable.) If it weren't comfortable, I would have abandoned the iPad for my laptop 1,000 words ago. That said, it would have been less comfortable without Apple's $39 iPad case, which helped prop the iPad up in my lap to get the screen at an ideal viewing angle." – Gideon
On the iBook experience:
"Kindle: I like you, but I am nervous about your future. The iPad displays books in a way that is much flashier than your black and white e-ink screen. It shows illustrations in color. Page turns actually look like page turns. And Apple gets the extras right, like being able to bookmark any word in the book you're reading and then find it on a menu of all your bookmarks, sorted by date. The Search function is also excellent. Want to reread a conversation between two characters early on in the book? Type in what you remember about it and iBooks will guide you to the closest approximations. Or search a character name or a reference not only in the book, but in Google and Wikipedia." – Gideon
PC Magazine also weighs in on battery life which reached 9.5 hours and recommends picking up a case not only for propping up the iPad which gets heavy when held in one hand for extended periods, but also to protect against scratches.
Verdict is in on Apple iPad: It's a winner – Edward C. Baig USA Today
Jefferson Graham unboxes the iPad and provides a rundown of features and uses in this iPad preview video.
On Apps:
"I've enjoyed racing games and Labyrinth on the iPhone, but playing such titles on the iPad spoils you. The once-appealing iPhone screen looks puny. I played Scrabble over my home network, with one player using an iPhone, the other an iPad.
A larger screen is perfect for a recipe app such as Epicurious or the digital painting app called Brushes. The built-in Maps app also benefits from the larger display. As with the similar iPhone app, you can zoom in to a street-level view or locate nearby restaurants." – Baig
and later on the built in Apps;
"Nowhere is this more true than with photos. The built-in Photo app is similar to the iPhoto program on Macs. Photos are placed in stacks. Tap one, and the picture album spreads apart so that each picture is visible. Tap a picture, and it swells up. Pinch and spread your fingers to zoom. The Faces and Places feature lets you find pictures based on who is in them or where they were shot" – Baig
A First Look at the iPad – Xeni Jardin Boing Boing
Xeni Jardin does a great job of helping those of us who don't yet have an iPad understand what it is like to experience using one. And I use the word experience because based on her initial hands on report, that's what you get from the iPad.
The iPad Experience:
"Flick the switch and the novelty hits. Just as the iPhone, Palm Pré and Android phones scratched an itch we didn't know we had—somewhere between cellphone and notebook—the iPad hits a completely new pleasure spot. The display is large enough to make the experience of apps and games on smaller screens stale. Typography is crisp, images gem-like, and the speed brisk thanks to Apple's A4 chip and solid state storage. As I browse early release iPad apps, web pages, and flip through the iBook store and books, the thought hits that this is a greater leap into a new user experience than the sum of its parts suggests." – Jardin
Boing Boing also highlights the iPad version of The Periodic Table of Elements an app that isn't quite a book and isn't quite a game, but an amazingly interactive learning experience that provides a hint at what we may see coming to ebooks in the future.
Conclusion
While the initial response to the iPad was to point out what it lacked and how it was too big; the initial reviews, show that the iPad may fill a void in people's daily routines they didn't know existed. Time will tell how many people come to the same conclusion but from the early accounts it appears that Apple is set up for success yet again.
Advertisement