As Chromebooks become more popular among schools, a rugged and yet still inexpensive computer like the Lenovo Thinkpad Yoga 11e Chromebook seems like an obvious choice. The simple ChromeOS platform married to a tough touchscreen 11.6-inch Chromebook with superior keyboard should sit near the top of any school district's shopping list for their students. Despite using a slightly older processor and only 2GB of RAM the Yoga 11e performs reasonably well, and was a pleasure to write on. It's not perfect, but it's the best option for anyone wanting a small rugged Chromebook, like schools.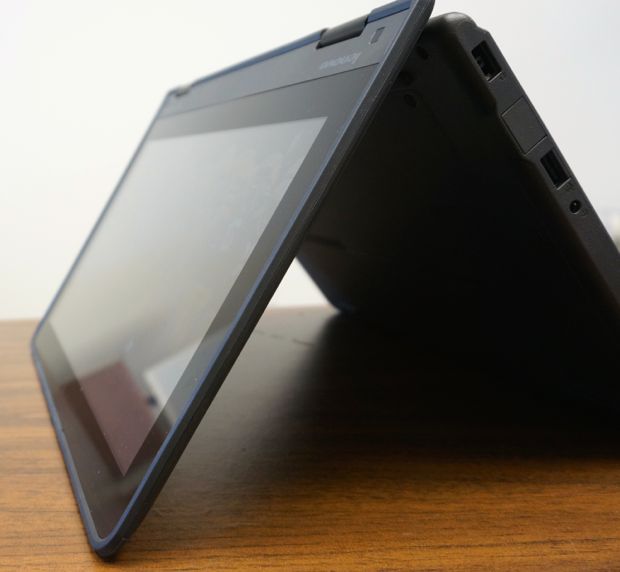 The Lenovo Thinkpad line enjoys a solid reputation for great business class computers with solid build quality and great keyboards. The Yoga 11e Chromebook takes that reputation into the Chromebook market, making it one of the best 11.6-inch Chromebooks money can buy, even if it's a little more costly than some of the more popular devices from Acer and HP. Buyers will pay $460, but assume that Lenovo will offer volume discounts to schools who buy a lot of these… and they should.
Pros

Best in class keyboard
Excellent trackpad
Touchscreen
Versatile design that functions in tablet, tent and stand mode
USB 3.0
Powered USB 2.0 that charges even when computer goes to sleep
Full-size SD-card reader and HDMI
Rugged build

Cons

Too much screen glare
Only 2GB of RAM
Last generation Intel Celeron N2930 Bay Trail Processor
Heavy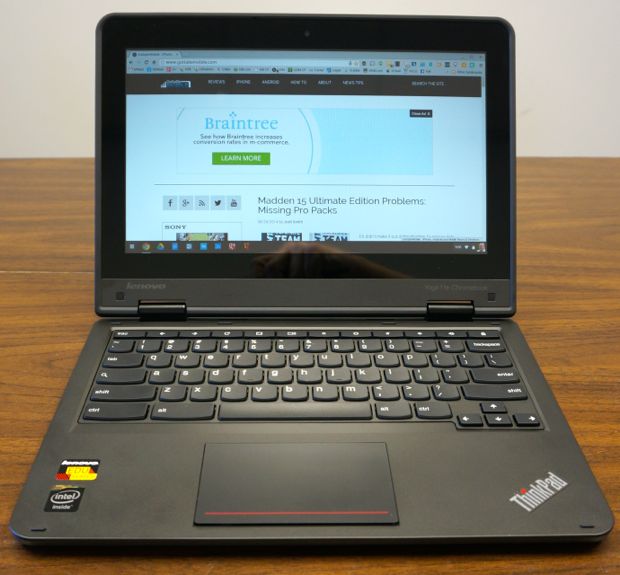 Lenovo Thinkpad Yoga 11e Chromebook | $460 | Chromebook

The Competition
Lenovo Thinkpad Yoga 11e Chromebook Video Review
Watch our Lenovo Thinkpad Yoga 11e Chromebook review video to see the strengths and weaknesses of this education-focused rugged Chromebook.
Who is the Lenovo Thinkpad Yoga 11e Chromebook for?
Just as the "EDU Series" sticker says on the inside, Lenovo made this with schools in mind. The rugged case will hold up well as multiple kids hammer and bang this thing around all day at the local elementary school. However, others needing a rugged and simple computer for basic tasks like writing up reports, doing online work or showing off some online video and slide shows to others will enjoy the build quality and the versatile design. Business users traveling from trade shows to customer locations will like that this machine will hold up well and they can use it as a tablet while on their feet, in stand or tent mode at a trade show booth and to get some work done in a hotel room. It also streams video with ease and the nice charging USB port that's powered even in sleep mode means fewer power adapters to carry around.
Design
Two things differentiate the Yoga 11e. First, the rugged build and then the the touchscreen connected to a versatile design. The subdued business class Thinkpad look and its rubber edges adds durability and keeps it looking good. The textured lid and bottom give the user some grip.
The computer does weigh more than most Chromebooks, but the extra heft comes from the excellent build quality. Users won't want to hold it in tablet mode for long, but it's not too heavy to use for brief stints.
Lenovo paid attention to detail when making the Thinkpad Yoga 11e Chromebook. For example, they put rubber feet on the keyboard side for those times a person puts the computer in stand mode with the keyboard facing down.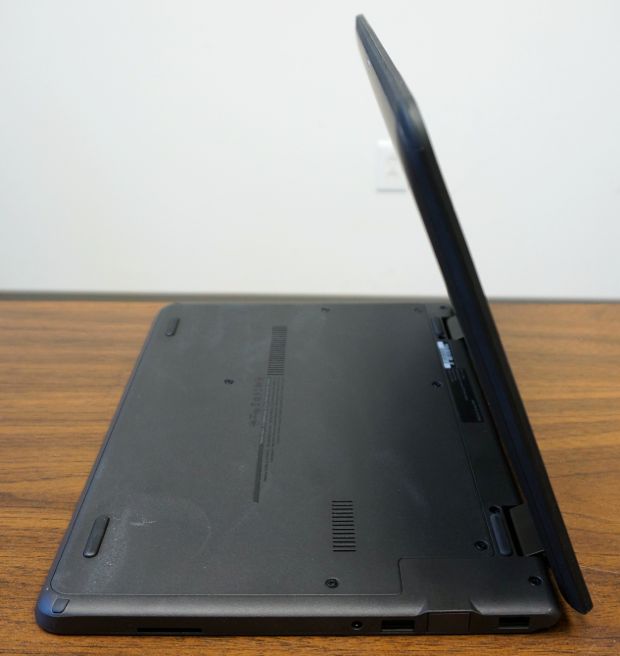 This Chromebook does come with a tiny touch of flash, since the red dot above the Thinkpad letter "i" on the keyboard lights up. We also get a lighted indicator on the lid to show when the computer's Wi-Fi connects. Teachers can see that a student connected to the network and is playing around instead of working on an assignment.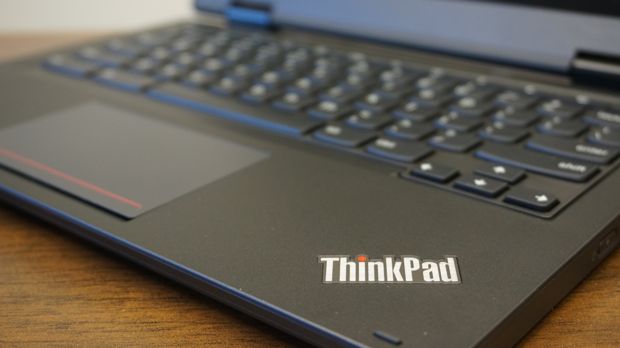 The right edge gives us the power connector, a powered USB 2.0 port that charges a phone or tablet even in sleep mode and a combo mic/headphone jack.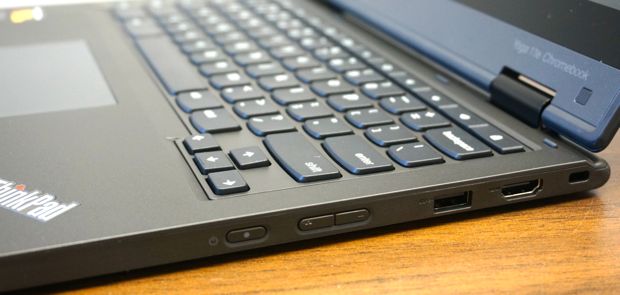 Along the left, there's a power button (normally on the upper right corner of the keyboard), volume buttons, a USB 3.0 port, an HDMI port and a Kensington lock.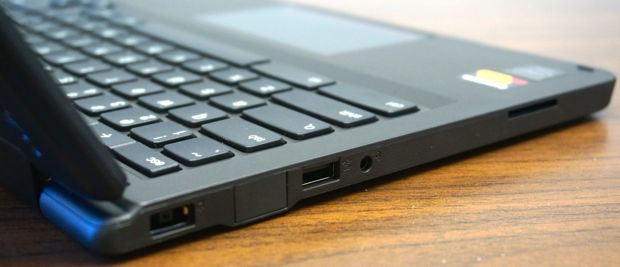 Keyboard and Touchpad
As great as the Lenovo N20p keyboard is, the Lenovo Thinkpad Yoga 11e keyboard outshines it just a little. The raised island style keys with their Thinkpad-style rounded edges feel great. This is the best Chromebook keyboard, bar none.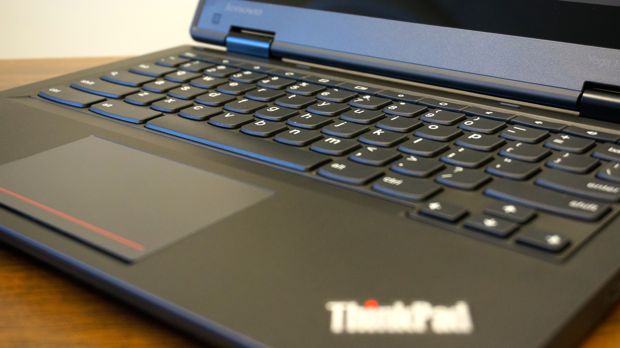 In addition to an excellent keyboard, we get a great trackpad to match. It's large enough for adults and sensitive without getting in the way while typing. The trackpad complements the touchscreen, since not all ChromeOS buttons or controls are large enough for touch.
Display
The display lands on both our Pros and Cons lists above. The nice touchscreen responds well and didn't suffer from the rotation problems we faced with the Lenovo N20p, which rotated in tent mode but wouldn't go back in laptop mode without a Powerwash.
However, like most Chromebooks, there's a typically bad 1366×768 glossy screen. It's better than their consumer Lenovo Chromebook we also reviewed, but it's not as good as the HP Chromebook 11 or the Samsung Chromebook 2 13-inch, which offers a 1080p screen. The Yoga 11e contrast forces the user to increase the brightness, which reduces battery life.
Performance and Graphics
Here's the other weakness in the Yoga 11e. Instead of the latest Haswell generation Intel Celeron 2955U which offers better performance and longer battery life, Lenovo chose to cut costs with the Bay Trail Intel Celeron 2930. That produces better performance than the Samsung Exynos processor in the latest Samsung Chromebook 2, but the HP Chromebook 14 and Acer C720/C720p Chromebooks run faster thanks to Haswell chips.
Lenovo limits their consumer Chromebook with only 2GB of RAM, but thankfully they put 4GB of RAM in the Yoga 11e. The extra RAM and slightly faster Bay Trail processor explains why the Yoga 11e runs slightly faster and smoother than the Lenovo N20p.
Battery Life
Lenovo promises about 8 hours of battery life, but that's probably with the screen brightness turned down in perfection conditions. Running normal tasks while online and streaming some video, a lot of writing and checking email, we got only about 6:30. That's with the screen at a usable 80%. The computer charges quickly in under an hour from zero to full.
The Bottom Line
Buyers can find the Lenovo Thinkpad Yoga 11e for $460 and school systems will likely get volume discounts. That's a little more than our other two favorite Chromebooks, the HP Chromebook 11, which offers a better display with the same resolution at a much lower price, for those who don't need a touchscreen or the rugged construction. The Acer C720 (without touch) doesn't feel like it will hold up to rigorous usage by dozens of school kids or in extreme environments, like the Yoga 11e, but it does cost about $165 less. Neither of those options will give users as good a keyboard. No one makes a better keyboard on a Chromebook than Lenovo. Add a touchscreen and the option to run in stand mode, tent mode or tablet mode, and the Lenovo Yoga 11e offers one of the best 11.6-inch Chromebooks available.
ChromeOS isn't a great touchscreen operating system, but expect it to get there soon, especially if Google also follows through on the promise to release Android apps on ChromeOS. That's why the touchscreen could help keep this machine relevant for years to come. It will also last that long.
Gallery
This slideshow requires JavaScript.
Specs
| | |
| --- | --- |
| OS | ChromeOS |
| Display (size/res) | 11.6-inches, 1366 x 768 10-point touchscreen |
| CPU | Intel Celeron 2930 2.16Ghz |
| RAM | 4GB |
| Graphics | Intel HD Graphics |
| Storage | 16GB SSD |
| Optical Drive | None |
| Wireless | Wi-Fi 802.11ac; Bluetooth 4.0 |
| Ports | 1 USB 3.0, 1 USB 2.0, 1 HDMI, 1 SD-card, headphone/mic, Kensington lock |
| Size | 11.81″ x 8.5″ x 0.87″   11.81″ x 8.5″ x 0.87″ |
| Weight | 3.1 pounds |
Advertisement