Internet Explorer 9 has been released, this IE 9 Review will let you know what's new and how Internet Explorer 9 compares to Chrome and Firefox.
Last August Internet Explorer celebrated its 10th anniversary making it one of the oldest surviving web browsers on the market to date. Its interesting when you look back to the late 90's, it was a time of heated competition in the web browser market specifically between Microsoft and Netscape Communications.
Of course, we know how that story ended with Microsoft dominating the market for a few years, until the resurrection of Netscape technologies in an open source format called Mozilla later morphed into the Mozilla Firefox Web Browser which debuted in 2004. Since 2003, the web browser competition has been heating up again and interesting enough, Microsoft which lagged for years because of complacency and fiasco's surrounding the Windows Longhorn project which almost subsumed everything surrounding it is once again competing at a fast pace. Since 2007, Microsoft has released two new versions of its browser, Internet Explorer 7 and 8.
It's a different landscape though, specifically the new challengers, Google Chrome (known best for its popular search engine), Apple Safari, Opera Software and Mozilla Firefox along with a few niche brands are all in the race to be the most popular web browser.
So what is Internet Explorer 9 is all about?
A number of things happened along the way to Internet Explorer 9, including the release of Google's Chrome in particular which launched in the fall of 2008 and changed things tremendously.
Instead of primarily focusing on compatibility with websites which was atrocious in its early stages, Google focused on simplicity, usability and security. When you launch the new Internet Explorer 9 for the first time, you will immediately experience some of those same philosophies that have inspired Google.
What I particularly love about Internet Explorer 9 is how sleek and inviting it is to use, but dig deeper and you start appreciating a browser that is both simple in design yet powerful in its capabilities especially when it comes to integration with the Windows desktop. It is probably one of the key advantages that bring down the competition a notch.
Internet Explorer 9 is also the most standards compliant version of the browser to date, it includes a wide array of support for technologies such as CSS3 and SVG and a new JavaScript engine called Chakra, HTML5 audio, video, canvas tags, WOFF, CSS3 2D transforms and HTML5 semantic tags. All of these additions and improvements should help Web Developers create better cross platform experiences while not abandoning Microsoft for more friendly alternatives that have innovated ahead of IE over the past few years. Before I go any further, let's start with some of the fundamentals.
Installation
I installed Internet Explorer 9 on my main computer running Windows 7 Ultimate 64 bit with Service Pack 1 installed. Installation was a breeze and took approximately 1 minute without even requiring a restart. I have noticed something ever since Microsoft launched its Windows Live Essentials 2011 suite of digital tools, it's the focus on simplicity, when you hark back to the days of programs basically taking over your desktop and requiring that you do this and that before you even attempt to execute setup. Internet Explorer 9 is a breath of fresh air with its simple, yet elegant installer.
Internet Explorer 9 is also supported on Windows Vista Service Pack 2, Windows Server 2008 and Windows Server 2008 R2. Windows Vista users will miss out on some of the desktop integration, but apart of from that, functionality wise, it's identical to running it on Windows 7. Windows XP users, no IE9 for you, and it's for obvious reasons, it's not some artificial lock off on Microsoft's part to get you to upgrade.
As Internet Explorer General Manager Dean Hachamovitch puts it "Building a modern browser requires a modern operating system."
Microsoft said that the reason for dropping Windows XP are based on technical reasons, such as lack of support for Direct2D and DirectWrite DirectX APIs (applications programming interfaces) in Windows XP. These API's in addition to security technologies are built into Windows Vista and Windows 7 just cannot be back ported Windows XP.
Windows XP is a 9 year old operating system, the extra burden to support 3 separate versions of Windows (XP, Vista, 7 in addition to various editions and Server releases is probably a bit too much even for a company with the resources of Microsoft). Its time people move on to Windows 7, if you want to experience the benefits of Internet Explorer 9, upgrade to Windows 7 or at least a minimum of Windows Vista SP2 (preferably Windows 7).
Internet Explorer 9 is a modern browser, that requires a modern operating system (Windows Vista or Windows 7) with modern technologies built in with support for Direct3D which adds hardware acceleration to the list of powerful features built into the browser. So, Windows XP users, if you want what IE 9 has to offer, you will just have upgrade or stick with Internet Explorer 8 or one of the third party alternatives.
Launch Internet Explorer 9 for the First Time:
The interface in Internet Explorer 9 has been streamlined to focus on the content of the web page removing some of the overbearing qualities of past versions. It's a philosophy itself first spoken about with the introduction of the Windows AERO User Experience. The idea of making the content of the window be the star.
With Internet Explorer 9, the web page is front and center more than ever. The toolbar area has been exquisitely designed, Microsoft has dropped the number of toolbars down to just one. The Navigation buttons (back and forward), Address Bar and Tabs have been fused together along with a few toolbar controls (Home, Favorites and Tools). This might come across as controversial and I personally am still in the adjustment stags
. What I love though is the simplicity of it all, there is not this heap of features presented, just the essentials that a user needs especially since the idea of web pages are more app centric in this release. Having a litter of tabs in one window is not necessarily the best idea, you can read on further to understand why.
I notice when I launched the browser for the first time, I was greeted by a small notification strip at the bottom of the window recommending I Speed up startup and browsing by disabling add-ons.

Clicking the 'Disable add-ons button, leads to a dialog which will display a list of add ons that might be affecting web browser performance. Talk about intuitive, this gives users better insight about how they can improve the performance of their web browsing experience.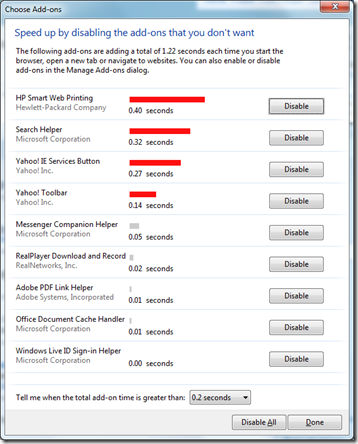 As you can see in the above screenshot, add ons with red bar indicate how much time they are taking to load. Those with gray bars are minimal and can be left alone. This is a really great feature!
Internet Explorer User Experience
Website's are probably not something users pay much attention to in the sense that, a lot of the details invested in application development and user experience that are often applied to desktop programs. With Internet Explorer 9, Microsoft hopes to change that thinking, the aim is to make website's more app centric. In fact one of the cool things you can do with Internet Explorer 9 optimized website's on Windows 7 is pin them to your Taskbar just like any other application such as Word or Photoshop.
A number of high profile web developers have focused on revamping their websites just for IE 9, these include Ebay, CNN, Redbull, Amazon.com and IMDB, to name a few. During the beta, Microsoft announced 70 partners who had all optimized their sites for the beta, hundreds more have done so since and you should see a lot of interesting websites build great experiences around Internet Explorer. The intention really is to blur platforms a bit, to make the web as much a part of the desktop as possible.
It's an interesting approach, what I believe this will do is create better brand consciousness among web developers to focus more on the quality of the website, such as how easy it is navigate, the use of colors and layout, even down to the most minute details such as the Webicon.
When you pin a webicon to your Taskbar, you will notice familiar Windows 7 functionality, such as the ability to right click the icon and access Jump List. This is great for my favorite sites that I open first thing everyday, such as Twitter, Facebook, CNET News, ZDNET and many others. There could be more intuitiveness about how you pin a webicon to the Taskbar, I thought you did it by right clicking a Tab, but later discovered this is done by holding down on the website's webicon in the Address Bar, then drag it to the Taskbar. Although drag and drop is a natural action over the years, a quicker method would be to have a right click the webicon menu in the Address bar with a pop menu displaying option to pin to the Taskbar.
Here is an interesting branding idea I noticed is a part of Internet Explorer 9. Web developers can now customize IE 9 to reflect the core identity of their site. An example of this is through elements such as the Back and Forward Navigation buttons with colors specific to that website. Similar color coordinated colors for applications on the Taskbar, such as a blue button representing Microsoft Word. It's a more engaging way for sites to embrace the desktop and a bit of personality along with clear identification to a user.
This is just a tip of the iceberg though, the key integration is when you check out the Jump List features. Not all sites support it at the moment, but I am sure they will over time. Two examples are Twitter and Facebook. When you pin either social network to the Taskbar, you will see unique Jump List Tasks such as @Mentions, Direct Messages, New Message, Search and Favorites. Facebook offers its own unique task such as News, Messages, Events and Friends. This immediately blows Chrome and Firefox out of the water. The idea of opening up the browser and typing in a URL or click a favorite link to your site then navigating to a specific location is unnecessary. Jump List integration is just spectacular!
More Windows 7 Integration
The integration doesn't end there either, Internet Explorer 9 also takes advantage of other Aero functionality such as Snap. One of the cool effects in Windows 7 is Aero Snaps which allows you to snap to windows to the side of the screen which automatically fills the half of the screen. This is great for doing reference or comparison activities. With Internet Explorer 9, it's a breeze.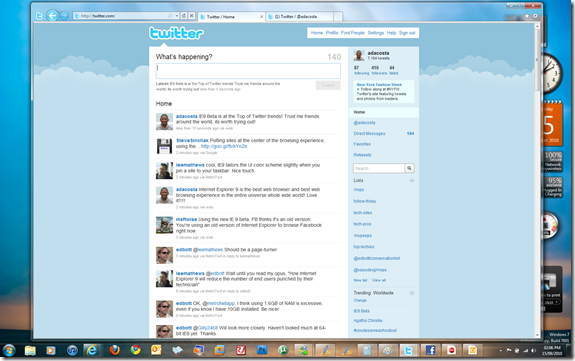 Here is an example, I have two tabs open in my Twitter window (my Twitter Home Page and my @Mentions page), suppose I want to compare the two at the same time. With IE 8 or Firefox, I could do a Tear off tab action then use then use the Aero Snaps feature to compare both windows. But why bother going through all that process?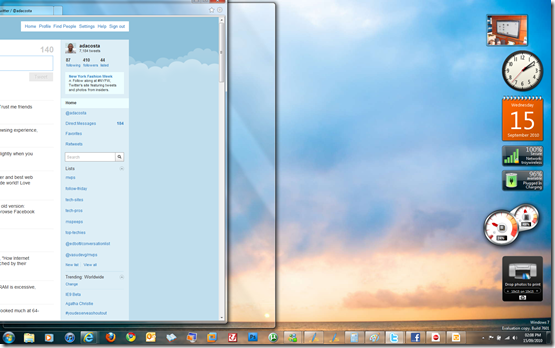 What I will do is simply drag the window with my Twitter Home page to the left of the screen. Now check out the next option.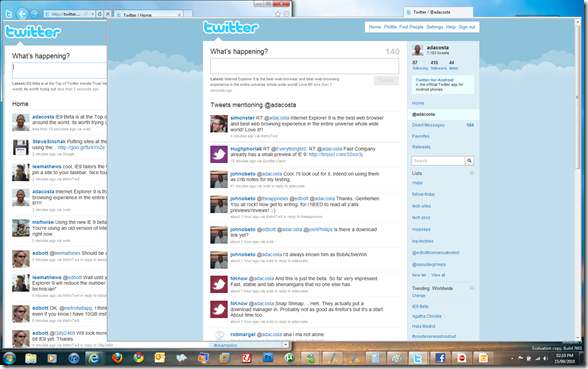 Here you can see I am simply dragging off the tab for my @Mentions window to right.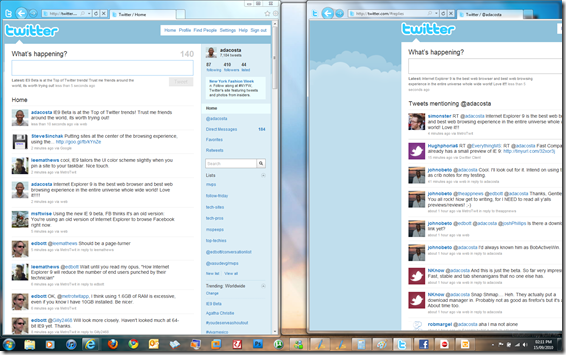 There I go, as easy as that. Now I can do whatever comparison or reference I want with both windows on screen. When I decide that I am finished, all I need to do is simply drag it back into the original window! How amazing is that?
It's synergies like these that show the level of sophistication and thought that has gone into the user experience for this release of Internet Explorer 9. It's another example of why Internet Explorer 9 was not possible on Windows XP.
Security and InPrivate Browsing
Tracking Protection or "Do Not Track" formerly called InPrivate Filtering, is a consumer focused security feature that helps to protect your online privacy. What IE 9 will allow you to do is prevent sites from tracking your online movements. Do Not Track is opt-in technology that requires users to find, download, and install tracking lists that will block certain websites from following users online. It is expected that third party providers will help to construct tracking lists support this feature.
Another great security improvement in IE 9 is ActiveX Filtering, with this technology, users can have more control over what gets loaded on a webpage. So, you can have certain ActiveX controls or none at all loaded on a particular web page if you wish. With ActiveX Filtering, you can turn off ActiveX controls for all Web sites and then turn them back on selectively as you see fit.
With ActiveX Filtering, you choose which sites are allowed to use your ActiveX controls, while all other Web sites cannot use them. ActiveX Filtering helps limit the impact that ActiveX controls have on your browsing experience since the controls can run only on specific sites. ActiveX Filtering also prevents Web pages from showing potentially unwanted content that relies on ActiveX controls.
Internet Explorer 9 Performance
Performance is probably the most critical area of the Internet Explorer 9 experience. Microsoft has made some critical improvements. I noted earlier such as the Disable Add on feature, but this is only a minor aspect. Internet Explorer 9 is going at the deepest level meaning the entire computer contributes to the browsers speed, these include processor, memory and in particular Video Graphics or Graphics Processing Unit (GPU).
Microsoft calls this Accelerated Graphics. This provides are more dynamic web experience by utilizing the power of the GPU to handle the rendering and processing of video and images to speed up presentation and load time of pages.
For example, watching HD Videos in IE 9 is much smoother compared to Firefox and Chrome, this is not a biased assumption, you can try it yourself and see the difference especially with CPU usage, IE is less taxing on the system compared to Firefox. This is based on low level improvements introduced in Windows 7 and Vista through Direct2D.
I decided to try out 15 of my favorite websites I tried last year in my Internet Explorer 8 review, along with two other browsers, Firefox 3.5.9 and Google Chrome 9.
| | | | | |
| --- | --- | --- | --- | --- |
| | IE 9 | IE 8 | Firefox 3.6.13 | Chrome 9 |
| ActiveWin.com | 5 | 7 | 13 | 19 |
| NeoWin.net | 10 | 9 | 8 | 9 |
| MSN | 7 | 13 | 12 | 7 |
| Yahoo.com | 5 | 7 | 10 | 6 |
| OSNews.com | 8 | 10 | 7 | 11 |
| Arstechnica.com | 5 | 13 | 10 | 10 |
| Twitter.com | 7 | 17 | 9 | 11 |
| Microsoft.com | 17 | 17 | 18 | 12 |
| YouTube.com | 7 | 7 | 9 | 5 |
| Google.com | 1 | 3 | 7 | 3 |
| Bing | 3 | 5 | 7 | 3 |
| CNET News | 7 | 25 | 12 | 11 |
| eWeek | 8 | 11 | 21 | 7 |
| All About Microsoft ZDNET | 6 | 11 | 8 | 8 |
| Notebooks.com | 7 | 13 | 13 | 10 |
| Facebook.com | 8 | 17 | 14 | 13 |
| Macworld.com | 14 | 14 | 20 | 25 |
I did these tests on a 8 MB  Cable Connection. They are unscientific, since I timed the loads using a stop watch, but do show evidence of speed gains.
Cool Internet Explorer 9 Features
I want dive more into changes to user interface. As you can see the interface is major update, its refreshing, inviting and attractive. It makes you want to use it and benefit from it more. Internet Explorer 8 included some well needed improvements to the Address Bar such as auto complete suggestions for sites that you might want to go to, suggestions are based on your history of websites you like to visit, your personal web browsing history and feeds that you have subscribed to.
Typing in a URL offers some address bar tricks, if you click the arrow below the URL in the middle, it will reveal a number of commands:
Go to – Enter
Navigate to – Ctrl + Enter
Open in a new tab – Alt + Enter
Open in a background tab – Alt + Shift + Enter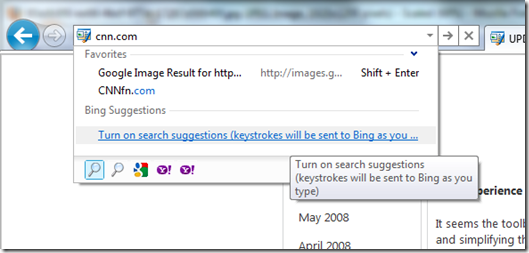 Autocomplete suggestions in IE 8 as noted are based on your sites visited, browser history. In Internet Explorer 9, you can now get real time feedback based on Bing results. This is turned off by default and you will have to manually turn it on (privacy reasons). The most dramatic improvement is the fusion of search into the Address, just like Google Chrome with its Smart Bar feature. So, you not only can enter URLs, you can do web searches right there too.
The new Tab window button is so much faster than Internet Explorer 8. I am sure many of us know how molasses slow it was, not anymore! It opens instantly and displays a list of your most recently visited websites. It looks like Tab Gallery has been incorporated into the new New Tab page.
The use of colors in these changes are very interesting. Users will notice that a display of the sites that you visit most often are shown, along with a color coordinated bar below each, indicating how actively you visit the site. The length of the bar is an indication of frequency.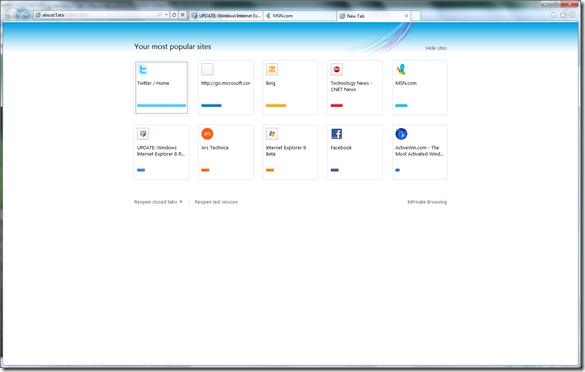 From here you can perform tasks including reopening closed tabs along with your last browser session. You can also hide sites you don't see or reveal or even start an InPrivate Browsing session. It would have been nice to have non-adjacent selection support here to quickly close a batch of sites on the fly.
The three buttons at the top right don't reveal anything new, the Home button does as it suggest, takes you to your home page. The Star reveals all your Favorites, History and Feeds. The Bolt (Tools menu) list all common Options and Settings for the browser. I am disappointed that Internet Explorer 9 does not introduce a new Internet Options window. I personally think its cluttered and need to be revamped with a similar look and feel to the one in Microsoft Office 2007/2010. It would be nice if the IE Team added a File menu tab similar to the one in Office 2010 apps, with a Backstage like interface.
Internet Explorer 9 Wishes Come True
Last year I asked for some things I would have liked to see in Internet Explorer 8, let's see if these features made it into Internet Explorer 9.
Download Manager – Trust me, Internet Explorer needs this feature, I find options like Pause/Resume and Manage very handy in FireFox and Safari.
Result: Yes, finally! Microsoft has introduced an interesting approach for downloading and running an executable in Internet Explorer 9. The old download dialog has now been phased out and replaced by a notification strip at the bottom when you click a download link, you have the option of running it, saving it or click cancel. You can click the View Button which will reveal the all new Download Manager. The Internet Explorer 9 Download Manager allows you manage downloads, pause, resume and even scan your downloads for malicious code.

You can quickly access the Download Manager by pressing CTRL + J or click the Tools menu and click View Downloads.
Better Text Selection: Non-adjacent Selection of text on web pages.
Result: Didn't make it. Maybe for IE 10.
Customizable toolbar: I personally wouldn't mind if buttons such as Home, Feeds, Print, Page, Tools and Help were on a another toolbar group such as the Address bar group, I need more real estate for Tabs that's much cleaner. The new Favorites Bar in particular eats up a lot of space.
Result: Nope, and for obvious reasons, the new layout is more focused on putting emphasis on the web page instead of the browser window.
List View layout for Options: Similar to Office 2007 Options dialog. Also make the Advance settings a part of the list view Options, this includes: Accessibility, Browsing, International, Multimedia.
Result: No, but we can hope for IE 10 on this one also.
Print Preview Tab: Make Print Preview utilize a Tab instead of opening a separate window.
Result: Nope, but what I notice is that Printer Preview took a long time to compose a window of the preview.
One Installer: One unified 32-bit and one unified 64-bit installer.
Result: No, you must download for Windows 7 64 bit, Windows 7 32 bit, Windows Vista 64 bit and Windows Vista 32 bit. Microsoft, would love if Microsoft could have simplified this.
Conclusion
It's safe to say Microsoft is once again in the browser game. Internet Explorer 9 is a polished, well designed, elegant browser, which keeps up with the competition while at the same innovating with new experiences that you can surely expect rivals will have a hard time copying and pasting into their next updates.
The key things that set Internet Explorer 9 apart from previous releases is the focus on standards compliance, performance, Windows 7 integration and user experience.
When it comes to standards compliance, the Internet Explorer Team understands that this is a different game and web developers will simply go where they are acknowledged and respected.
Performance, it's no lie that Internet Explorer has lagged for years, both in web page performance and the browsers functionality, actions like opening a tab was atrociously slow in IE 7 and 8, IE 9 fixes that and adds new capabilities end users will appreciate.
The integration with the operating system and hardware technologies such as accelerated graphics support will help to further prove just how powerful and worthy an upgrade IE 9 is.
Finally, user experience, Internet Explorer 9 is sexy, its sleek design, tight integration with the Windows 7 desktop with features such as pinned websites will provide users with a more intimate web experience while opening up a whole new way for web developers to communicate with their audience. Kudos to the IE Team on a job well done!
Advertisement