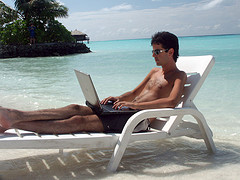 Lifehacker has a great roundup of the Top 10 Downloads for a Road Warrior Laptop. These are programs that no notebook should be without, especially not one that leaves the safety of your couch. Many of these programs are free and will transform a basic notebook computer into a powerful machine that keeps you connected and productive while on the go. I personally use many of these programs already and I am already looking at downloading those that are new to me.
These programs will help you with the following needs and tasks.
Auto-pause iTunes when you remove headphones
Make it dual-monitor friendly
Use a better Wi-Fi finder
Tether your phone to your laptop
Save battery power (and power out gracefully)
Get friendly with Thunderbird 3
Get "Back" to your Mac or PC
Make it secure and track-able (also see our Phoenix FailSafe review)
Turn it into a hotspot (Guide for Connectify)
Keep your files synched
If you're new to on-the-go computing or just want to be better at it you need to read this list of programs and make use of it. I've been using JuneFabric's pdaNet to connect my netbook to the internet via the Motorola Droid for the past month and before that I used WMWifiRouter to turn my Windows Mobile phone into a hotspot. The ability to connect my notebook or netbook to the internet through my phone, without messing around with settings all day, is by far one of the coolest and helpful tips on the list!
If you have your own must have programs, like Launchy, share them with us in the comments.
Advertisement