There are plenty of keychain tools out there and assuredly, there will be many given as gifts this holiday season. While many of them attempt to wedge in too many tools and end up a bit bulky, the ScrewPop is a minimal tool that manages to offer up a 4-in-1 tool that can go from work to play.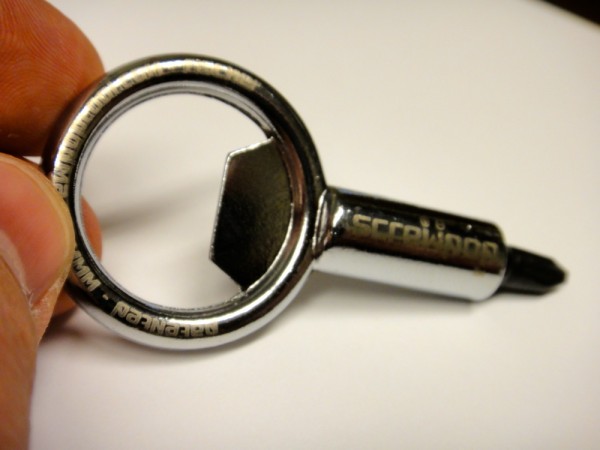 The ScrewPop comes with the following tools built in,
1/4" Hex. Nut Driver
Phillips Driver #2
Flathead Driver #2
Bottle Opener
ScrewPop was kind enough to send one over and we have used it over the past month to see how it handles. It's definitely a neat tool and a perfect stocking stuffer at just $5.
The built in Phillips #2 and Flathead #2 tools fit most screws we encountered and are definitely handy to have at hand. Unfortunately if you find that you need to open up laptops often you'll be out of luck with the built in screwdriver parts since the openings on most devices are smaller.
That's where it's nice to have a 1/4" Hex. Nut Driver. With a 1/4″ hex fitting Phillips #1 driver you can get at more screws; definitely not every laptop, but you have a lot of flexibility because of the ability to switch out tips. If you look in your toolbox you might have one that will slot in, though if it doesn't have the little bubble it may not stay in.
At first glance you might wonder how you use the bottle opener with keys attached. Simple, just slide the keys to the side and "pop" you're favorite beverage is now open.
Getting the large round portion on your keychain may take a bit of work, but once it's on the small tool isn't very noticeable on your keyring and certainly fits in the pocket nicer than the mini-Leatherman we used to have on our ring.
You can find the 4-in-1 ScrewPop keychain tool online direct from ScrewPop or at other online stores like ThinkGeek and in some hardware shops locally.
Advertisement