As part of the recent MacUpdate Promo I downloaded and started using the app Fantastical, an OS X utility that runs in the background with an icon on your menu bar. The icon shows you the date but also interfaces with iCal to show you upcoming appointments when clicked. It also allows simple appointment entry. You type real world terms and the app enters the various data into its calendar. It then saves it in your default iCal calendar, which in my case is my Google calendar.
The app works with BusyCal, Entourage, and Outlook as well. I don't use any of those, but assuming it behaves the same way with all four calendar tools, it will be fantastic for you too.
Being able to enter appointments using natural language makes this app stand out. Plenty of calendar apps let you add appointments from a Menu bar, but with Fantastical I just type something like the following:
Meet with John on Saturday at Noon at the Coffee Shop.
The app populates the important fields as follows:
Meet with John – becomes appointment title
on Saturday – goes to date field choosing next Saturday
at Noon – goes to time field
at the coffee shop – enters The Coffee Shop into location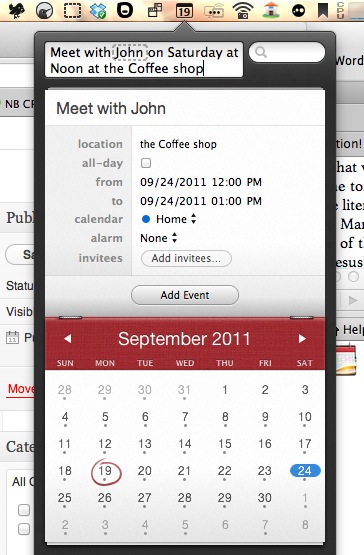 The menu icon when clicked shows you a calendar with today's date circled. If you have typed in an appointment, the date of the appointment will be highlighted in blue. Above the calendar you will find the entry fields to add an appointment (left) or search for appointments already in the calendar (right). If you can't remember when you were supposed to go to the doctor next month, just type doctor and it will list all the appointments with the word doctor associated with them.
Below the calendar Fantastical shows a listing of the next few appointments. That way you can quickly see what your day will be like without opening your calendar application.
In preferences you can set the app to add alarms to your new appointments so that you won't miss an appointment. The alarm will sound on your computer or on your smart phone, if you have the calendar setup to sync new appointments to it. I use Google Calendar for this kind of syncing and it works great with my iPad or my Android phone.
When you do as I did in my example above and enter a person's name, the name will be highlighted. You can then mouse over the name and a drop-down list of contacts with that name will show up. Click the proper contact to invite him or her to the appointment.
The app integrates with Alfred and LaunchBar, two Mac OS X utilities. Alfred searches your Mac and the Internet, and LaunchBar provides keyboard computer control to OS X so you can use shortcuts to do many different tasks on the computer. Developers can add Fantastical integration as well, as can users who create scripts using AppleScript, the OS X built-in automation tool.
In the short time I've used the app I've become very impressed and can't imagine not using Fantastical to enter appointments and interact with my calendar.
You can still get the app via MacUpdate Promo , a package of 11 useful OS X tools, for about $50 or in the Mac App Store for $19.99.
Advertisement