MacUpdate offers a bundle of apps every so often at a sale price. It sometimes includes some awesome apps at a great price. The Fall 2011 bundle, in particular, will only cost $49.99, and you get over $487 worth of software in it.
In the past I've seen the list of apps and considered them to be mostly junkware. Sure, maybe one or two programs are  ones I would use, but I could get for the same price or less. However, the most recent bundle has some great programs, so I jumped at the chance to save myself some money. If you bought them all you would spend much more than the $50 the bundle costs by itself.
Let's take a look at what you get, and how much you would pay for each app alone if you purchase it outside the bundle.
Toast Titanium 11 – $79.99
The do-it-all app for burning disks, capturing video and converting video to various formats. Toast comes from Roxio, and Windows users will recognize the manufacturer as the makers of the once great CD and DVD burning app Roxio Easy Creator.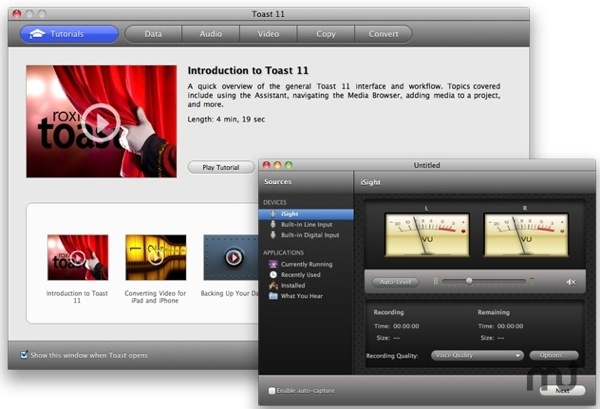 Printopia – $19.95
Printopia brings AirPrint to users no matter what kind of printer they use, as Apple's over-the-air printing solution only works with a handful of HP printers. Printopia works great as I found out when I reviewed the app. This app will be included only for the first 20,000 bundle buyers.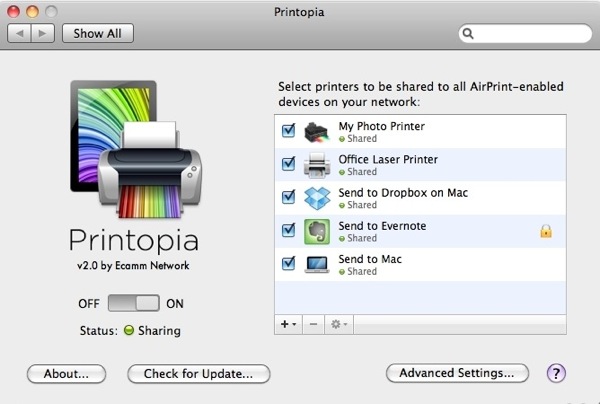 Data Rescue 3 – $99
Data Rescue 3, from Prosoft, recovers files from hard drives that are otherwise unreadable. You can use it to get those pictures or documents off a bad hard drive or flash drive. It works on internal and external drives. The light edition is also available in the Mac App Store for $59.99. It only works on non-boot and external drives.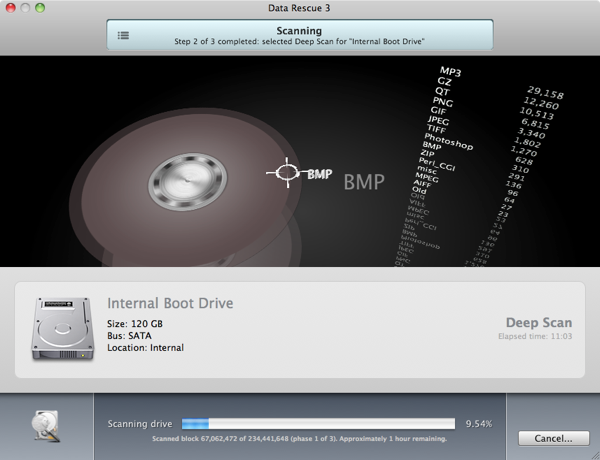 FX Studio Pro – $39.99 in Mac App Store
FX Photo Studio Pro works with your images to make them look beautiful with lots of effects and filters. It handles both RAW and JPG files for editing and touching up pictures. You can sharpen them, or deal with shadows, highlights and color adjustments. You would pay $39.99 just for this app in the Mac App Store.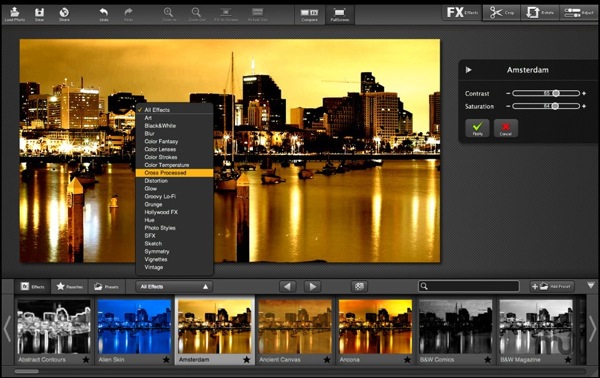 Fantastical – $19.99 in Mac App Store
Adding appointments to iCal gets easier with this Menu Bar app. It drops down and lets you type in natural language. Click the Fantastical Menu Bar button at the top of the screen and start typing something like, "have lunch with Josh at 3 PM Sept 12 at Joe's Crab Shack" and it will add an appointment to your calendar at the right time and date with the location entered properly. In my experience it works great. You also get quick drop down access to your calendar showing a month view and list of appointments below it. The Mac App Store version costs $19.99.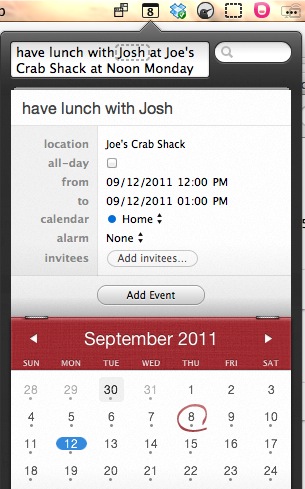 iStat Menus – $16
iStat Menus quickly shows you real-time hardware data like CPU usage, disk usage, battery life, network use, disk activity, memory use, the date and the time and temperature sensor information. It stays in your Menu Bar and you can quickly view with the data via drop downs. The app lets you turn on or off the various monitors, so you don't clutter up your OS X Menu Bar with more than you really want.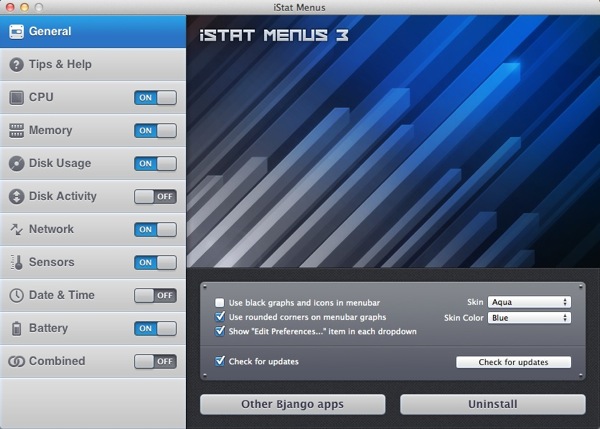 If you use this app, I recommend turning off some of the OS X Menu Bar applets and use the iStat Menu Bar applets for things like Date & Time as well as Battery. Also, to keep from overloading your Menu Bar go to the Combined item at the bottom and put most of the sensors on a combined drop down menu.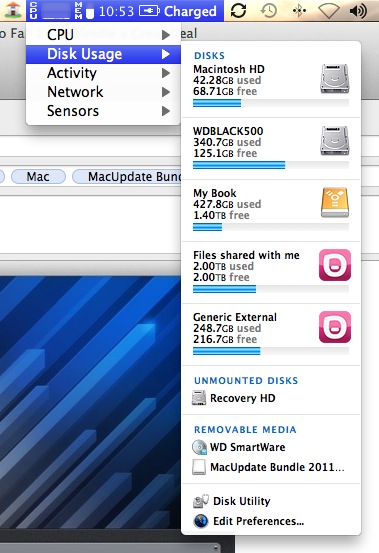 Phoneview – $19.95
Phoneview lets you backup your iPhone, iPod Touch or iPad data to your Mac. The app looks like a Finder window and lets your explore the various kinds of information and data on your device. You can view the device like a regular disk, so you can easily see and copy your photos, videos or files. You can view contacts, notes, call logs, text messages, web pages, voicemail and apps. It also lets you view and back up media like music, videos, books, podcasts, ringtones, photos and voice memos.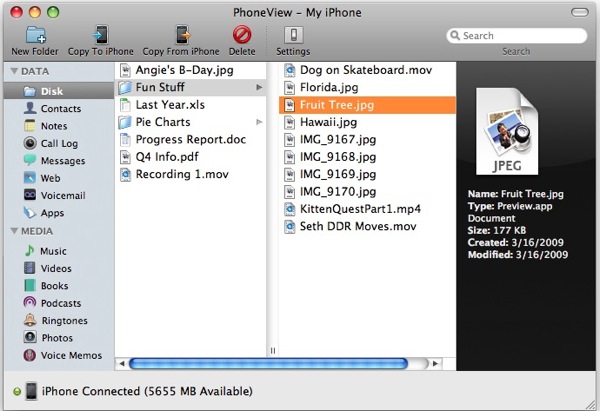 Concealer – $19.95 in Mac App Store
Concealer hides files and info to keep them confidential using AES-256 bit encryption. The app stores secret or personal information like notes, credit card numbers and passwords. You can assign passwords to specific files or folders or you can use a master password for the entire app. You might also want to keep a private diary or journal in text files. The program will hide those too. You can find it in the Mac App Store for $19.99.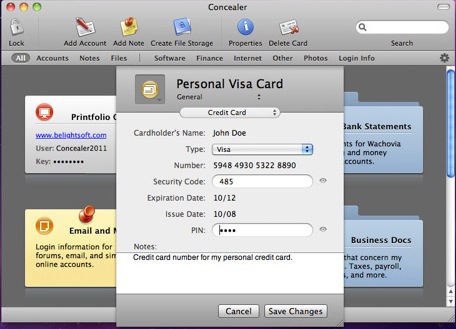 EarthDesk – $17.99 in Mac App Store
EarthDesk adds a view of the globe to your Mac OS X Desktop. It shows you a view of the earth behind your app windows. You can pick from a lot of different maps with real-time views of sunlight over half the globe or city lights at night. You can view weather patterns with cloud cover. Center the globe on your favorite city or home town. It supports multiple monitors. The app can be downloaded from the Mac App Store too.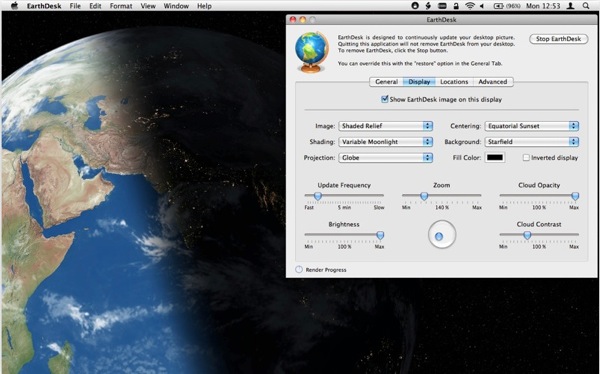 Mellel – $28.99 in Mac App Store
We highlighted Mellel in our look at Apple's suggested writing and blogging apps. My ministry friend who works in Hebrew a lot loves this app because it handles Hebrew fonts and reversed direction text really well. The interface is not as beautiful as some word processors, but it offers Word-like power for a Pages price.
It handles Word files well and exports to them, so you can share files with the majority of other people in the world. I used to be a Word Perfect user and it handles those files too. The app is great for long-form documents like a student dissertation or a multi-chapter book! The app comes in the Mac App Store.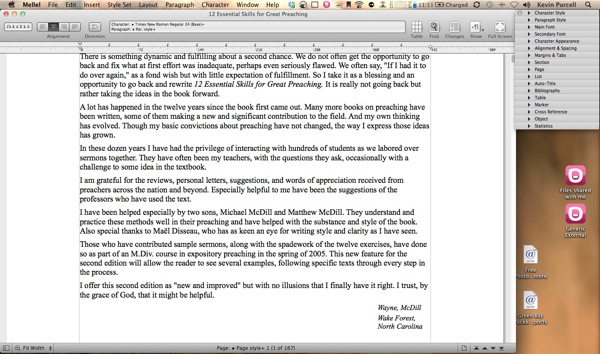 Bookends – $99.99
If you are a student writing a significant paper like a dissertation or you work with works cited in an education or academic environment, then Bookends will help you organize your references. It helps with citations, annotations, and more. The app interfaces with PubMed, Amazon, Google Scholar, JSTOR, Web of Science and tons of university libraries.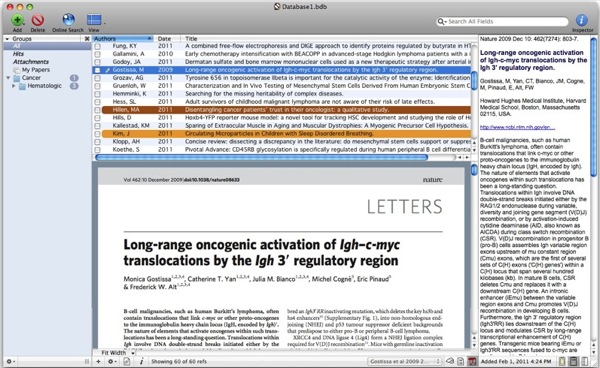 You can look for keywords in your document to create cross references and make note cards, add tags and make tag clouds, and produce instant search of the document. It also automatically scans your paper and makes a bibliography and footnotes. The app costs a whopping $99.99 all by itself in the Mac App Store.
If you like the apps above and think you will save money by getting the bundle, you can order it at MacUpdate. I got mine and saved hundreds of dollars. You can download the bundle or you can just get the disk by mail for an extra fee. They will send you the registration codes via email if you download it.
Advertisement