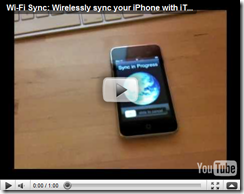 As most people expected when it was first reported, the Wi-Fi sync application from Greg Hughes has been officially rejected by the Apple App Store. And most iPhone, iPod Touch and iPad users breathed a collective sigh. The application was intended to make available a feature that many have been begging Apple to include for quite some time. Since the early days of the Palm and PocketPC you could sync your device to your computer over wireless connections like Wi-Fi or Bluetooth. But for some reason Apple is unwilling to allow it on the iPhone, iPad and iPod Touch..
If you are one of the brave souls willing to jailbreak your device, you can get the app in the Cydia app store for $9.99 now. It is only compatible with Macs running Snow Leopard. A Leopard version for Mac OS 10.5 is coming soon and a Windows version is coming in 8-10 weeks time."
Here is a video the developer made demonstrating the app.
Advertisement