With the Internet all abuzz over the rumor that AirPrint is being pulled from iOS 4.2, one disgruntled user emailed Apple CEO Steve Jobs to get the scoop. According to the MacRumors forum member, Jobs replied in his usual curt manner.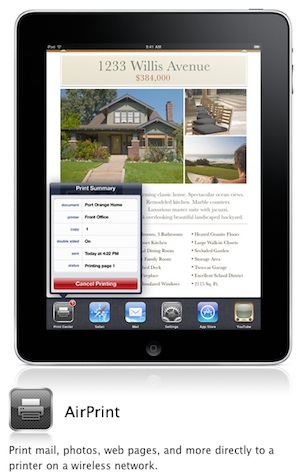 The exchange between Jobs and the reader went as follows:
Q: As a release-day purchaser of an iPad, I was elated when you revealed iOS 4.2 would support AirPrint. Now comes reports AirPrint support has been pulled from 4.2. Between announcements/assurances of the white iPhone, and now the pulling of AirPrint, is Apple going to lose credibility and become known for announcing "vaporware"?

A: AirPrint has not been pulled. Don't believe everything you read.
If authentic, this will settle many disappointed users. However, as MacRumors conjectures, the response could be authentic but still not address the heart of the rumor. AirPrint could still be released but in the limited form the rumor suggests, working only with compatible printers, of which there are precious few out right now.
AirPrint is the new feature in iOS 4.2 that will allow people to print from their iOS 4.2 device to any printer attached to a Mac or Windows PC. The rumor said this was being scrubbed and only certain HP printers with built in support for the feature and connected to a network rather than a computer would support it.
Advertisement