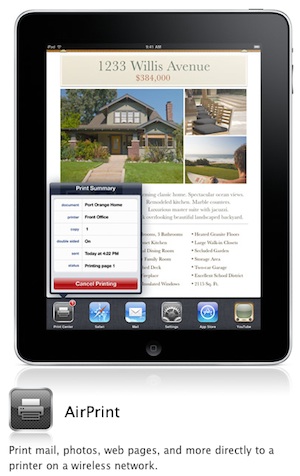 MacStories.net is reporting that Apple will remove the much touted AirPrint to Mac and Windows shared printers feature from its upcoming updates to iOS 4.2 and Mac OS X Snow Leopard, expected to drop very soon. The promised feature was one of the most anticipated new additions to the mobile operating system's capabilities. Until printing support is built into the iPad, it is difficult to call it a content creation device. Yet, if this rumor is true, that feature will not be part of the update and the only way to print from the iPad without a third-party app, like PrinterPro which we recently reviewed, will be if the user has a supported printer. There are just a handful of HP printers available.
The source for this rumor are Mac developers who have access to the latest beta builds of the operating systems and supporting documents. They told MacStories that the feature seems to be expunged from the software and materials.
One developer was quoted as writing in one of the Apple developer forums:
"So, here is the reply from Apple Tech Support when contacted:

Support for AirPrint on Windows and Mac has been cancelled. We will be in contact with you if another opportunity arises in the future."
There are conflicting reports coming from developers with some saying it is working in the beta builds while another stated that it was removed due to instability. If you have access to the forums you can read the threads yourself here and here. We will only know for sure when the updates are finally released, which could be as soon as Wednesday for OS X and Friday for iOS 4.2.
via MacRumors
Advertisement