If you're a fan of streaming music services, you should take a look at Rdio, an unlimited music streaming service which is available in your browser, on the iPhone or Android, and now on the Mac. Rdio for Mac just launched this week and offers a native Mac app for listening to your favorite tunes.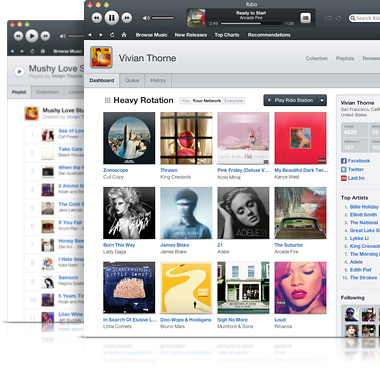 Rdio offers millions of songs from artists big and small with plans starting at $4.99 a month. There is a free trial available which will allow you to test out the service on your Mac, Windows PC and smart phone.
Because the new Rdio app is native to Mac you can use your Mac keyboard shortcuts to control music, allowing you to play, pause and skip music without jumping to another window. This is a big plus, and something that can't be done with the Pandora Air App available for Mac.
The Rdio for Mac can look into your local iTunes library and match it in Rdio so that you can listen to the music from within the Mac app and on any of the numerous devices like the iPhone or Android smart phones.
Check out the free trial of Rdio and the numerous apps to see if how it compares to your favorite method for listening to music.
Unlike Pandora, Rdio allows you to choose the music you want to listen to at a given time and also allows you to take songs offline with you as part of the premium $9.99 a month plan. Rdio isn't the only company beefing up its game and competing for your money, Rhapsody just announced a free 60 day trial in order to lure in customers before rumored Spotify U.S. launch. Unfortunately Rhapsody only allows Mac users to listen to the music in their browser. Rhapsody doesn't have a Mac version even though the company has long offered an iPhone app.
Advertisement