Apple's begun its one-day Black Friday sale, but if you're in the U.S. you'll have to wait until midnight to get the deals. The first country to see Apple's Black Friday deals go live is Australia, where's it's already Black Friday, even though Aussies don't celebrate Thanksgiving. Perhaps that's why Apple's calling this a "Special one-day Apple shopping event."
So what is Apple discounting on Black Friday? Pretty much everything except the iPhone 4. There are slight deals on iPads, MacBooks, MacBook Airs, MacBook Pros, iPods and accessories. Apple rarely discounts its core products, so this is one of the few chances you'll get to buy these items directly from Apple below sticker price.
Unfortunately, the discounts on most of the MacBooks and iPods are underwhelming and in many cases it's a better deal to buy from Amazon.com, MacMall or one of Apple's other numerous authorized resellers. However, Apple.com is the only place where shoppers can completely customize their MacBooks and have their iPhones, iPads and iPods engraved before shipping.
Visit Notebooks.com's Apple Black Friday Deals page to see deals from other retailers on iPods, MacBooks and iPads.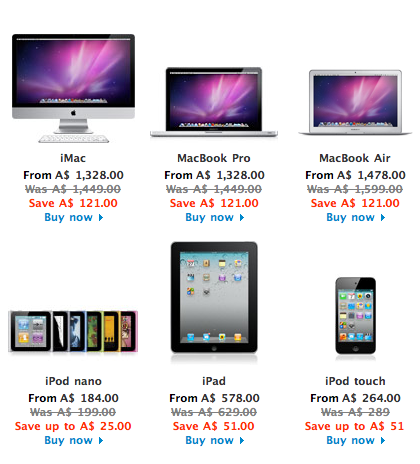 As you can see in the above image, Apple is discounting the iPad by A$ 51. That's a savings of  8% on the 16GB WiFi iPad and just under 5% on the 64GB iPad WiFi + 3G. That's hardly enough to motivate most people to jump up and buy an iPad, but if you're already planning on buying an iPad on Black Friday it's a nice bonus and enough to pay for an iPad case or enough apps to get started.
The iPod Nano is discounted by up to 25 dollars, depending on storage capacity. The iPod Touch is discounted by 35 to 51 dollars depending on capacity. Walmart, Radioshack and Best Buy are all offering free gift cards with the purchase of a full-priced iPod Touch on Black Friday.
The iMac, MacBook Pro and MacBook Air are each discounted by 121 dollars regardless of configuration. That means you'll get a bigger discount percentage wise on the base configurations of each of these Macs.
We expect to see very similar deals here in the U.S. on Black Friday both at Apple retail stores and at Apple.com. The dollar off amounts will be adjusted for U.S. currencies and pricing. There is a chance that Apple could offer deeper discounts on select items considering Black Friday is largely a U.S. phenomenon.
There's no word of freebies, such as free printers, software or accessories like we're seeing at some authorized Apple resellers on Black Friday. Best Buy is charging full price for MacBooks, but offering free gift cards. MacMall is offering both discounts and freebies. Amazon.com is offering decent discounts, free shipping and the advantage of not having to pay tax up front.
Visit Notebooks.com's Black Friday page for more Black Friday deals and guides to shopping for laptops and gadgets on Black Friday. Visit our Apple Black Friday page for more MacBook and iPod deals.
Advertisement