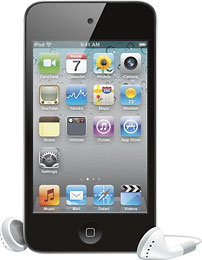 Best Buy will be bundling a $30 gift card with the latest iPod Touch on Black Friday. The retailer will sell the 8GB iPod Touch for $229 as usual and offer the gift card in lieu of a discount. Apple resellers rarely advertise significant discounts on current Apple device, so this isn't entirely unexpected.
The iPod Touch Best Buy will be selling on Black Friday is the latest edition (4th Generation) and is an excellent value. It shares many of the iPhone 4's features, including a front-facing camera that can be used with FaceTime, an HD video camera on the rear and iOS4, which allows users to install hundreds of thousands of apps and games.
The iPod Touch is also available in 32GB ($299) and 64GB ($399) capacities.
For more information about Black Friday deals, visit the Notebooks.com Black Friday page.
Advertisement