Best Buy is partnering with web start-up Shopkick to offer a new mobile app designed to help you find in store coupons and specials that will pop up the minute you walk into a store.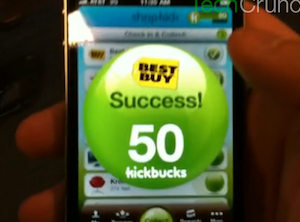 Below is a video preview of the Shopkick system running on an Apple iPhone. As soon as the user walked into the store he was shown some special offers. It also works by just walking into a certain department of the store. When the user walked into the Audio Visual department a special on a Blu-ray player popped up on his screen. It then directed him to the computer section for a special deal on a notebook computer. The system tracks your location in the store itself and sends you kickbucks" based on where you are in the store. These "kickbucks" are like rewards points for customers to redeem for discounts on specific products.
The Shopkick app will only work at select Best Buy stores this year, according to the company.
Under the current plans, the shopkick" system will be functional by August 17 in 187 Best Buy stores in the San Francisco, Los Angeles, San Jose, New York City, Chicago markets, with an additional 70 stores in Dallas, Minneapolis-St. Paul and Miami markets launched by Oct. 1. (from Best Buy press release)
The apps will be available soon in the Apple app store first and then the Android marketplace at a later date. Once a user loads the app and runs it, the app will recognize when the person walks into a Shopkick equipped store. Best Buy will be offering specials to launch the system. If users scan bar codes on certain products they can earn "kickbucks" usable for purchase of certain items. They point of sale systems will integrate with the Shopkick system to make buying these deals easier.
Advertisement