Starting this Super Bowl Sunday, Best Buy will be launching what the company is heralding as a technology insurance program for future-proofing your gadget purchases. Essentially, along with your tech purchases at Best Buy stores or online–like a new notebook, desktop, flat screen TV, tablets–you can buy the Buy Back program insurance, which sets a fixed depreciation value of your gadget up to two years, or for four years for TVs, in increments of six months. When you're tired of the toy you purchase, you can safely know that you can bring back your used toy, get a value in Best Buy gift cards based upon the depreciation schedule, and use that to purchase something new.
Buy Back is essentially "future-proofing" your technology. You purchase the technology you want today, and we'll buy it back at a set price when you're ready to upgrade to something new. You'll know upfront what your gear will be worth, and you can conveniently redeem your Buy Back at our stores and immediately receive a Best Buy Gift Card.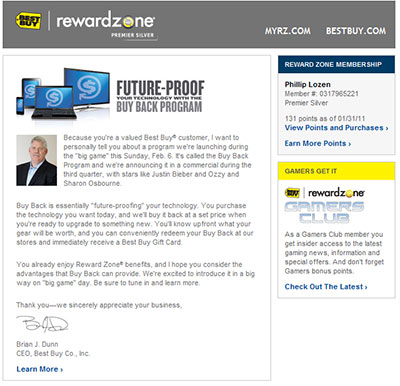 Unfortunately, though, you do need to pay to participate. The program is like an insurance plan, sort of like an optional extended warranty–consider it a future-proof insurance plan in your gadget of today in case you change your mind and want to upgrade tomorrow.
This morning, Kevin Purcell had described ways to "recycle" your old toys by either selling it on auction sites or community pages, or use the Best Buy Trade-In Program. Unlike the Trade-In Program of yore, it seems that the Buy Back program, while costing a fee to participate, is more convenient in that you don't have to deal with filling out a form online, waiting for a shipping box, and then shipping your item back to a warehouse and waiting for your gift cards from Best Buy to arrive for redemption. With Buy Back, it seems that you can lug your old tech toy into a store and get paid on the spot, according to a company email that was sent to Reward Zones member and a new page posted on the Best Buy site.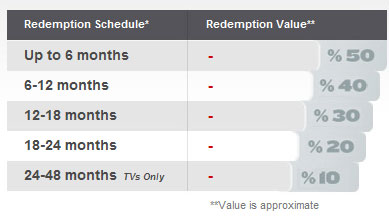 The depreciation schedule for technology is steep. Your gadget goes down by 50% within the first six months–if you're within your 30-day return policy, use that instead of Buy Back if you can–and goes down another 10% every six-month increment. At the end of two years, you will get 20% value for bringing back your old hardware. For TVs, from 2-4 years, you'll net 10%.
While there are other ways to get money for your old technology, and perhaps more money than what Buy Back has to offer, the program is a great way for those unwilling or unsure they want to make the effort dealing with shipping on some third-party liaising classifieds website, or meeting a stranger to do the hand-off. Best Buy's program is safe, secure, and you'll know that in six months, if you don't like that $1,000 HDTV you just purchased, you'll at least be able to part with it and get back $500 in Best Buy gift cards. That's a lot more than what a lot of other retailers are offering, and shows Best Buy is committed to the products it sells, at least on the surface of things.
The program is slated to launch on February 6th on a Super Bowl ad. That ad will star Justin Bieber and the Osbournes.
Hopefully, Best Buy's program will help to eliminate electronic waste in landfills as people are able to bring back their old tech purchases and get paid. It's unclear whether Best Buy will recycle the parts, sell your old gadgets on the third market, or what other plans the retailer will have.
If you do bring back tech purchases with storage, it is always recommended that you wipe your device. This is essentially pertinent on laptops, desktops, smartphones, tablets, hard drives, and SSDs that contain a lot of personal, private, enterprise, or confidential information that you may not want anyone else to examine, access, or view.
Advertisement