Best Buy's finally published its Black Friday doorbuster specials list and it includes the Toshiba Satellite A135-S7403 for only $229. This makes the A135-S7403 the cheapest notebook advertised for Black Friday so far.
There will be a minimum of 20 A135-S7403 laptops at each Best Buy. The retailer is attempting to keep Black Friday organized and civil by passing out tickets for the A135-S7403 to those who shoe up earliest. A ticket will be required to purchase the A135-S7403, which should help minimize line jumpers and other rude behavior.
Unfortunately, the A135-7403 has an Intel Celeron 530 processor, which is much slower than the Intel Core Duo procesors found in other Black Friday notebooks, including the Compaq C717NR for $299, the Compaq C712US for $349, or the Sony VAIO VGN-NR110 for $399. All of these notebooks also come with Vista Home Premium and 1GB of RAM.
This notebook has the lowly 1.73GHz Intel Celeron M 530 processor, Vista Home Basic and 512MB of RAM. It has an 80GB hard drive (5400 RPM) and DVD burner. Graphics are provided by the integrated Intel Graphics Media Accelerator 950. It comes with Windows Vista Home Basic.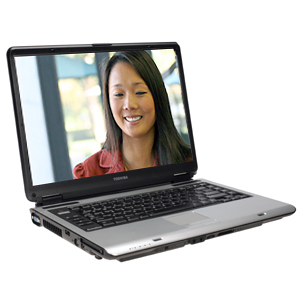 The Toshiba Satellite A135-S7403 is part of the A135 series. This series is built around a 15.4-inch widescreen display, with a resolution of 1280×800 pixels. The A135-S7403 has one PC Card slot (not an ExpressCard slot like most current notebooks), four USB 2.0 ports, S Video, and a 4000mAh battery. Toshiba includes a 5-in-1 memory card reader that works with Memory Stick, Memory Stick Pro, MulitiMediaCard, Secure Digital and xD-Picture Cards.
The A135-S7403 connects to WiFi networks via an integrated 802.11g wireless card.
One feature I like on Toshiba Satellite notebooks is the physical volume dial on the front edge of the notebook. It doesn't look very high-tech, but it's easier and faster to turn the volume down using the dial than adjusting settings or using fancier controls found on more expensive notebooks.
This laptop comes with the usual assortment of crapware-trial software and demo software that can get in the way for experienced users, and trick novices into signing up for unnecessary services or buying unneeded software. The A135-S7403 comes with trial versions of Microsoft Works, Microsoft Office Home and Student 2007 Edition, and more.
Best Buy is listing the normal price of the A135-S7403 package as $650.98, which means there's a $421 (65%) discount. The Toshiba A135-S7403 weighs in at just over six pounds. This notebook comes with a standard one-year warranty, with mail-in service.
For more deals visit our Black Friday Notebooks Page.
—
Update: I've already gotten a few emails from readers about the A135-S7403 and decided to post my answers here to avoid duplicate questions and answers.

Q: I'm learning PHotoshop for art class next year. Can the Best Buy laptop that's on sale run Photoshop fast? How about making DVDs from our video camera?
I consider any laptop at $229 a good deal, as long as you have realistic expectations. 512MB is just not enough and this will make the notebook feel extremely slow, even when performing common tasks. Running image and video editing apps will be painfully slow. If you're really interested in learning Photoshop you're going to need a better laptop with at least 1GB of memory and a dual-core processor.
Q: My husband and kids are ALWAYS on our computer at night. Would the Toshiba A135 from Best Buy be ok for email and surfing online. I'm on a tight budget and wasn't planning on buying a new laptop-but $229 has me thinking twice.
A: Despite it's shortcomings, the A135-S7403 is extremely cheap. If you're on a budget and your household needs a second computer, the A135-S7403 is a good option if you can't afford to spend an extra $100 or so on one of the more robust Black Friday notebooks.

Q: I'm going to college next fall and am thinking of getting the Best Buy Toshiba A135-S7403 for $229.98 on Black Friday. Will it last for 4 years?
I like to compare computers to cars because some people have a lot more experience with them than computers. Buying a Toshiba A135-S7403 is a lot like buying an old beat-up car that makes a a lot of bad sounds. It'll get you from place to place, but it'll give you lots of headaches and end up costing more than you expected in the long term. If you get the Toshiba A135-S7403 you're going to need to upgrade much sooner than if you invest in a better one now. I'd suggest waiting until next summer if you can wait.
Advertisement