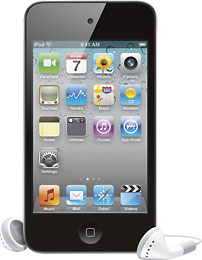 Wal-Mart will be selling the 8GB iPod Touch for $225 on Black Friday and is throwing in a $50 Wal-Mart gift card. The gift card is good for any Wal-mart purchase, not just Apple or iTunes content, like we're seeing at some other retailers, including Best Buy, which will be offering $30 iTunes gift cards with the purchase of an iPod Touch for $229 on Black Friday.
The 8GB iPod Touch is the smallest version of Apple's highest-end iPod. Many call it the "iPhone without the Phone" since it's capable of running almost all of the apps designed for the iPhone. It comes with iOS4, the operating system necessary to run popular applications such as Facetime and netflix. The 8GB iPod Touch's MSRP is $229, while the 32GB ($299) and 64GB ($399) are available for those with larger media libraries or who plan on shooting a lot of video with the included HD video camera.
Wal-mart's Black Friday doorbusters will be available beginning at 5 a.m. the Friday after Thanksgiving. Wal-mart's retail locations will open on midnight to allow shoppers to get out of the cold.
Visit Notebooks.com's Black Friday Page for more deals on laptops, Apple products and more.
Advertisement