Best Buy is offering the HP G42-415DX notebook for sale this week at $399. The HP G42 is part of the newly refreshed HP G Series line of notebooks which offer a budget price and enough power to deliver the user experience many home and student users expect.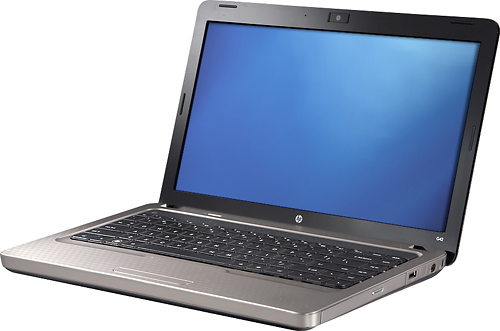 HP G42-415DX Quick Specs:
The HP G42-415DX comes with the 2.13GHz AMD Athlon II Dual core processor, 3GB DDR3 RAM, a 320GB hard drive and an ATI Mobility Radeon HD 4250 GPU. The HP G42 model available at Best Buy has a built in webcam and wireless support as well as a dual layer DVD RW drive. There is also a HDMI port for connecting to your HDTV. The battery is rated at a little over 4 hours, but will likely come in closer to 3 hours as the battery life on notebooks is commonly overstated.
What can the G42-415DX Handle?
The 14″ HP G42 can handle almost all needs of your average home users and students like editing documents and surfing the web. This notebook could also handle basic photo editing and in a pinch some video editing, though the tasks will take longer than on a faster Core i processor.
HP G42-415DX Build Quality:
The HP G42-415DX has a higher build quality than many budget notebooks, but won't be a top of the line experience. It should be suitable for handling the back and forth stresses of traveling to class and on the occasional vacation.
HP G42-415DX Video Overview:
HP G42-415DX Gallery:
HP G42-415DX Specs:
2.13GHz AMD Athlon™ II dual-core processor P340
3GB DDR3 memory expandable to 8GB.
Multiformat DVD±RW/CD-RW drive with double-layer support
14″ LED high-definition display – 1366 x 768 resolution
320GB Serial ATA hard drive (5400 rpm)
ATI Mobility Radeon HD 4250 graphics
Built-in webcam with microphone
5-in-1 digital media reader
3 high-speed USB 2.0 ports
Built-in high-speed wireless LAN (802.11b/g/n)
Built-in 10/100Base-T Ethernet LAN with RJ-45 connector
Weighs 4.9 lbs. and measures just 1.4″ thin
Long battery life  – up to 4 hours and 15 minutes
Microsoft Windows 7 Home Premium Edition 64-bit operating system
Advertisement