HP's new EliteBook 2170p should please just about any business traveler. Weighing in at just 2.89 pounds, this 11.6″ enterprise notebook weighs in at about half the weight of typical 14″ corporate notebooks
The EliteBook 2170p is just over an inch thick, which is relatively thick compared to the latest consumer notebooks or ultrabooks, but there's good reason for that.Like the entire HP EliteBook P series, the 2170p is built with a durable aluminium and magnesium exterior. HP designed the EliteBook 2170p to meet military specification 810G, which means it can stand up to drops and other hazards. As a semi-rugged machine, the 2170p won't quit on users when it falls off of an airport x-ray conveyor belt or when a flight attendent spills a little water on it.
It is compatible with EliteBook accessories, including power adapters and docking stations. This is important in corporate environments where IT managers standardize their technology as much as possible. This makes it more affordable to mobilize workers who want to ditch their 14″ and 15″ notebooks.
The EliteBook 2170p comes with  a 4-cell battery that can last for up to nine hours on a single charge. HP will offer a 6-cell battery that will last 50% longer. Battery stamina will vary in the real world, where users multitask and run their screens at full brightness. Aluminum Magnesium,
The EliteBook 2170p is loaded with security features. It comes with a TPM module, SmartCard reader and a fingerprint scanner to keep information secure. It has a Kensington lock slot to tether the notebook when its left alone.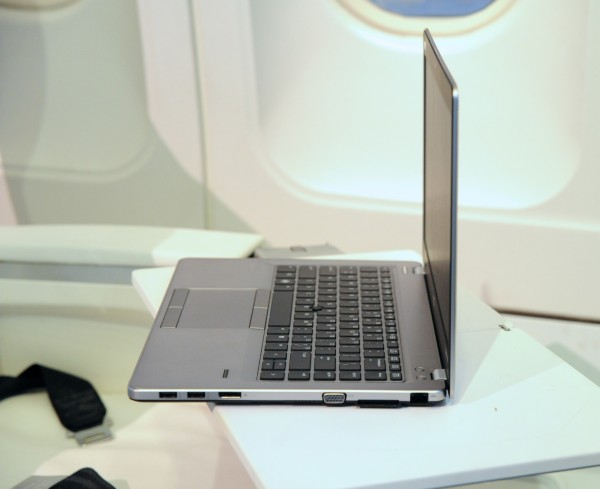 The HP EliteBook 2170P is available with up to 16GB of RAM and with various sizes of hard drives or SSDs, including self encrypting models for enhanced security. The optional 720P HD webcam is a recommended upgrade for users that need to stay in touch while working remotely.
HP's Elitebook line is primarily used by companies and government agencies that put an emphasis on reliability and durability. You won't find EliteBooks at your local big-box store, but you can order them direct from HP.com and authorized resellers.
HP EliteBook 2170P Specs
OS
Preinstalled

Genuine Windows 7 Professional
Genuine Windows 7 Professional
Genuine Windows 7 Home Premium
Genuine Windows 7 Home Premium
Genuine Windows 7 Home Basic
FreeDOS

Supported

Genuine Windows 7 Enterprise
Genuine Windows 7 Enterprise
Genuine Windows 7 Ultimate
Genuine Windows 7 Ultimate
Genuine Windows XP Professional 32

Certified

SUSE Linux Enterprise Desktop

Display (size/res)
11.6" diagonal LED-backlit HD2 anti-glare (1366 x 768)
CPU
Third-generation Intel® CoreTM processors with Turbo Boost Technology
RAM
Up to 16GB
Graphics
Next-generation Intel® graphics
Storage
320/500 GB 7200 rpm HDD 500 GB 7200 rpm SED (Self Encrypting Drive), 750 GB 7200 rpm HDD, 128/180 GB SSD, 256 GB SSD SED, HP 3D DriveGuard
Audio/Visual
High Definition Audio with SRS Premium Sound PRO, stereo speakers, integrated dual-microphone array Optional 720p HD Webcam
Wireless
HP un2430 EV-DO/HSPA Mobile Broadband;3 HP hs2350 HSPA+ Mobile Broadband;3 HP hs2350 HSPA+ Mobile Broadband;3 Intel Centrino Advanced-N 6205 802.11a/b/g/n 2×2;3 Intel 802.11a/b/g/n 2×2 with Bluetooth® v4.0 combo;3 Atheros 802.11a/b/g/n 2×2 with Bluetooth® v4.0 combo;3 Broadcom 801.11b/g/n 1×1 with Bluetooth® v4.0 combo3
Ports
1 USB 3.0 port; 1 USB 3.0 charging port; 1 DisplayPort v1.1a ; 1 RJ-45 (Ethernet);1 VGA; 1 combo stereo headphone/microphone port; 1 docking connector; 1 power connector,  5 in1 SD/MMC slot
Security
Standard: HP ProtectTools, Drive Encryption for HP ProtectTools, Central Management for HP ProtectTools, Credential Manager for HP ProtectTools,TPM Embedded Security Chip 1.2, Face Recognition for HP ProtectTools, HP Disk Sanitizer,Microsoft Security Essentials, Smart Card Reader, File Intel® AT (requires a Computrace subscription), Computrace Pro for HP ProtectTools, Security lock slot
Optional: HP Fingerprint Sensor
Input
Full-sized spill-resistant keyboard with bottom case drain, touchpad with scroll zone and gestures support, point stick Optional Backlit keyboard
Size
11.50 x 7.56 x 1.04 in (at front)
Weight
Starting at 2.89 lb (1.31 kg) without weight saver
Warranty
Limited 90-day warranty; 3-year, 1-year and options available, depending on country, 1-year limited warranty on primary battery; Optional HP Care Pack Services3,20 are extended service contracts which go beyond your standard warranties.
For more details visit: https://www.hp.com/go/lookuptool.
Advertisement