Just in time for the new MacBook Pros and the upcoming iPad 2 event Apple has released the final version of FaceTime for Mac on the Mac App Store. The beta was free, but if you want the FaceTime 1.0 App you'll need to spend $.99 at the App store. Rumor has it the new MacBook Pro models will ship with FaceTime installed.
The biggest new feature is the ability to make HD calls with FaceTime from the newest MacBook Pro models with FaceTime HD webcams, but there are also other improvements to the app such as improved reliability.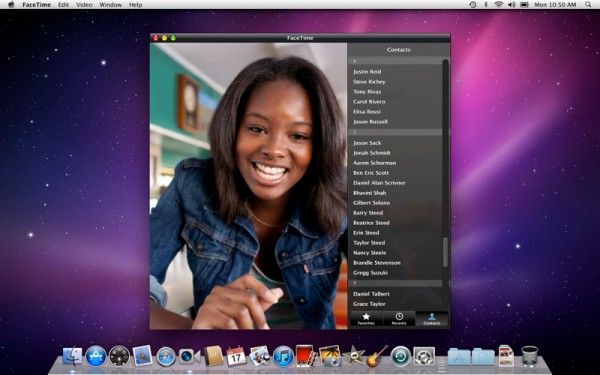 FaceTime for Mac details from the Mac App Store,
Simple to Get Started

• Setup is quick and easy – just enter your Apple ID.

• With just one click, you can make a video call to an iPhone 4, an iPod touch, or another Mac.

Easy-to-Organize Contacts

• Make calls using your existing Address Book contacts – you don't have to enter your contacts from scratch.

• Add the people you call most often to your Favorites list.

• Quickly review your past calls with Recents.

High-Definition Video

• Receive HD video calls at up to 720p on supported, Intel-based Macs.*

• A Mac with a standard-definition camera delivers up to VGA-quality video for Mac-to-Mac calls.

Elegant Interface

• Window and playback controls fade away so the focus stays on your conversation.

• View transitions smoothly when an iPhone 4 or iPod touch user switches from front to rear cameras or from portrait to landscape views.

• FaceTime's widescreen aspect ratio makes it easy for families and groups to participate in a call.

• Enjoy your video call full screen, using every inch of your beautiful Mac display.

Ring Anywhere, Any Time

• Incoming calls ring on your Mac, even if FaceTime isn't running.

• If you have more than one Mac, incoming calls ring on every one so you can answer on the Mac that's most convenient.
You can continue to use the free beta for the time being, though some users are reporting improvements over the beta so it may be worth the upgrade. Still no word on FaceTime for Windows.
Advertisement