I've been looking for more Thunderbolt accessories to make that new port on the side of my MacBook Pro useful, and the Magma ExpressBox 3T answered the call with an external box that houses three PCI Express slots for your 2011 MacBook Pro or MacBook Air with Thunderbolt. Since a laptop will not accept a video card upgrade or add other expansion cards, this might be useful for those who have really unique needs. The rest of us still wait for something really practical like a docking station, or consumer level super-fast hard drives.
If you are interested in adding PCIe cards to your laptop, the device makes it possible with a silver box housing a 220 watt power supply and three PCIe 2.0 slots. Two of the slots will hold the faster x8 cards and the third only works with x4 cards. You can "daisy chain" up to six Thunderbolt devices through the box.
Magma markets this solution to video and broadcast professionals, audio professionals and other enterprise users who need to work with specialized PCI cards but also want to use a laptop with a Thunderbolt port. You can add SSD drives on PCI cards. You could also have a high powered video card for gaming and more memory. Whether any of these will be compatible with your MacBook is uncertain.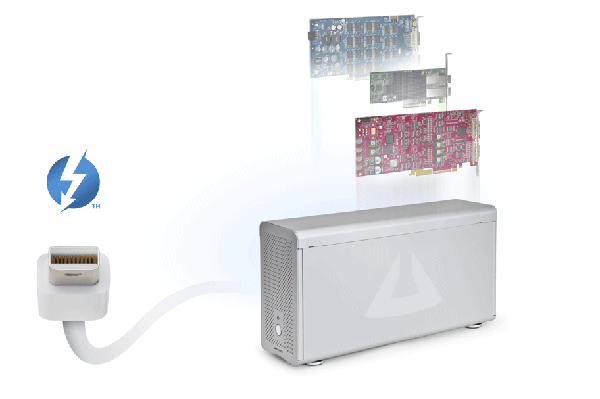 The box, ridiculously enough, comes with a carrying case. Not many people will actually bring these boxes with them except in specialized circumstances, like video professionals who need their powerful 17″ MacBook Pro on the set while they shoot video and add it to their computer through some special PCI video controller. But most people will likely use these at home or the office and only plug it into the Thunderbolt port when at the desk.
We don't have a price or ETA, but you can learn more at the company's web site. You can also sign up to be notified when it is going to ship. Based on the prices of other Thunderbolt accessories, don't expect this to be cheap, though.
Advertisement