At MacWorld Expo 2011 Dolly Drive showed off its new cloud based Time Machine backup system. The service interfaces their online backup storage and Time Machine to backup your Mac OS X system. The service even gives you a bootable version of your drive backup and can backup from anywhere you have an Internet connection.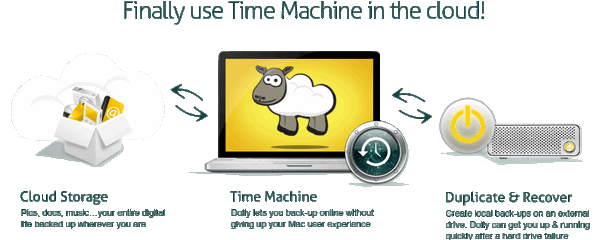 The backup process is encrypted for security purposes. And restoring it is as simple as using Time Machine's restoration service. The program does not keep you from backing up to an external drive like you would with Time Machine normally. It just backs up to the cloud in addition to an external drive.
The service costs $10/month for 250GB of storage and an additional 5GB/month added for each month that you subscribe. So after three month your storage would grow from 250GB to 265GB. If you don't need that much, there is a 5GB option for $5/month and 100GB for $7.50/month. The extra 5GB/month of subscription is added to the two lower cost options as well.
Dolly Drive is a pretty good deal since by comparison Dropbox offers 50GB of online storage for $10/month or 100GB for $20/month. Although Dropbox does have a free 2GB service. Box.net offers a free version with up to 50GB but for 500GB it costs $15/month. There is an unlimited version of Box.net, but you have to call to set that up and get special pricing. Neither of these interface with Time Machine, but have simple to use clients that install on your Mac or Windows system.
Competing backup solution Mozy works on the Mac for $5 a month with unlimited backup space, but it doesn't connect to TimeMachine like Dolly Drive.
Below is a demo from TUAW.
We will give you a full review of the service in the coming weeks.
Advertisement