Maybe you just bought a new MacBook Air. Or maybe you still sport the 2010 model, like I do. Either way, you need a great case (or bag) to carry it around in, as well as protect the aluminum lid that scratches so easily.
Already earlier this year, we listed ten great cases for the Air. But with the release of some new cases, it's worth coming back to the subject. Here are four new cases or bags that we think are worth your attention, and one repeat recommendation that we still love that survives from the previous list.
In David Letterman fashion let me count them down, starting with a nice sleeve and ending with my favorite.
5. Zagg Invisible Shield Sleeve for MacBook Air – $54.99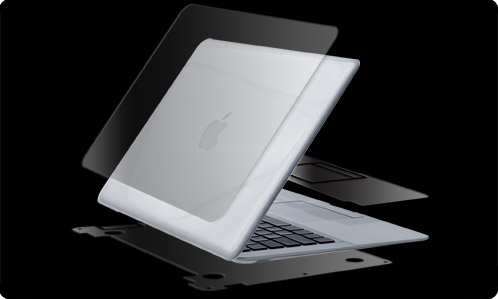 Zagg is mostly known for protecting screens with their thin film that stands up to the punishment you can get from keys in a pocket. Or even rocks, if you drop your phone. They also make a shield for the MacBook Air that will protect your aluminum case. The company promises that the Invisible Shield keeps finger prints off your computer, although I've not had too much problems with fingerprints on mine. I hate any accessory in my bag that rubs against, and then scratches, the soft aluminum Apple uses. Zagg's shield will protect the computer and make it look like you don't even have anything around it.
Zagg offers a guarantee: they will replace the shield if you ever damage it. That way you don't need to worry about messing up the shield.
4. Incase Perforated Hardshell Case – $59.95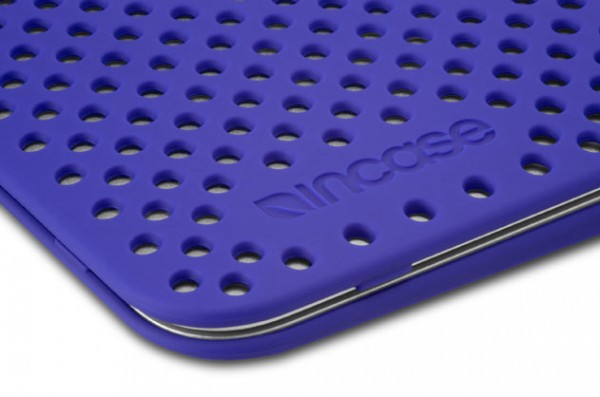 The Incase Perforated Hardshell Case for the 11″ and 13″ MacBook Air should meet your standards for a quality case that will protect the MacBook Air without adding a lot of weight. The hardshell case offers great protection. The case feels nice, with a smooth coated plastic. The cutouts give access to all the ports and connectors. The bottom of the case raises the Air slightly, giving it plenty of ventilation since the Air's aluminum can get a little warm when running under a strain.
I like the look of this case. Incase offers similar cases for all of Apple's products. This one costs $59.95. You can choose between black, white and purple.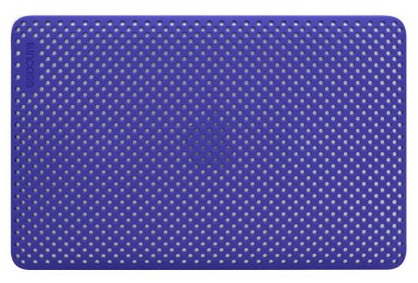 3. Knomo MacBook Air Envelope – $75.95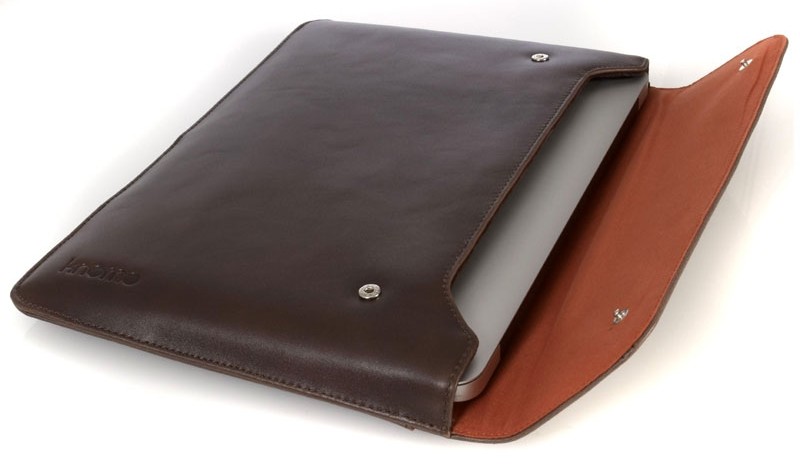 The Knomo Envelope will appeal to business users or others who just like things that have a high quality look and feel. Designed only for the 11″ MacBook Air, the case protects your computer with a soft genuine leather and soft black velvet lining. The Flap snaps closed. Each case has a unique ID number to help you find your computer if stolen.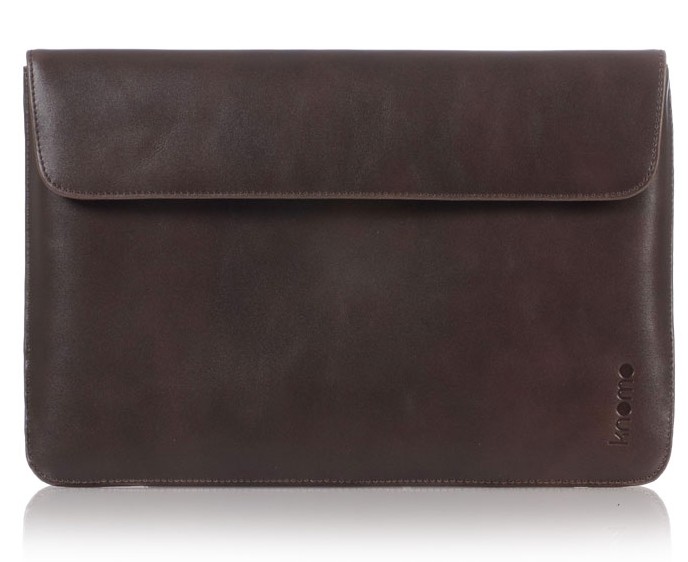 The case comes in black for $75.95 direct from the company or from your Apple Store. They also sell cases for other sizes and even other manufacturers. The lady's bags look really nice, but I wanted to keep this unisex.
2. The Cartella for MacBook Air by Pad & Quill – $79.99 or $89.99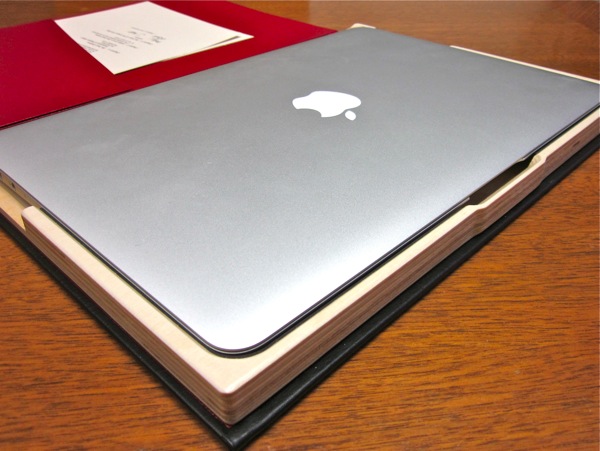 If you want your MacBook Air to look like a book instead of a MacBook, The Cartella does the job. Made for both the 11″ and 13″ MacBook Air and iPad, on the outside the case looks like a book. An elastic band around the case holds it closed to keep your computer in the case. Layers of Baltic Birch wood hug your computer on the inside. Pad & Quill trimmed the case in three colors – red, green and blue on the inside flap and under the computer. On the inside of the cover a pocket holds a few papers.
Here is my video review.
Pad & Quill calls this a bookbindery case. It reminds me of a huge ledger that you might see in a 19th century London accountant's office. I can imagine Bob Cratchet using books like this. If you want a somewhat unique case, The Cartella will grab attention while protecting your case from scratches and dings.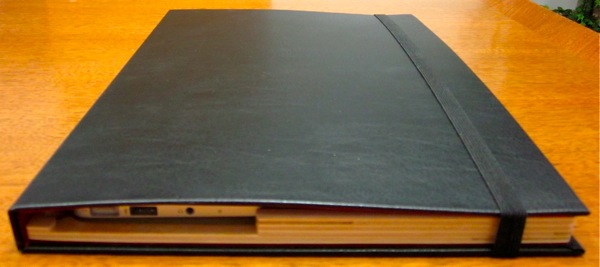 The company updated the design since my review with rounded corners and a tougher quality interior cloth. Pad & Quill discounted the cases $10 bringing the price for he 11″ to $79.99 and the 13″ to $89.99.
1. MacBook Air Travel Express Case from Waterfield Designs – $79 or $89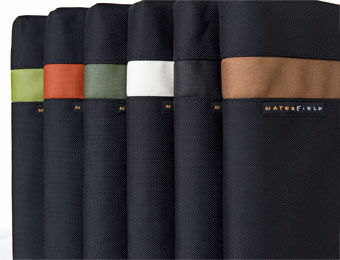 Waterfield Designs cases have a special feel and look to them. The rugged ballistic nylon used to make them not only keeps your precious MacBook Air safe, but also looks nice. They remind me of cases that an incredibly talented seamstress might make for your computer if you commissioned her.
Waterfield Designs released the MacBook Air Travel Express Case when the new Air came out. Inside the soft lining keeps your Air and accessories from scratches. The case can be used with just the Air, or it can house accessories in a number of pockets. You have room for a phone, a thin mouse like the Apple Magic Mouse, your charger and other items. Apple's external Super Drive will fit as well. The zipper opens along both the long and short edge to open very wide.
The model they sent me for testing had rings and a strap to use the case as a shoulder bag. You can get it without the strap, but I like to carry around my Air hands free over my shoulder. My iPad 2 fits in the the case with my Air, but it is a tight fit and would not work if I had a lot of accessories.
The case comes in a black nylon with a colorful accent stripe. They offer black, copper, flame, green, pearl and pine. The 11″ starts at $79 and add $10 for the 13″. If you have your own shoulder strap but need rings sewn into the case add $5. Add $12 for a simple strap and $22 for a cushioned strap.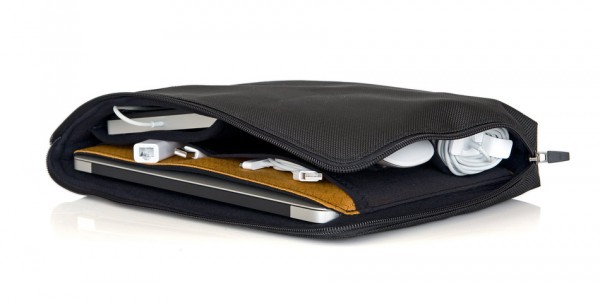 Advertisement