The Tech Republic (via Laptop Magazine) did a survey of IT professionals and found that of all the major notebook vendors, Acer takes the dubious honor of being the most unreliable. The survey also found that there was some crossover between the least and most reliable notebooks.
For the survey, Tech Republic asked IT professionals, who see a high volume of different computers in their work, to rate the brands based on their particular experiences.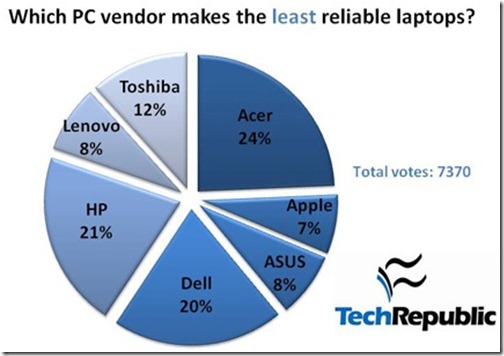 Second least reliable was HP with 21% of the vote and Dell narrowly escaped being second with 20% of respondents naming them least reliable.
The full ranking of unreliable notebook manufacturers is as follows:
Acer 24%
HP 21%
Toshiba 12%
Lenovo and Asus tied with 8%
Apple 7%
Tech Republic then asked the question the opposite way. Which are the most reliable?
Acer brought up the rear with only 6% saying they were most reliable. Strangely Dell and HP were also voted the most reliable, which doesn't seem to fit with the numbers found in the first question. Tech Republic explained it saying that this may come from the fact that Dell (21%) and HP (18%) are two of the best-selling vendors.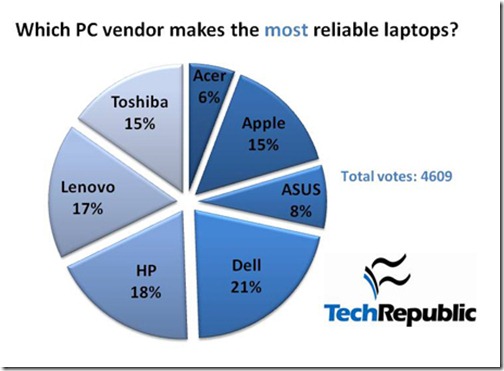 The most reliable notebook brands are as follows:
Dell 21%
HP 18%
Lenovo 15%
Apple and Toshiba tied with 15%
Asus 8%
Acer 6%
What do your experiences say about notebook and laptop reliability?
Advertisement