It looks like the rumors about an Apple iPad 2 announcement on March 2nd are true. Apple issued an invitation to select members of the press for a March 2nd event. The invitation is for 10:00 AM at the Yerba Buena Center for the Arts Theater in San Francisco. It looks like the iOS calendar with the March 2 date and upper right corner pealing away to reveal an iPad.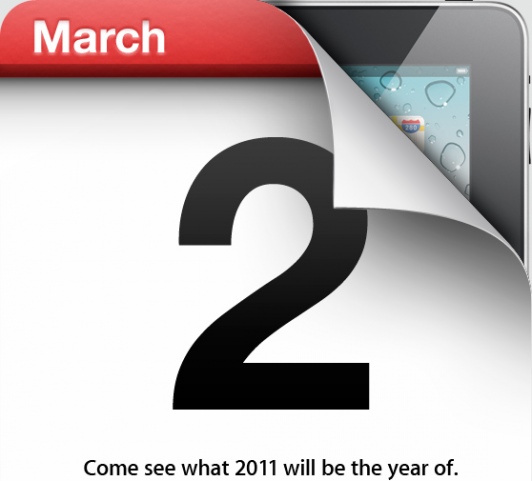 The caption reads, "Come see what 2011 will be the year of." The invite is not exactly holding anything back. This will clearly be an iPad 2 announcement since the big 2 on the invite represents both the date and the generation of the device.
Notebooks.com and Gottabemobile.com, our sister site, have been all over the iPad 2 news and we will be there on Wednesday to bring you all the information as soon as we learn about it.
Here is a scoring list of what it might include with the ones we expect to actually happen in bold:
iPad 2 announcement
Front facing camera on iPad
Rear facing camera on iPad
1MP or 3MP or 5MP camera on iPad
Thinner iPad
Higher resolution screen on iPad
Full retina display on iPad
Not a higher resolution screen on iPad
Larger speakers on iPad
Faster processor on iPad with most likely a dual-core
More RAM on iPad
SD Card slot on iPad
USB port on iPad
iOS 4.3 release
Redone notification system in iOS 4.3
iTunes wireless sync and/or backup via MobileMe
New iMacs
Which ones do you expect to happen and have we missed any? Comment below.
Advertisement