Apple is issuing a recall for its wall plug adapters, after a limited number of customers have experience electrical shocks after the plugs break. If you're a MacBook owner outside of North America, you might be affected.
It seems to be the month for adapter recalls: just last week Microsoft issued a recall for the wall plug portion of its Surface Pro adapters, and this week Apple is issuing a very similar recall for its own laptops' wall adapters. The defective units do not include the entire adapter; rather, only the portion that actually plugs into the wall is affected.
While the recall is limited to units sold in Australia, New Zealand, Continental Europe, South Korea, Argentina, and Brazil, customers in any country could be affected, as the defective plugs were also included in Apple's World Travel Adapter Kit – so if you bought a set of international adapters for travelling with your MacBook, you should also take a look.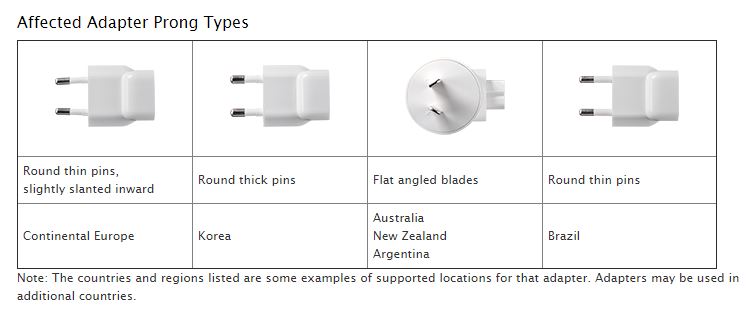 The risk comes where the prongs may break (how noticeable the breakage is, Apple declines to mention) and shock users plugging them in or unplugging them. Defective plugs shipped from 2003 to 2015 before Apple began to stock redesigned models.
In a statement to BuzzFeed, Apple noted that it was aware of "fewer than twelve" incidents worldwide where customers managed to shock themselves with a broken wall plug. That low number is why this is a voluntary recall that depends upon customers requesting a replacement plug, rather than the sort of recall that has Apple reaching out to customers.
The company set up a support page where you can check to see if your device is affected by the recall (here's a hint: if your wall plug has either 4, 5, or no characters on the inside slot, it's defective; if it has a three-letter regional code like EUR or AUS, it's one of the redesigned models). If you do need to exchange your plugs, just hit up your local Apple Store or Authorized Apple Service Provider (AASP) to swap them out – if no such stores are local, you can contact Apple Support directly and have them sent to you.
Advertisement